FEATURE
By Paul Macdonald
Last season,
Barcelona
and
Real Madrid
faced each other five times in a single season, the first time they had ever met so prolifically in a single campaign. Their meetings tested the resolve of all concerned, and helped create defining moments in the histories of both clubs.
Their first encounter, in November, seems so long ago now given the intense nature of their four clashes across 17 days in April and May, but the mastery produced by Barcelona on that evening has since come to set the standard against which they will be measured in every subsequent fixture.
Real Madrid had their moment to cherish too; clinching the Copa del Rey in an ill-tempered but utterly absorbing battle at the Mestalla. Barca would have the last laugh, however, eliminating their ancient rivals in the semi-finals of the Champions League, before taking care of Manchester United at Wembley.
Back in May,
Goal.com
produced a guide to their infamous encounters, documenting how the four matches at the end of the season transpired. As the pair get set to meet once more in the two-legged Spanish Supercopa, we have now updated our piece to include the first meeting of 2010-11, and thus complete the ultimate companion for the year of the five Clasicos.
CLASICO I: LA LIGA


November 29, Camp Nou

5-0
Xavi
10
'
Pedro 18'
Villa 55', 58'
Jeffren 90'

PRE-MATCH
The anticipation for Jose Mourinho's first attempt to topple the champions was palpable, as commentators attempted to assess how the Portuguese would get the better of Pep Guardiola's side. After all, his Inter team had done just that six months prior, eliminating the Catalans from the Champions League, and there was a genuine belief that the enigmatic tactician could pull off a similar feat. How wrong that prediction proved to be ...
KEY MOMENT:
DAVID VILLA MAKES IT THREE

Madrid were still in the match with the score at 2-0, but Messi's sublime pass played in David Villa, whose shot was true, finding the far corner and laying the foundations for a monumental win.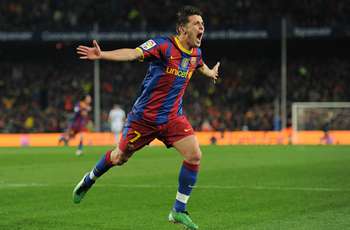 REACTION
Goal.com
asked our worldwide team of editors to give their predictions on how the match would pan out, and also asked the fans who they felt was the superior coach - Pep Guardiola or Jose Mourinho.
Amidst the chaos surrounding one of the best team performances of all time, we were on hand as players and coaches scrambled to give their assessment of an astonishing evening's action.
MAN OF CLASICO I:
DAVID VILLA

PLAYER RATING: 9.0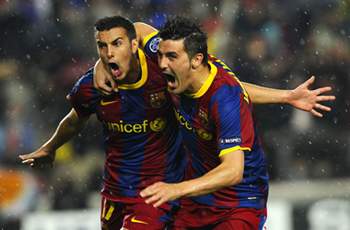 Xavi could legitimately be considered to be the best
midfielder of all time.
CLASICO II: LA LIGA


April 16, Santiago Bernabeu

1-1
Ronaldo (pen)
82
'
Messi (pen) 53'
PRE-MATCH
The epic run of Clasico fixtures will be remembered as much for the embittered off-field rants from both bosses as for the action that unfolded on the pitch. Indeed, Jose Mourinho ignited the war of words early, by claiming that previous experiences against Barca had meant his team would prepare for the possibility of being reduced to 10 men when the sides meet in the Champions League. How prophetic his words now seem. Days later, he would force a walk-out as he refused to answer questions on the league match, where it all began.
KEY MOMENT:
MARCELO WINS SPOT KICK
Two Brazilians collided as Dani Alves tracked the run of the full-back into the area, only to bring him down illegally. Ronaldo converted the kick to give the capital giants a draw.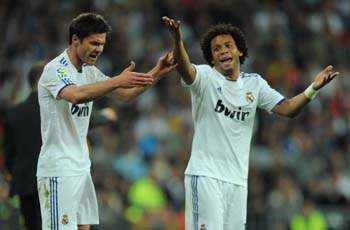 REACTION
Goal.com
kicked off its editorial coverage by offering our take on the best Real Madrid - Barcelona combined XI, while also pointing out that Ronaldo had yet to score against Barca, and Messi had never netted against a Mourinho-managed club.
POST-MATCH
In the aftermath of the 1-1 draw, we brought you the reactions from both camps, as well as the views of our team of experts on what had unfolded under the lights of the Bernabeu.
MAN OF CLASICO II:
PEPE

PLAYER RATING: 7.5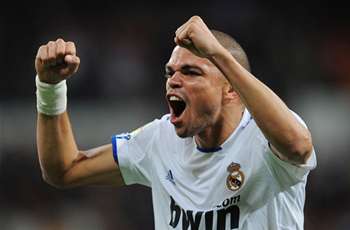 you, the readers, on Facebook and Twitter.
CLASICO III: COPA DEL REY


April 20, Mestalla, Valencia

0-1
PRE-MATCH
Madrid were encouraged by the manner in which they were able to come from behind, with 10 men, to salvage a draw from the league encounter, and headed towards the King's Cup final brimming with confidence. Mourinho responded to criticism from club legend Alfredo Di Stefano by stating that only he would decide how Real Madrid would approach the match. Guardiola meanwhile insisted that his side would not alter their style, and would utilise an attacking approach from kick-off.
KEY MOMENT:
RONALDO'S TOWERING HEADER

As the match looked to be drifting towards a tense penalty shoot-out, Di Maria's deep cross found Ronaldo, who sprung majestically to power home a header fit to win any match.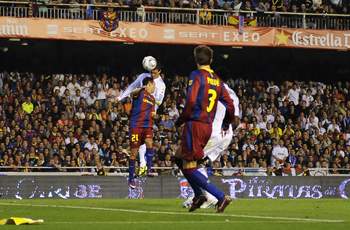 REACTION
Goal.com's
coverage of the final focused on how Mourinho and Guardiola's desire to win the domestic cup competition has invigorated the tournament.
POST-MATCH
Madrid were jubilant at lifting their first silverware since 2008, and while both players and coach were joyous, Barca meanwhile believed that they had been the better team...
Goal.com
felt that Madrid's triumph had proven they were capable of competing with Barcelona on the big stage, and praised the tactical approach of the capital club in a breathless contest.
MAN OF CLASICO III:
RICARDO CARVALHO

PLAYER RATING: 7.5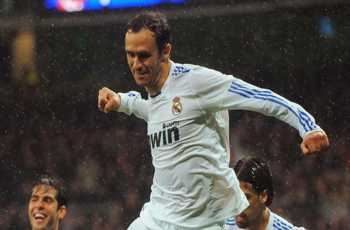 DROP-A DEL REY!
One Madridista took his celebrations a little too far, however. Sergio Ramos hung the trophy over the edge of their open-top bus - only to look on in horror as the silverware crashed underneath the wheels of the vehicle as it slipped from his fingers!
CLASICO IV: CHAMPIONS LEAGUE


April 27, Santiago Bernabeu

0-2
PRE-MATCH
If La Liga was already over, and the Copa del Rey a consolation prize, the Champions League semi-final was always likely to define the series, and the first match will unquestionably be most notorious for reasons both positive and negative. Mourinho mixed it up, suggesting Guardiola is never happy unless the key refereeing decisions work in his favour. Guardiola's response was collected, but hot-headed, in arguably his most edgy press conference since taking charge at Camp Nou.
KEY MOMENT:
MAGICAL MESSI'S MASTERFUL SECOND

In the closing moments, Messi sensed an opportunity to drive at 10-man Madrid. Picking up the ball forty yards from goal, he glided past four challenges before slotting neatly inside Casillas' far post.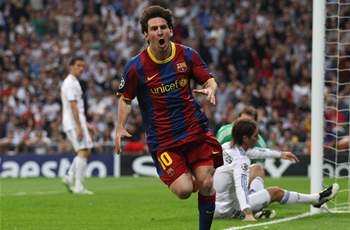 REACTION
POST-MATCH
Pepe's controversial red card for a foul on Dani Alves dominated the thoughts of everyone associated with Madrid, with Mourinho's wild accusations now the stuff of legend. Ronaldo, meanwhile, had a veiled dig at his boss's tactical approach, while Barca revelled in a wonderful result.
CLASICO V: CHAMPIONS LEAGUE


May 3, Camp Nou

1-1
PRE-MATCH
And so to the finale. But hold on, things got a bit silly before that. Barca eventually did decide to report Mourinho to Uefa, only for Madrid to respond by launching their own appeal to the governing body, which suggested that six of Pep Guardiola's players should be banned from the second-leg as a result of their conduct in the first match. Consequently, Guardiola accused Madrid of trying to pick his team, while Mourinho, well, didn't bother to show up at all.
KEY MOMENT:
PEDRO'S PRECISION KILLS TIE

Trailing 2-0 from the first-leg, Madrid knew that they had to strike the initial blow to stand any chance. As it was, Iniesta's inch-perfect pass played in the winger, who found the corner past Casillas.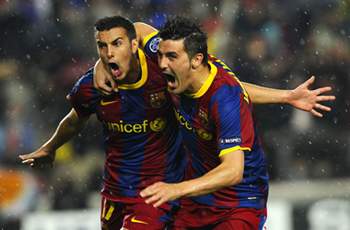 REACTION
POST-MATCH
Barca continued to rejoice in their progression to their second final in three years, while Madrid, once again, looked to the performance of the referee as a fundamental factor in their exit.
Goal.com
rounded off its unparalleled coverage of an astonishing 17 days by assessing where Real Madrid go from here, and how Barca can look to the Champions League final with confidence. Plus, a mention for Eric Abidal, whose return to action was a relief for all concerned, and put a tumultuous period in perspective.