The new season kicked off with a bang on Friday as BVB ran rampant 3-1 winners against HSV; it sets the template for an exciting Bundesliga campaign
COMMENT
By Clark Whitney
Eighty-three days after the final kick of the 2010-11 season, the Bundesliga resumed on Friday with pomp and circumstance that could not have been paralleled anywhere other than the Westfalenstadion.
A capacity crowd of over 80,000 packed the stands; the majority of whom backing champions Borussia Dortmund as they began the quest to defend their league title. A small but resolute contingent of Hamburg supporters voiced their dissent, urging on Michael Oenning's new, young side - tipped to be the team that reverses HSV's recent run of poor league finishes.
Grosskreutz scored the first goal of the year
Not only was the atmosphere world class, but there could hardly have been a better fixture to kick off the campaign. The vibrant contestants set the agenda for a riveting gala of football and the play on the pitch lived up to its billing. Hamburg were comprehensively outplayed for long spells, but to their credit, never gave up.
The day of course belonged to Dortmund, who looked a different - but still dominant - side in their 3-1 win. Jurgen Klopp has tinkered with his tactics, allowing Mario Gotze, Shinji Kagawa and Ilkay Gundogan to share in playmaking duties, while using Robert Lewandowski in a role characteristic of Miroslav Klose in the Germany national team.
In addition, individuals - namely Gotze, Lewandowski, and Kevin Grosskreutz - appear to have upped their game significantly over the summer. At the back, Mats Hummels and stand-in starter Felipe Santana were typically untouchable, and would have easily deserved a clean sheet.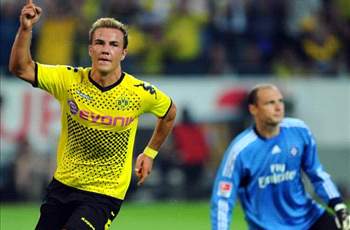 Gotze led the way with two assists and a goal
By the final whistle, the take-home message was quite clear: BVB had reaffirmed their class and proven their readiness to defend their title. It is too early to speak with any certainty, but the conclusion is becoming less and less deniable that Dortmund have the potential to join Bayern Munich as Germany's second continental powerhouse.
Despite their humbling, Hamburg have grounds for optimism. They were decidedly the weaker of the two teams, but they lost to a side that in all likelihood will finish in the Champions League places; not a goal that HSV can realistically have at this point.
Even without the ill Son Heung-Min and the unfit Jeffrey Bruma and David Jarolim, HSV played with heart, and were by no means pinned back in their own third. On the contrary, the visitors advanced the ball rather well, with Gokhan Tore and substitute Marcell Jansen both looking dangerous. Against less convincing defences - and those will be found throughout the league - they will have more success. Given time and assuming fitness, Michael Oenning's side can make a splash this year.
For fans, Friday's game was an advertisement for German football, and a fitting beginning to what will be a spirited and energetic campaign. As we saw in Dortmund, the upcoming season has plenty to offer. Enjoy.
Follow Clark Whitney on