COMMENT
By Ben Hayward
"Football is a simple game," Gary Lineker once commented. "22 men chase the ball for 90 minutes and at the end of it, the Germans win." That famous phrase, however, can now apply to a different team: Spain.
On the night of June 28, 2008, something changed for La Roja; 22 men chased a ball for 90 minutes and at the end of it, the Germans lost. Spain won. It ended 44 years of disappointment for Spain's national side at senior level as they claimed the European Championships for a second time. And two summers on, Xavi, Andres Iniesta, Iker Casillas et al added the World Cup to their impressive collection of silverware, confirming Spain's status as the best team on the planet.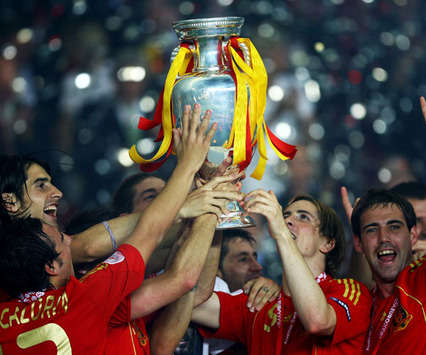 A defining moment | Spain turned youth success into grown-up glory in 2008
What has happened since has only served to reinforce that. Earlier this summer, Spain's Under-21 team claimed the European Championships with a sublime showing in Denmark. And last night, the Under-19 side became continental champions in epic circumstances as they defeated Czech Republic in extra time. Add that to last summer's final appearance for the Under-17s and it tells of a transformation in the beautiful game in Spain.
But success, of course, does not arrive overnight, and in reality, Spain have been impressive at youth levels for quite some time. World champions at Under-19 level in 1999, La Roja has conquered Europe on no less than five occasions since then. The Under-17s have also claimed five European crowns in the same timespan, missing out in their own Uefa showpiece last year, while success for the Under-21s has been more sporadic, with continental championships in 1986, 1998 and this year - as well as the Olympic title in 1992.
LA ROJA | A story of success




| | |
| --- | --- |
| Team | Recent record in major tournaments |
| Senior side | European Champions (2008), World Cup winners (2010) |
| Under-21 | European Champions (2011) |
| Under-20 | Currently playing World Cup in Colombia |
| Under-19 | European Champions (2011) |
| Under-17 | European Champions (2006, 2008, runners-up in 2010), World Cup finalists (2007) |
That particular golden generation flattered to deceive in the senior side, as so many others have done since, but Spain's supremacy has been seen at lower levels for much of the last 10 years. Bubbling under the surface for the best part of a decade, first Luis Aragones and now Vicente del Bosque have been able to transform that tremendous talent and technique into a team of winners in the full national side, undisputedly the best in the business following their Euro and World Cup successes in 2008 and 2010, respectively.
The Spanish press has long boasted of the country's sporting excellence, but right now they have plenty reasons to do so. On its front page on Tuesday morning,
Marca
paraphrased Lineker with the headline: Football is a sport of 11 against 11 and the one that always wins is Spain. As continental champions at Under-19 and Under-21 level, Euro 2008 and World Cup winners; and with the chance to make it five titles at the current U-20 World Cup in Colombia, for which they are favourites; it is a statement which resonates with truth. Lineker, meanwhile, was right about one thing: football is a simple game. And right now, Spain are simply breathtaking.
Follow Ben Hayward on