COMMENT
By Greg Stobart in Dublin
Wesley Sneijder has spent most of the summer dangling in front of Manchester United, the perfectly formed, albeit very expensive diamond that the Premier League champions need to solve a problem area in their side.
Sir Alex Ferguson has furiously dismissed quotes attributed to him over the weekend in which he suggested United were close to signing the Dutch playmaker, and that a contract offer was on the table.
"If he wants to come, he must accept our contract offer. If not we have other options in mind. We are done talking," Ferguson is reported as saying in the Mail on Sunday. But regarding the need for a central midfielder, the Scot added: "It's an area we have to find a solution for."
One of the questions over Sneijder, should he make the €40 million switch from Inter to Old Trafford, is how he would fit in to Ferguson's favoured four-man midfield having performed at his best as an attacking midfielder behind the strikers.
During the Dublin Super Cup this weekend, the 27-year-old showed United fans exactly what they wanted to see, with his performances suggesting he would be able to slot in and dictate games for Ferguson's side.
Sneijder played the second 45 minutes against Celtic on Saturday before featuring from the start against Manchester City, lasting 74 minutes on the 0-3 defeat at the Aviva Stadium.
PLAYING THE SCHOLES ROLE

"It is almost like he is getting practice in the role so he is ready to fill Paul Scholes' boots and make an immediate impact in English football"
In Gian Piero Gasperini's 3-4-3 system, Sneijder was employed in both matches in a deep 'regista' role, dictating play with clever passing from the centre circle and controlling possession for his side. It is the same function that Luka Modric, another United target, performs for Tottenham.
Against Celtic, Sneijder's opportunity to shine was hampered by the fact the Italian side were reduced to 10 men following the first-half dismissal of Thiago Motta. Nevertheless, the former Ajax and Real Madrid man demonstrated his considerable quality on the ball as Inter were still able to dominate possession.
He is such an intelligent footballer: he can receive the ball in any position on the pitch and make use of it, taking responsibility and not panicking. In the two friendlies here, he was always looking to receive the ball from defenders and equally determined to join attacks and show his renowned ability in the final third.
What was also noticeable is that Sneijder will work hard; he will harry and hassle opposition midfielders, even in a friendly; taking a kick from David Silva after one brave challenge. This may go against the image of a player who is best known for his outstanding ability in creating chances, scoring goals and delivering set-pieces.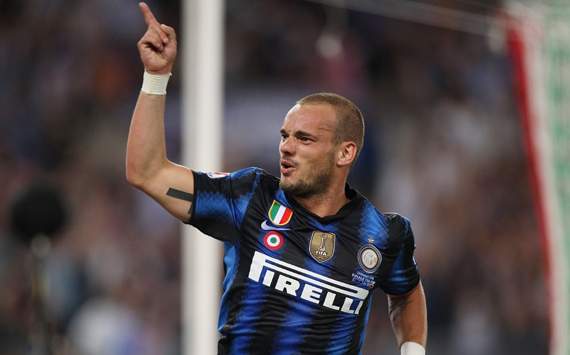 Dutch master | Sneijder shows Sir Alex's United there can be life after Scholes
It is almost like he is getting practice in the role so he is ready to fill Paul Scholes' boots and make an immediate impact in English football. Sneijder tweeted on Sunday morning that he would be playing against his good friend Nigel de Jong for the first time, but he will be hoping that they can lock horns again this season: in the Manchester derby.
While Sneijder's performances may have come across as efficient and understated rather that sensational, he showed why he is exactly what United need. In an undercooked Inter team playing against opponents more advanced in their pre-season preparations he was able to create opportunities with trademark through balls, particularly to Gianpaolo Pazzini in the 2-0 win over Celtic.
When he was closed down, Sneijder would play a short and quick pass to a team-mate; when afforded time he would try to ping a longer pass to a striker on the move. In the final third, he fizzed in some excellent corners (remember Sir Alex thinks Charlie Adam's are worth £10m alone), and showed his striking ability with powerful efforts from around the edge of the penalty area.
Manchester City are believed to have made an enquiry for Sneijder but have been told that the player has his heart set on a switch to rivals United, the highest profile club in England.
The major obstacle is, of course, over Sneijder's £200,000-a-week wage demands, with United reluctant to pay more than £170,000-a-week. Either Sneijder will have to lower his demands, or the shortfall will have to be made up another way: by Nike, image rights, commercial deals or signing-on fees.
It is too difficult to predict whether United will eventually be successful in their pursuit of a player that has been at the front of Ferguson's thoughts for the last two years. What is certain, however, is that Sneijder can offer exactly what is missing at Old Trafford.