COMMENT

By Daniel Edwards
As much as his short Argentina career ended in ignominy, it is hard not to feel sympathy for outgoing coach Sergio Batista. When he took the job he was a fresh face, someone to bring order to the national side after the chaotic reign of Diego Maradona. Fans were delighted that this was a man who seemed to have a coherent playing style and a decent idea of how to go about implementing it.
He also did not lack ambition. 'Checho's' oft-repeated goal could not have been higher; he wanted to turn Argentina into the 'Barcelona of the Southern Hemisphere', a tight-passing, possession team who would press their opponents across the pitch and use the incomparable Lionel Messi as the talisman around which to build a Copa America and World Cup-winning unit.
Unfortunately for the trainer, he forgot one crucial element. Teams like Barcelona are forged through years of hard work and football education, they cannot be imitated by the virtue of sharing several first-team players. Batista's failure to grab this key lesson ultimately proved his downfall, and in the eyes of his bosses at the AFA made his position untenable following a disastrous home Copa.
To be fair, it was barely a controversial decision given the competition that Argentina played. The Barcelona-lite side planted by 'Checho' failed miserably in the first two games, and when plan A failed the coach looked lost when he was required to switch things around. The three-man midfield of Javier Mascherano, Esteban Cambiasso and Ever Banega was one of the key factors in the team's disappointment. No one can deny that they are excellent players, but none of the trio adds much in the way of creative thrust or urgency to an attack which cried out for it.
Up the field, there was a similar story. Messi, Carlos Tevez and Ezequiel Lavezzi proved unable to function as a unit despite their outstanding individual talents, leaving the Albiceleste looking ponderous and flat in the final third; an incredible feat considering that this squad included seven of the very best forwards in the world.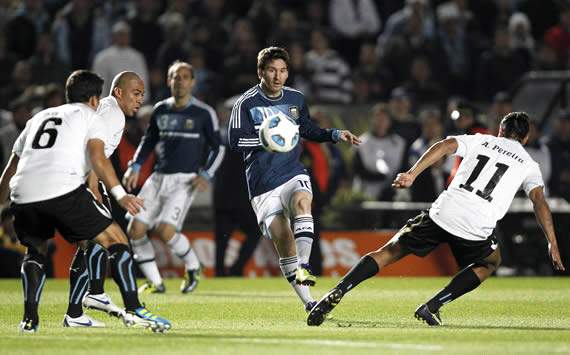 A Messi business | Lio tried in vain to break through during Argentina's last-eight exit
The results on the field did not lie, and laid bare the team's impotence. A 1-1 draw against minnows Bolivia was followed by a goalless tie with Colombia from which Argentina were lucky to escape with a point, and from that moment it appeared clear that for Batista, it was do or die. The Argentine public can tolerate poor results if they are compensated with electric play, and vice versa. Slumping to pitiful draws against teams that the Albiceleste are expected to beat, however, is unacceptable, and only a strong finish to the Copa could have saved Batista after such a disappointing start.
As it turned out, Carlos Tevez's penalty anguish against Uruguay denied the coach that particular salvation, the bitterest of ironies as it was the Manchester City man who first planted seeds of doubt in the minds of the public. The shambolic handling of Tevez's selection, first ruling him out of his Copa plans, claiming he was incompatible with the Barcelona system, and then falling back on his instincts at the behest of a public outcry. That was followed shortly by the disastrous friendly tour of Nigeria and Poland; it was a hammer blow for 'Checho' and left his standing fatally wounded in the eyes of the nation's media and football fanatics.
The search now begins for the latest man to fill the role, with former Estudiantes coach Alejandro Sabella the early favourite. In Montevideo, meanwhile, with their established system, a coach in place for five years and a team that can be recited from memory, Uruguay are celebrating a record 15th Copa America title and confirmation of superiority over their arch-rivals.
"A few years ago we used to have a healthy envy for the system that the Argentines had. You could see the U17s, the teams of Aimar, Riquelme... we used to fall short in the senior side, but when 'El Maestro' [Oscar Tabarez] came in things finally got organised," a delighted Diego Forlan admitted in the aftermath of Sunday's 3-0 final victory over Paraguay, and he could not be more right.
| | |
| --- | --- |
| "Instead of copying Barcelona, the time has come for Argentina to look at the stability and continuity enjoyed by their Rioplatense neighbours." | |
Since Tabarez took over as coach in 2006 the whole system has been overthrown and remodelled, ironically on the Argentine project spearheaded by Jose Pekerman. In Buenos Aires, the grass roots have been left to wither and die, and the ramifications are being felt now, exactly as one would expect.
Charrua football is looking as strong as it has for many years, while in Argentina a mis-managed team stumbles from catastrophe to scandal to controversy with depressing regularity. This accounted for Batista just as it did for Maradona and Alfio Basile before him, with nothing ever changing aside from the name of the coach on the teamsheet.
For the next incumbent, then, whoever he may be, a word of advice. Learn from your predecessor; ideals of playing like Barcelona sound great on paper, but when it comes to forming a team and a winning unit, it is worth taking a look at the men just over the Rio de la Plata for an example of how to succeed in international football.
Follow Daniel Edwards on