FEATURE
by Robin Bairner
Ugly scenes marred the end of Paraguay's Copa America semi-final victory over Venezuela on Tuesday night, with several players from both sides involved in a lengthy brawl. It served only to embarrass those involved after a hard-fought affair, which was decided in favour of Gerardo Martino's side, 5-3 on penalty kicks after a 0-0 draw.
Such incidents are not entirely uncommon, and, as such,
Goal.com
brings you football's most violent matches, arranged in chronological order.
June 27, 1954 – Hungary 4-2 Brazil – World Cup semi-final
'The Battle of Berne' is remembered as one of football's bloodiest matches, yet it was billed as a fixture of wonder before the game, with two of the world's best sides pitted against each other. Spectators were therefore taken aback by the war-like nature of the game.
The Hungarians took an early lead, but the favourites would begin to wind up their opponents by committing a series of cynical yet petty fouls.
Brazil clawed their way back to 3-2 and seemed to sense a leveller, but as Jozsef Bozsik and Nilton Santos faced off for an angry exchange, the scene was set for a series of vicious challenges. Zoltan Czibor, who provided the assist as Hungary added a fourth goal, was at one stage chased by an angry Djalma Santos, before Humberto Tozzi of Brazil aimed a kick towards one of the Europeans and was also dismissed.
Full-time provided little respite. Ferenc Puskas, who had been ruled out due to injury, allegedly cracked Pinheiro in the face with a bottle following an invasion of Hungary's dressing room.
November 14, 1934 – England 3-2 Italy – International friendly
England made a lightening quick start to the match, racing into a 3-0 lead and missing a penalty in the opening 15 minutes. It was an incident in the second minute that seemed to provoke the Italians' wrath, though, as Luis Monti broke a metatarsal in a clash with Edward Drake, which the visitors thought was a deliberate attempt to reduce their numbers as substitutes were not yet allowed.
Drake would finish the match with two black eyes and a badly injured leg, while Edris Hapgood suffered a broken nose, while Eric Brook had his arm broken.
After the interval, Italy battled their way – not quite as literally as in the first half – back into the game, but would lose 3-2.
England proclaimed themselves the best in the world, but the events on a rainy London evening left the FA considering the national side's very future.
June 2, 1962 - Chile 2-0 Italy – World Cup group stage
The Italian media proved to be something of a catalyst in the lead-up, to a match now remembered as 'The Battle of Santiago', by writing disparaging comments aimed at the World Cup hosts.
On the field, the Chileans were certainly in no mood to take any prisoners, with several violent incidents missed by English referee Ken Aston, the most notorious of which was a punch by Leonel Sanchez on Humberto Maschio, which broke the Italians' nose and would go unpunished.
Giorgio Ferrini attempted to act as a vigilante, but he would be dismissed for a kick at Landa. He would only depart the field under a police escort after arguing with the official for 10 minutes. Then, Martio David was sent from the field for attempting to kick Sanchez in the head.
Two men short, Italy would go on to lose the affair 2-0, with respected commentator David Coleman describing the match as: "The most stupid, appalling, disgusting and disgraceful exhibition of football, possibly in the history of the game."
November 4, 1967 – Racing Club 1-0 Celtic – Intercontinental Cup play-off
After sweeping their way to the European Cup, defeating Inter 2-1 in the final, Celtic met with Racing Club for the honour to claim the Intercontinental Cup. As one would expect between such high class sides, the matches were tight affairs, with the Scots riled in the first-leg by their belligerent visitors.
Having been the victims of some rather physical treatment at home, there would be an even hotter welcome in Argentina, where goalkeeper Ronnie Simpson had to be replaced before the match had started after being hit by a lump of metal. Racing would win the subsequent fixture 2-1.
As a result, a third encounter was required. Montevideo, Uruguay, was chosen as the neutral venue, and it was to prove the scene for a bloody encounter. Celtic's tempers finally broke, and they would be reduced to nine before half-time, though the Argentines also had a player sent off. Ultimately, the South Americans came through the decisive game 1-0, though both sides had their reputation sullied.
Billy McNeil, who scored Celtic's goal in the first encounter and received a black eye in the process, would comment that their opponents "went in for thuggery", and archive footage of the match portrays just what an uncompromising outfit Racing were.
1984 – Athletic Bilbao 1–0 Barcelona – Copa del Rey final
Diego Maradona's final match for Barcelona – the Copa del Rey final, no less - was to be an explosive affair, though this would be another occasion where the Argentine captured the headlines for the wrong reasons.
Faced with Athletic Bilbao, a particular rival of Barca at that time, and partly fuelled by an infamous challenge by Andoni Goikoetxea who one year earlier had left Maradona with a broken ankle, the Catalans would go down to a frustrating 1-0 defeat.
As the Basques celebrated their victory after the match, Miguel Angel Sola made a provocative gesture towards the combustible Argentine, who replied by kicking the midfielder to the ground, setting in motion a remarkable brawl that saw a full-blown fight break out between the teams.
Present-day Barca director Andoni Zubizarreta actually featured for Bilbao that evening.
May 13, 1990 - Dinamo Zagreb 0-0 Red Star Belgrade (abandoned) - Yugoslav football league
When discussing violent football matches, this is a fixture that simply cannot be overlooked, as it had wide-reaching consequences for the future of a nation.
The political landscape in Yugoslavia at the time was a tinderbox to say the least. Croatia had moved towards independence, but the Serbs opposed these ideas.
Around 3,000 hard line supporters of the Serbian communist faction made the trip to Zagreb, with the infamous Arkan leading their charge. Violence, unsurprisingly, broke out before kick-off.
During the match, as angry fans waged war in the stands and then on the field, home captain Zvonimir Boban attained hero status amongst the Dinamo fans when he kicked a police officer who was attacking one of the club's followers.
Such is the reputation this encounter has, it is cited by many as the start of the Croatian War of Independence.

November 15 2001 – Portugal 5-1 Angola (abandoned) – International friendly
There is meant to be a certain kinship between Portugal and Angola, but this wasn't on display when the two nations met in an international friendly a decade ago.
Against the Seleccao's 'Golden Generation', the Africans took a shock lead and fought, almost literally, to keep it. Having been reduced to 10 men before even quarter of the match had been completed, they would be quickly pegged back as the Portuguese struck from the penalty spot.
Immediately, Angola would have another man sent off, and before half an hour had been played, another brutal tackle was responded to by referee Pascal Garibian with another red card. Though this was met by angry scenes in the stands, with fans tearing up seats and launching them towards the pitch, there could be little argument with the validity of the official's calls.
There would be no relent in the Angolan's strong-armed tactics, and it would come as something of a surprise that it took them until well into the second half to have a fourth player dismissed. The match would last only until the 70th minute, when a premature halt was called, ironically due to an injury suffered by the visiting team, who having used all three permitted substitutes were left with only six players.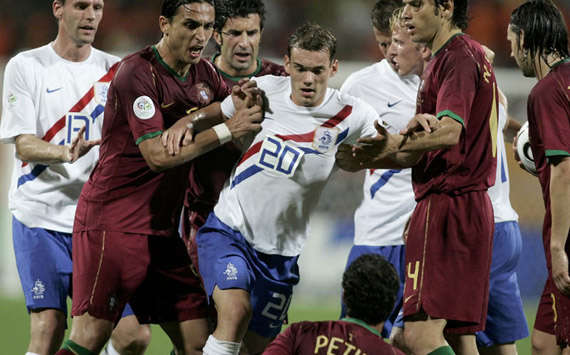 Ill-tempered | Portgual's clash against the Dutch broke World Cup records
June 25 2006 - Netherlands 0-1 Portugal – World Cup round of 16
The Netherlands will be remembered by many for their overly physical approach against Spain in the 2010 final, but it was their elimination against Portugal in the 2006 World Cup that should be considered one of their most explosive encounters. This was a match that produced an astonishing 16 bookings and four red cards.
It was clear from the outset that this wasn't going to be a game for the faint-hearted, with Khalid Boulahrouz clattering Cristiano Ronaldo early to earn the first of two bookings, the second of which arrived only after Costinha had hacked Philip Cocu. Deco and Giovanni van Bronckhorst would both follow. Luis Figo was lucky not to see red, too, having head-butted Mark van Bommel.
Ironically, it was a fine Maniche goal that won this fixture 1-0 for the Portuguese, but it is the red cards this clash will be remembered for.
January 28 2010 – Algeria 0-4 Egypt – African Cup of Nations semi-final
A remarkable series of matches took place between the two north African states over a two-year period, which culminated in Egypt's stunning 4-0 victory over Algeria in the African Cup of Nations semi-finals.
The Pharaohs had been eliminated from the World Cup by their rivals via a play-off after they had finished the final qualifying stage with exactly the same record, but lost a much-disputed one-off match 1-0 in Sudan.
That encounter had seen political relations between the two nations grow frosty amid mounting tension in the build-up to the match, which included Egyptian fans stoning the team bus of their rivals. After the fixture, many Egyptians protested, burning Algerian flags outside the nation's embassy in Cairo.
When they were given a chance of revenge only a few months later on a relatively big stage, they gleefully took it, picking up a memorable 4-0 victory. Algeria lost their heads in a high-tension encounter, having three players dismissed, including goalkeeper Faouzi Chaouchi, who aimed a head-butt at referee Codja Koffi.
Having exacted revenge upon their great rivals, Egypt beat Ghana 1-0 in the final.
July 2 2011 – Lebanon 0-6 Kuwait (abandoned) – International friendly
Though the friendly encounter at the start of the month between Lebanon and Kuwait attracted little attention in the western media, it was a remarkable fixture simply because it ended with gunshots echoing round the stadium.
With 83 minutes of the game played, the visitors were cruising to an easy 6-0 success, but Waleed Ali of the visiting side still managed to take exception to alleged remarks made by opponent Abbas Attawi. This sparked an all-out brawl between the two sides that required the watching guards to intervene.
Just as the trouble seemed to have ceased, the home players made another surge at their guests, which ultimately resulted in a more heavy-handed approach from the authorities. Around a dozen gunshots rang out to disperse the scrum, though thankfully no players were hurt.
Fifa effectively washed their hands of the incident, telling
Goal.com
: "At the time of writing, Fifa has not received any official report regarding the match, and we are therefore not in a position to comment on this match."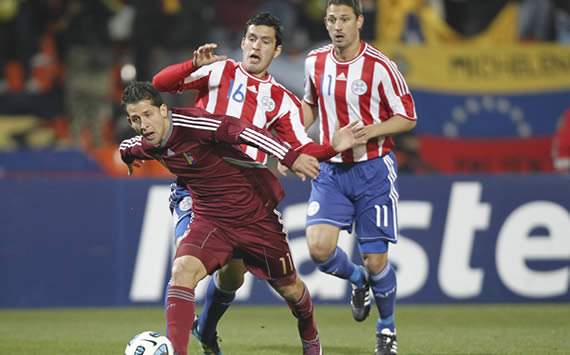 Copa Clash | Paraguay's win over Venezuela will be remembered for the wrong reasons

July 19,
2011 – Paraguay 0-0 Venezuela (aet; 5-3 pens) – Copa America semi-final
Despite not winning a game in the Copa America, Paraguay advanced to the final at the expense of Venezuela, who had confounded critics by progressing as far as the semi-final stage but stumbled in a penalty shoot-out following a 0-0 draw.
Indeed, the unheralded side were left frustrated come the end of extra-time, having had a goal disallowed and two shots cannon back off the woodwork.
Failing from the penalty spot just seemed to be too much for Cesar Farias' side, who lost their cool following a 5-3 defeat from 12 yards. As television broadcasts began to wrap up, the players were engaged in a remarkable post-match duel, which the Venezuelan coach blamed on their opponents.
"Now we are so important that they already know our names, we are so important that we got to penalties and we are so important they have to come and attack us after the game," the trainer complained.
Doubtless we haven't heard the last of this saga, particularly with the final quickly approaching.
Follow Robin Bairner on