COMMENT
By Robin Bairner
After a Copa America in which Brazil had failed to live up to expectations, the Selecao were finally eliminated in the most incredible of circumstances by Paraguay on Sunday evening. Following a 0-0 draw that they had for the most part monopolised, a penalty shoot-out yielded nothing but frustration and embarrassment as the men in yellow saw all four kicks fail, three of which did not even trouble custodian Justo Villar.
The 34-year-old shot-stopper had enjoyed a performance that he will forever remember, making a series of fine blocks over the course of the match. He was first exerted by a close range effort from Lucio, and after the break he would on two occasions deny Alexandre Pato spectacularly, while also managing to smartly turn a further effort from Ganso around the post.
Given the almost complete dominance that Brazil enjoyed, their ineffectiveness was a lamentable and extremely troubling state of affairs, climaxing as they became the first side in Copa America history to draw a blank in a penalty shoot-out.
MATCH STATS: BRAZIL vs. PARAGUAY
| | | |
| --- | --- | --- |
| Brazil | | Paraguay |
| | vs | |
| | | |
| --- | --- | --- |
| 56 | POSSESSION (%) | 44 |
| 16 (8) | SHOTS (ON TARGET) | 4 (1) |
| 465 | SUCCESSFUL PASSES | 252 |
| 26 | SUCCESSFUL DRIBBLES | 5 |
| 8 | CORNERS | 0 |
| 2 | YELLOW CARDS | 4 |
| 1 | RED CARDS | 1 |
As the Selecao dispatched Ecuador 4-2 in their final group game to progress to the knockout stages, it seemed that Menezes might have stumbled across a winning formula for his side, but critics pointed out that the relatively weak nature of their opponents gave that performance a somewhat flattering facade.
Sunday's display proved the naysayers correct as the problems encountered by the Brazilians were familiar. While the defence, marshalled expertly by Thiago Silva at its heart, was assured and mature throughout, there was a definite sense of naivety in much of their attacking play, and there are plenty of directions in which fingers can be pointed.
AC Milan's Alexandre Pato was charged with the task of being the focal point of the attack, but when he was presented with his opportunities in the second period, he was unable to profit.
On the first occasion, a fine first touch eliminated two defenders, and only some magnificent goalkeeping from Villar denied him. A similar chance later in the game was again expertly saved, but luck seemed to favour the young attacker as the ball bounced kindly up on the rebound. Pato planted his header into the side netting; not a contender for miss of the season, but an opportunity a world class scorer should gobble up.
NEYMAR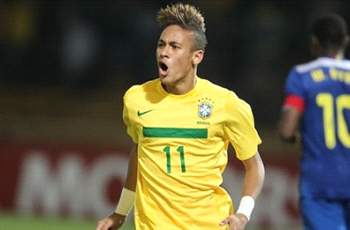 "Too often the Real Madrid and Barcelona target looked for a spectacular individual effort, allowing his ego to cloud his judgement to the detriment of his side.
"

The 21-year-old might argue that he was not given enough service from Ganso, who had been pinpointed by Paraguay coach Gerardo Martino as the man to stop. Though the Albirroja struggled to get a grip on the match, they were certainly not unduly troubled on a regular basis by the playmaker, who was a peripheral figure for much of the match, not willing or able to take a pivotal role in his side's attacking play.
Neymar, however, was perhaps the greatest culprit. There has been a great deal of hype surrounding the young attacker, but in La Plata he showed that he still has a distance to go before he finds his best level. Equally, there were hints of undoubted class, but the 19-year-old does not yet have the mind that allows him to make the correct decisions at decisive moments; one of the crucial hallmarks of an international class player.
Too often, the Real Madrid and Barcelona target looked for a spectacular individual effort, allowing his ego to cloud his judgement to the detriment of his side.
Undoubtedly, apologists will readily cite the state of the pitch as a factor that counted against Brazil – Robinho, who actually had a strong game coming in from the right, one of those - but while there is no doubt that this was a levelling factor in the game, it did not prevent world football's most successful nation from dominating the fixture and creating a volume of openings that meant Paraguay should have been defeated.
Given the timid nature of much of the attacking play, it was little surprise that the Selecao's penalties were so poor, though no one would have predicted the margins by which Elano and Andre Santos would flop.
Having out-shot their opponents 16-4, Brazil had the chances, but they did not have the composure, and in their final competitive matches before the 2014 World Cup, which will, of course, be played on home soil, that has to come as a real concern.
This troubled Copa America has to remain in context, though. It is important to remember that 2014 is Brazil's long-term aim, and blooding the likes of Neymar and Ganso into the cut-throat world of international football may yet pay long-term dividends, even if it has meant an undoubted step back in the short-term.