COMMENT
By Paul Macdonald
The 2011 Copa America has, until now, been a far from pleasurable experience for fans of tournament favourites Brazil and Argentina. The latter may have eventually clinched qualification for the knockout stages courtesy of a 3-0 win over Costa Rica on Monday, after a pair of unconvincing draws against Bolivia and Colombia, but significant reservations regarding Sergio Batista's side still hold true.
Brazil, like their epochal rivals, were also held in their opening two Group matches; a resilient Venezuela boarded up their goal and stood firm in the face of Ganso, Neymar, Robinho & Alexandre Pato. Then, Paraguay came within minutes of creating a seismic upset before Fred's 89th-minute equaliser salvaged a 2-2 tie. And just as Batista opted to tactically rethink his side in order to right the wrongs that had blighted Argentina's performances, Mano Menezes must consider similar upheaval in order to secure progression, and reinvigorate a side who, at this point, look some way away from South American champions.
With the likes of Kaka, Ronaldinho, Nilmar, and Hulk observing the tournament from afar, Menezes
STUMBLING SELECAO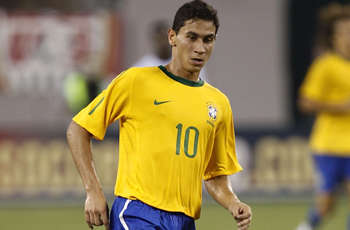 Daniel Edwards, Goal.com International South America Editor

"Watching Brazil so far in La Plata and Cordoba, it is clear that they do not lack the individual talent to go far in this tournament. What has been sorely missing so far, however, is a coherent tactical idea that runs from Julio Cesar up to Alexandre Pato. The four most advanced players have failed to click as a unit and often appear to play for themselves, especially Neymar who too often has been a ghost out on the left wing.

"Brazil should have the quality to see off Ecuador, who need to chase victory for the chance to stay in Argentina, but if the disorder and lack of urgency continues fans of the Selecao could be in for another uncomfortable evening on Wednesday."

most definitely has a Brazil team of his own making; the future, the first stepping stone towards an all-out assault on the World Cup on home soil in 2014. Teething problems are, therefore, inevitable, and expected. But throughout the tournament so far it has become clear that some members of the tactician's starting XI compete for the same position, and there is a certain pluralism in their attributes that is proving to be counterproductive.
The problem is prevalent in attack and bleeds backwards through the side. The aforementioned offensive foursome that were so ineffective against Venezuela have proven too individualistic and linear to be of any good of the team. The enigmatic talents of Neymar and Robinho have shown the dark side of their ability, an anonymity and lack of influence that has stopped Brazil in their tracks before they have been able to construct any forward momentum. Their skillsets are too similar, a problem already acknowledged by Menezes with the inclusion of Jadson, a scorer in the Paraguay encounter, in place of Robinho.
However, Pato has appeared equally as misguided as Neymar, and his position lacks definition. All too often he invades the space of the Santos winger, and whether it be mismanagement from the bench or inability to follow orders from the AC Milan striker, he isn't sufficiently performing the role of a leading man in the diamond, and attacks lack any precision as a result. Add Ganso into the mix, unquestionably skillful but relatively untested internationally, and a front four of undoubted ability but no sense of place in their formation is completed.
Menezes was forced to replace Jadson at half-time of the Paraguay match, for fear that the already-booked player could inadvertently leave his team chasing the game after a single ill-conceived tackle. Perhaps more than Jadson is needed, however; the tactician may have limited offensive options in his squad, but Fred scored what could prove to be a monumental goal to deny Paraguay victory on Saturday, staking his claim for a starting slot in the process. Elano, meanwhile, offers the side a wealth of experience, honed on two continents, and is an alternative Menezes must be seriously considering utilisting from the start.
Argentina's Batista assimilated ideas from his predecessor, Diego Maradona, into his own preferred approach in order to forced his team to find their rhythm; as
Goal.com's Daniel Edwards
commented yesterday,
he relinquished a degree of tactical rigidity to promote expressionism from the likes of Messi, Aguero and Co.
Menezes may need to opt for an opposing revolution; a reorganisation of his attack, incorporating some of the experience available to him alongside youthful exuberance, while offering a greater clarity in what is expected of them.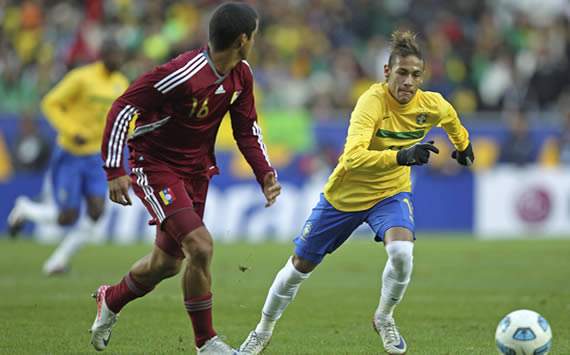 The Nowhere Man | Neymar has failed to make an impact on the Copa America - so far
Further back in the formation, the midfield struggled to maintain control in both matches, and indeed the employment of Lucas Leiva and Ramires in the engine room has brought with it additional baggage.
Both players are comfortable collecting the ball from the back four and playing short, possession-retaining passes, but their creativity is undeniably limited. Neither can suitably progress the play with pace or incision, and they have been guilty of carelessness on the ball, as well as being simply outfought in their outings so far. Venezuela's Tomas Rincon bullied Ramires in the opening round stalemate, while Nestor Ortigoza provided an equally competent display for Paraguay to take advantage of Brazilian complacency in the centre.
Unfortunately for Menezes, his options in the centre are limited, and even more so with the news that Tottenham's Sandro will play no further part as a result of a knee injury. Elias represents the only real alternative, but, again, his lack of international experience would be a concern. As a result, this is an area of the team that seems to be symptomatic of the lacklustre nature of their play, but one that is unlikely to be altered at this stage.
Finally, and perhaps the most disconcerting failure so far for Menezes, has been the uncharacteristically inept performances of Dani Alves from the right. Designed to be an additional attacking option to press the opposition deep into their territory, as he did so supremely for Barcelona, Alves has at times literally been unable to keep control of the ball, let alone induce attacks from his flank.
Whether he is the victim of a strenuous club season or is struggling to adapt to the unfamiliarity of his colleagues, Menezes nevertheless must be in disbelief. For so long the understudy to Maicon, a starting berth is finally his - and Alves suddenly appears incapable of performing the role with any competency in the yellow of his country.
Like Argentina against Costa Rica, few expect the Selecao to suffer the humiliation of a group stage exit, despite their apparent deficiencies; particularly against a struggling Ecuador side likely to be without stricken winger Antonio Valencia.
However, with tactical ambiguity and underperformance endemic of much of Menezes' reign, there are many questions to be answered - versus Ecuador, and beyond.
Follow Paul Macdonald on