FEATURE
By Luis Mira
Fabio Coentrao
did not have a very easy life as a child, and at the age of 13 he had to live with his aunt, as his parents moved to France and took his two brothers with them. Coentrao, who had joined the youth ranks of Rio Ave just one year prior to that, stayed put, as his parents were confident he could succeed in becoming a professional footballer.
He shone in Rio Aves' youth ranks and quickly became a star player at the club, earning the nickname "Figo das Caxinas" (Caxinas' Figo). At the end of the 2006-07 season, he was voted the breakthrough player of the Portuguese Second Division and
World Soccer
magazine considered him one of the campaign's top 50 talents and compared him with the likes of Cristiano Ronaldo, Ricardo Quaresma and Arjen Robben.
Coentrao is a confessed fan of Sporting and it is said in Portugal he helped form Vila do Conde's Juventude Leonina, which is the club's biggest ultras organisation. Sporting were strongly tipped to sign the player, who spoke of his desire to move to the Estadio de Alvalade in an interview with
O JOGO
. However, Sporting were unwilling to meet the player's valuation of €750,000 and he remained at Rio Ave. After this, he spent one month on trial at Chelsea, when Jose Mourinho was still in charge, and though he did not earn a switch to Stamford Bridge, it is believed the Portuguese coach was impressed by the player's qualities. After this trial, interest in Coentrao sky-rocketed, and the player ended up joining Benfica.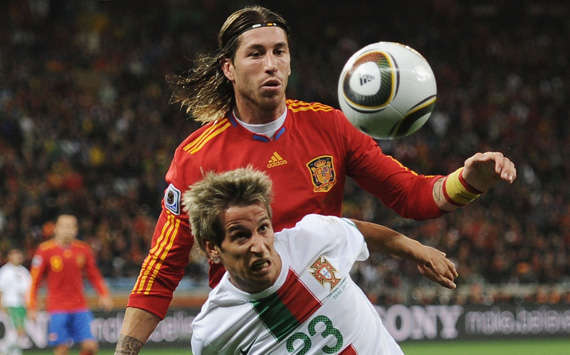 Heading to Spain | Coentrao in action against new team-mate Sergio Ramos at the World Cup
After a disappointing season, Benfica revamped their squad in the summer of 2007 with the signing of several players. Coentrao was a choice of coach Fernando Santos, who was sacked just one match into the new campaign. Under Jose Antonio Camacho, the player found himself behind Cristian Rodriguez, Angel Di Maria and Freddy Adu in the club's pecking order and was given very few chances to shine, so Benfica loaned him out to Nacional da Madeira for the second half of the season. At Nacional, Coentrao showed his potential and even scored twice in a 3-0 victory over Porto. Upon returning to Benfica, though, he was told he still would not be guaranteed a starting spot, and the club initiated talks regarding a new loan.
Coentrao came close to a move to Feyenoord, who had secured a €5 million buying option for the player, but the deal fell through at the last minute as the player joined relegated La Liga side Zaragoza as part of Pablo Aimar's transfer to Benfica. In Spain, Coentrao experienced what was the worst year of his career, making just one brief appearance as he failed to settle in his new surroundings. During his time at Zaragoza, it was speculated that Coentrao would be another talent put to waste due to his mentality, and parallels were drawn with the former Sporting ace Fabio Paim, whom many considered to be even more talented than Cristiano Ronaldo. He also won a reputation as something of a party animal, but has vehemently denied those claims ever since.

"Everybody knows Fabio Coentrao
. He is a strong player and he can play in several positions. He is one of the best players in the world"
- Cristiano Ronaldo

In the second half of the 2008-09 season, he returned to Portugal, joining his former club Rio Ave, and played an important role there, making 16 appearances. With Jorge Jesus' arrival at Benfica in the summer of 2009, however, Coentrao finally earned a place at the Estadio da Luz. With the left wing occupied by Di Maria, Jesus decided to use him as a left-back for the first time in his career. Coentrao immediately was a big hit in his new position, also becoming a very important player for the Portuguese national team, which had not had a top level left-back for many years.
Unsurprisingly, Coentrao's performances for Benfica caught the eye of many clubs across Europe. With Jose Mourinho appointed as coach of Real Madrid in the summer of 2010, Coentrao was immediately linked with a move to the Santiago Bernabeu. Curiously, when asked about his reported interest in the player, Mourinho said he did not need a second Marcelo. Now he has one.
Follow Luis Mira on

Follow Goal.com on