FEATURE
By Ben Hayward
Barcelona against Real Madrid is often described as
cantera
versus
cartera
. A
cantera
, quite literally, is a quarry; Barca's youngsters are dug up, unearthed as raw diamonds, then well-drilled and polished to become the finished article – real gems. A
cartera
is a wallet; synonymous with spending, with Real Madrid and with the club's policy in recent years, especially since the 'Galactico' era. But it's all easy to forget that Madrid, too, has a
cantera
– and it's a very, very good one at that.
Madrid's homegrown stars progress through the ranks of the Castilla club which now plays in Spain's Segunda Division B. Over the years, it has seen the emergence of some of the country's finest, including Emilio Butragueno, Martin Vazquez and Michel, then later Raul
[
who joined from cross-city rivals Atletico at the age of 15 to feature for Real Madrid C, B and later the senior side in 1994
]
and Iker Casillas. All of those five were soon promoted to the first team and went on to become Madrid legends. And Casillas is still there, but he is one of a dying breed.
Over the last few years, Madrid have allowed their best youth players to depart, preferring instead to buy big and bring in the cream of the world's top talent. Such marquee signings, however, do not guarantee success. The club's record on the pitch in the last three years, and towards the end of the 'Galactico' era, is testament to that fact, while two big-name signings, Robinho and Kaka, have embodied those failings. And in the meantime, the club's finest young stars have been forced to seek prosperity elsewhere.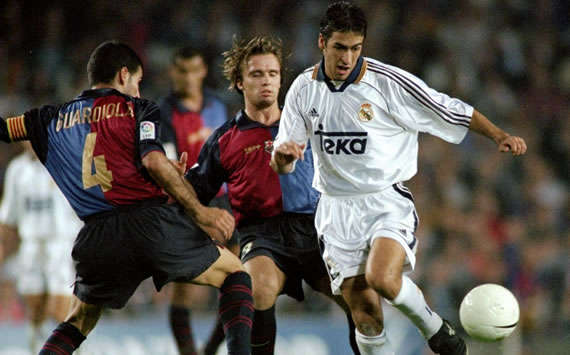 Local products | Raul and Pep Guardiola starred for Barcelona and Real as players
But while Barcelona have developed a generation of footballers who have become the base of the world's best club side and also the planet's finest national team, Madrid have produced promising players, too. The highest-scoring Spanish striker in the Primera Division last season was a Madrid youngster. So too was a player who featured for Spain in last summer's World Cup win, starred in the recent Under-21 European Championship triumph for La Roja and who has become one of this summer's top transfer targets for clubs all over Europe. Then there is the man many believe to be the world's best striker, who is now a three-time Champions League winner. There's another forward, who bagged 25 goals in 44 games in a hugely impressive campaign last term, and a player recently capped by Spain after a superb season in a withdrawn attacking role for his side. All top talents, but Alvaro Negredo, Juan Mata, Samuel Eto'o, Roberto Soldado and Borja Valero have found success away from Madrid. They have had to.
The league is littered with players who began their footballing journeys in Madrid's youth side, dreaming of a future in the famous white shirt. Sometimes, as in the case of Alvaro Arbeloa, they come back. Others return only to be sold on, such as Negredo. Another who is currently back at Madrid, Jose Callejon, could yet fall into either of those categories. Should he make it, he will be one of the lucky ones.
"Although many would like to believe otherwise,

the policy of Real Madrid has always been geared towards training young people."
Negredo and Soldado may not be good enough for Madrid anyway, but Eto'o, who joined Real as a 15-year-old, has proved that he was - and is - up to the required standard since he was discarded in 2000, while Mata now appears ready to play for any side as Mourinho assembles his ready-made
cantera
with the cream of the world's top talent, young players – such as Mesut Ozil, Angel Di Maria, plus prospective signings Neymar and Fabio Coentrao – who have shone elsewhere and who are now considered ready to shine at the Santiago Bernabeu.
Mourinho is being aided in this task by Zinedine Zidane, now a special adviser at Madrid. The Frenchman became the world's most expensive player when he moved from Juventus to Real in 2001, but his signing was supposed to herald the beginning of a new policy called
Zidanes y Pavones
, which would see the arrival of a star each summer and be supplemented by the finest individuals from the club's youth side. Unfortunately, the
Pavones
– led by Francisco Pavon, Alvaro Mejia, Javier Portillo and Raul Bravo – weren't good enough. And the youngsters haven't been trusted since.
"We haven't taken care of our youth system.

We have spent money on players rather than buying our own. The biggest sadness is to see Casillas there all alone."
- Guti, ex Madrid canterano
Now, having won just a Copa del Rey in the last three years, Madrid can ill afford to blood their youngsters. Those who start for Mourinho need to be the finished article. Right now. There is simply too much at stake. Even cup games cannot be used to field youngsters. Just ask Manuel Pellegrini, who made a few changes to his side against lowly Alcorcon, lost the game 4-0 and later lost his job, too. Mourinho won't make such a mistake. "I have faith in the
cantera
for the future but not for the present," the Portuguese said last season. "They have potential but one thing is to be definitively prepared and the other thing is to play them when you have no other option." Madrid, of course, do have other options – and they probably always will. So it's a vicious circle; a young player cannot be the finished article without first-team experience and yet until he is seen as the real deal, he is unlikely to be given a chance. "Real's policy has always focused on the development of youngsters," Zidane said this week. "But after they come through the youth team, it's really difficult for these players to get to the first team." Actually, at Madrid, it's almost impossible.
Follow Ben Hayward on