COMMENT

By Ralph Hannah
Football is full of its own tragedies, heartaches, shocks and nightmares that are often attributed to a team getting relegated, a manager being sacked or even simply a heavy defeat or poor performance. Paraguay's Salvador Cabanas suffered both a football and human tragedy on 25 January 2010 when he was shot in the head from point-blank range in a bar in Mexico City.
Incredibly, Cabanas survived and eventually the perpetrator, a leading Mexican drug trafficker, was caught by the police. Aside from suffering limited memory loss, it seemed that his personal nightmare was over.
The football tragedy, of course, was that South America's leading goalscorer in the 2010 World Cup qualifiers wouldn't go to South Africa, and reports suggest that he had been on the brink of moving to the Premier League with Sunderland. In Paraguay fans paid homage to a marvellous football career, on the assumption that it had finished at the age of just 29.
But for Cabanas, retirement was never on his agenda and less than two months after the shooting he spoke to the press for the first time.
"I'm happy to be alive and recovering," he said, before adding: "Very soon we are going to be on the pitch. Football gives you a lot things and I still want to play". That was in March 2010; fast forward to February 2011, and Cabanas was closer to his dream, he had been invited to train with the reigning Paraguayan champions Libertad.
"We're proud to be able to have Salvador here, we're going to help him," said Libertad's coach
CABANAS | THE STORY SO FAR

Club

12 de Octubre
Guarani
Audax Italiano
Jaguares
Club America

Paraguay

Apps

28
20
53
103
115

44

Gls

14
6
29
59
66

10
at the time, Gregorio Perez. That day, Cabanas trained with former colleagues from the national side, Victor Caceres, Rodolfo Gamarra and Carlos Bonet. The club doctor noted that Cabanas had been part of a "normal practice session" but conceded that he wasn't ready to play professional football yet.
Cabanas didn't stop working, training daily with physiotherapist Alder Rolon at the Libertad centre. On June 8, Rolon declared to the press: "Physically, [Cabanas] is 100 per cent. With Salvador we could be close to the final phase of recovery. He lacks work on the pitch, with a professional squad."
To the surprise of everyone, including their own press department, that very afternoon Cabanas showed up at the Paraguayan national teams' training camp in Ypane on the outskirts of Asuncion.
Photos of a smiling Cabanas were released and even a short video of him playing piggy-in-the-middle with his old team-mates was uploaded to the squad's official YouTube channel . It was an incredibly heartwarming scene, and after the session Paraguay coach Gerardo Martino said of the experience: "Salvador's presence makes us all feel good. He is well and that makes us feel better."
Martino has a sentimental side - he cried when Paraguay beat Japan in the last 16 of World Cup 2010 - but he is no soft touch, and there is no doubt that Cabanas was there at his invitation and not at the behest of the media or sponsors. The fact that the striker was invited to train the next day, and the next, meant Martino was impressed and saw footballing value in having him amongst his squad.
After greeting the fans before the friendly versus Romania on June 11, Cabanas spoke about his plans for the future. It was inevitable what his immediate hope was.
"I'd very much like to go [to the Copa America] with the group, I'm happy to have trained with them this week, to share, to remember those qualifiers for the World Cup, everybody demonstrated their friendship and that they're with me." One of those friends, Manchester City striker Roque Santa Cruz, commented: "It makes us all happy to see him so well, this has been a miracle after the seriousness of his case."
Yet the real miracle for Salvador Cabanas is not just the fact he survived, or that he has managed to train again. The miracle he craves is that same one he talked about just six weeks after his shooting: he wants to play football. The road to recovery has been long, and bumpy, with legal wrangles with his ex-agent over property rights and payments, and the long-running issue of his compensation from former employees Club America in Mexico.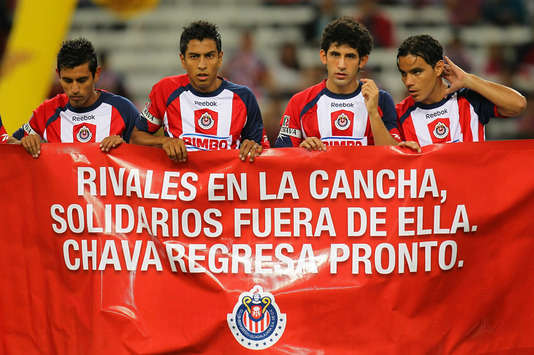 Honoured | America's rivals Chivas pay their respects after the shooting
But it seems he is entering the home straight, with strong rumours, still unconfirmed at the time of writing by the APF (Paraguayan FA), that he was going to have his immediate wish granted and travel with the Paraguay squad to Argentina. The APF are refusing to give him an official role, but he is likely to be involved in routine training as an honorary squad member.
Many questions remain as to whether Cabanas can progress beyond the training ground to the playing field; he may have recovered physically but what about mentally? How will he react to the pressures of top flight football or the taunts of rival fans and players?
But, for now, he can be pleased to have come so far and he will be targeting his testimonial game in Mexico versus a Paraguay XI currently scheduled for August 10.
Afterwards it will still be too soon to tell but if Cabanas has taught us one thing in the last 17 months, it is this: don't write him off yet, because he wants this more than anything.