FEATURE

By Clark Whitney
Imagine football today without Lionel Messi or Cristiano Ronaldo. Now picture the beautiful game with half a dozen, or more, players on their level. The difference between the two situations could come down to whether talented teenage reserves are rapidly converted to 50-game-per-year professionals, or slowly nurtured until they are physically prepared to play at the highest level. A
Goal.com
study of 503 Bundesliga players discovered that under-21s are 66.8 per cent more likely to sustain serious injuries than are older players; complications that could have dire effects on budding careers.
For every superstar, there is another young talent who either had his progress stunted - or career ended altogether - due to injuries that could have been avoided had he not rushed his introduction into first-team football. This is already a problem in Germany, where more than one in three first-team players is eligible for under-21 sides, and rising starlets are regularly sidelined with major afflictions. Below, Goal.com investigates the youth movement in today's game, as well as its less favourable consequences.
MORE
BACKGROUND
A decade ago, the DFL (German Football League) implemented a policy forcing all first and second division German teams to develop academies with strict, specific guidelines. It took years of hard work and investment in excess of €500 million, but the German youth movement is finally paying off. In recent years, their amateur national sides have won European Championships at U-17, U-19, and U-21 levels, and the team that took third place at the 2010 World Cup was the youngest German squad in football's elite international tournament since 1934. Now, many of Germany's brightest talents are spending minimal time with the U-21's, or skipping the eldest youth level altogether before they are capped for the senior side.
KEY POINTS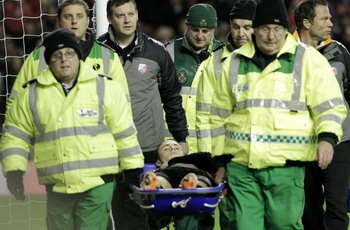 Young players are 66.8% more likely to sustain serious injuries
Adolescents are often not physically ready to endure the rigours of football at the highest level
A major injury at a young age can become chronic and blight a player's career
The fruits of Germany's youth movement are also being realised at club level.
Seven players from Goal.com's Bundesliga Team of the Season were 23 or under
, Dortmund were recently crowned the youngest-ever German champions, and Champions League semi-finalists Schalke used just three players above the age of 25 when they were eliminated by Manchester United.
With Financial Fair Play set to take effect, the Bundesliga is well ahead of the curve when it comes to producing quality youth, having developed a burgeoning contingent of young stars. Having studied football at academies from early youth, the newest crop of German starlets is more technically proficient, more tactically sophisticated, and more mentally prepared for the on-and off-field challenges of professional football than any before.
There is a dark and unavoidable flaw in the new German method, however: young players lack physical maturity, making them far more prone to major structural injuries and potentially limiting their careers.
Goal.com's study of 503 Bundesliga players found that while 31% of players in the German top flight were 21 or younger as of July 1, 2010, between that time and May 2011, those individuals accounted for a whopping 42.9% of all injuries that kept them out of first-team training for two months or more. In other words, under-21 players sustained serious problems - cruciate ligament ruptures, meniscal tears, metatarsal fractures, and the like - at rates 66.8% higher than older players.
RESULTS | Young Bundesliga players are at significantly elevated risk of injury

Under-21


Over-21


156 players (31.0% of total)
27 severe* injuries (42.9%)
17.3% of players severely injured

347 players (69.0%)
36 severe injuries (57.1%)
10.4% of players severely injured

*Severe injury defined as structural damage keeping player out of first-team training for two or more months
The grossly disproportionate instance of major injuries to young players clearly indicates that no matter how mentally and emotionally prepared they are, players of 17 and 18 years of age are still not yet fully developed men, at least physically.
According to Dr. Thomas Gill, Chief of sports medicine service at Massachusetts General Hospital, the main causes for the severe injuries youngsters sustain are over-use, naivety, and Darwinian natural selection. That is, that many young players go past their physical limitations (which are lower, especially for players who are still growing), do not have the savvy to avoid potentially harmful clashes, and/or are talented but not physically cut out for football at the highest level.


"For the younger players, especially 21 or under…the instance of overuse injuries is quite large."



- Dr. Thomas Gill
Tournament summers endanger players & youngsters are at increased risk of injury - Click here to read Goal.com's Exclusive interview with Dr. Gill.
This is not to say that young footballers are all incapable of taking on the challenges of first-team football. Thomas Muller was still 19 when he broke into the Bayern Munich professional squad in August of 2009. In two years, he has played 100 matches for his club, and 17 more for country, and during that time has covered more ground than all but a handful of Europe's elite footballers. Now 21, he has yet to sustain any injury of note.
Muller is an anomaly, however; most young players sustain some type of problem during a two-year period, whether the ailment is minor or severe. He has benefited not only from genetics that make him uncommonly robust, but also from years of access to a world class staff of physiotherapists, personal trainers, doctors, and - perhaps most crucially - education that has helped him adapt his game to avoid injury.
Most players are not privy to such luxuries from their early teens, or are simply not as lucky. In such cases, the effects can be devastating. Take Michael Owen, for example, who made his professional debut for Liverpool at just 16 years of age. Blessed with tremendous natural skill, but still physically in his adolescence, Owen scored 23 goals in each of his first two full seasons. Though he went on to have several more years of top class play, the beginning of his demise arrived in April 1999, when he was just 19. In a match with Leeds, Owen sustained a hamstring injury that went on to plague him for the rest of his career. His last season as an effective, classy striker was 2003-04, which ended when he was just 24 years of age. The recurring hamstring problem stifled his pace, without which he could never fulfill the potential he once showed as a boy.
WASTED POTENTIAL | Ronaldo & Owen were plagued by injuries

RONALDO




OWEN


Seasons with...



Seasons with...

> 30 apps

7*


> 30 apps

10**
> 25 goals

5


> 25 goals

2
< 15 apps

6


< 15 apps
3
< 10 goals

6


< 10 goals
4

*First at age 16

**First at age 17-18
Another example is Ronaldo, whose first full European season began at PSV when he was still 17. A year later he suffered his first major knee problem, and while the following club season was the best of his career, further setbacks to the same area soon took their toll. The Brazilian will always be remembered as one of the best strikers to have ever lived, but fans can only wonder what might have been had he not been plagued by knee injuries throughout his career. Based on talent, he easily had the ability to be a 30-goal-per-year striker for more than a decade. Instead, he reached the 25-goal mark 'just' five times and was effectively finished before his 29th birthday.
Owen and Ronaldo are just the beginning. Click here for an in-depth look at stars who had their careers blighted by chronic injuries stemming from their youth.
Given the dangers that come with match accumulation, it is no wonder that Arsene Wenger so adamantly opposed the inclusion of Jack Wilshere in England's squad for the U-21 European Championships. In his breakthrough season, the 19-year-old played 49 matches for Arsenal; as many as five more games and an extra month of training would have dramatically increased his risk of injury, either during the tournament or early next season. Wisely, Wilshere opted out.
Even so, the minutes Wilshere - along with others such as Dortmund's Mario Gotze - accumulated are rather alarming. Footballers already have too short an off-season; factoring in the unpreparedness and lack of physical maturity that inevitably comes with youth, and it is clear that as the game is played now, many young footballers will never fulfill their potential. Some will be fortunate to avoid severe problems; many others, less so.
A decade ago, it was a rarity to see an 18, or even 19-year-old, start in the Bundesliga. Now it is commonplace. As football's youth academies have evolved to expedite the mental and technical preparation of rising stars for competition at the highest level, the rules of the football world have remained the same, and failed to protect youngsters in their new roles. The push for youth development has value and without doubt will give rise to a new generation of more talented stars than those we see today, but it is up to Fifa and Uefa to ensure that the future is secured. Many blossoming careers lay in the balance.
Follow Clark Whitney on

.