COMMENT
By Kris Voakes
It took a huge error from Bologna director general Stefano Pedrelli to get him there, but Emiliano Viviano is now an Inter goalkeeper in more than just name. And in 2011-12, he could well send Julio Cesar tumbling into the reject bin and put Gianluigi Buffon under serious pressure for the Italy No. 1 spot at Euro 2012.
Pedrelli's ridiculous blunder – writing the wrong figure on the wrong side of paper at the blind auction to settle the keeper's ownership – has brought about the promise of a fascinating season between the sticks at San Siro as new Nerazzurri coach Gian Piero Gasperini finds himself in the kind of position few bosses ever have the luxury of experiencing. Many tacticians would give their right arm for one great goalkeeper. Gasperini now has two.
It hadn't originally been Inter's plan to bring back Viviano. It was reported that they were happy enough with the thought of having Julio Cesar and Luca Castellazzi as their custodians for the next two seasons and would only look for a resolution with Bologna in 2013, but when an agreement with the Felsinei couldn't be found they had to have a rethink.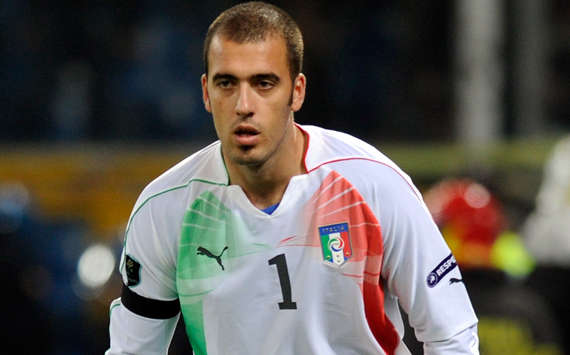 Emiliano Viviano | Ready to challenge both Julio Cesar and Gigi Buffon
The blind auction is a difficult experience for any player, and Viviano has previously stated that he won't be happy playing second fiddle, but now that Inter have his full rights he has the chance to prove that he can make it on a bigger stage than the one provided over the last two years in Emilia Romagna.
When out on loan at Brescia he was the best goalkeeper in Serie B by some stretch, and in his spell guarding the net at the Renato dall'Ara he has for long spells been the top flight's best performing No. 1. His 6ft 5in frame gives him a head start, but it is also thanks to his organisation, command of the area, anticipation and, naturally, his excellent shot-stopping abilities that he has become known as one of the best Serie A has to offer.
His form last season not only afforded Bologna the luxury of playing like they were already on holiday two months before the season ended, but also helped to establish him as the national team's first alternative to Gianluigi Buffon. And while it would take something special to dislodge the superstar Azzurri skipper from his first choice spot, you wouldn't put it past Viviano to do exactly that.
VIVIANO'S RISE TO THE TOP

Club
Cesena
Brescia
Bologna

Italy

Seasons
2004-05
2005-09
2000-11

2010-11

Games
13
126
67

6

Conceded
18
120
89

3

To fulfil that promise, though, the 25-year-old will first need to make himself a regular in the Inter side, as national coach Cesare Prandelli has often stressed that to be a pre-requisite for his players and it would be nigh-on impossible to challenge Buffon without playing in Serie A most weeks. But the possibility of him getting that game time is much greater than some may have you believe.
For just as Julio Cesar forced out previous runaway first-choice Francesco Toldo, so can Viviano usurp the Brazilian. The Inter No. 1's form and fitness last season were not of the level they had been for the previous three or four campaigns, and so now may be the perfect time for the Fiesole product to come in and stake his claim. His reminder to the world that he doesn't want to play second fiddle will not fall on deaf ears with Gasperini.
Indeed it may also strike a chord with sporting director Marco Branca and CEO Ernesto Paolillo as they continue to do deals over the remainder of the summer. Though Manchester United have all but struck an accord to bring in David De Gea from Atletico Madrid, there has been fresh talk that they could perform a u-turn and take the more proven Julio Cesar instead.
And Viviano's adaptation to the surroundings when the Nerazzurri return to work at Appiano Gentile on July 8 could be key behind their decision-making if an offer is made for the Brazilian. With one of the most promising goalkeepers in the world now on their books, Inter may well decide to sell, meaning the futures of both Buffon and Julio Cesar are suddenly cast into huge doubt.
So when Pedrelli failed to perform the simple task of writing '€4.7m' on a piece of paper, he may well have turned both the European goalkeeping market and the destiny of Italy's No. 1 shirt upside down. Ahead of schedule or not, Viviano's time has come.
Follow Kris Voakes on