COMMENT

By Kris Voakes
It was fun while it lasted, but it would appear that Leonardo's coaching career is about to come to an end after just two years. Following his countless claims that "I will not become a director, I am a football coach" come the revelations that he has been speaking to Paris Saint-Germain about their new general manager role. It may not have been Inter's idea that the Brazilian move on, but in reality it is no bad thing that their Coppa Italia-winning boss is on his way out.
His stint as a coach has not been without incident, but ultimately there has been little of substance to suggest that he is more suited to the bench than he is to the boardroom. A third-placed finish with AC Milan and a runners-up spot with Inter have marked him out as a Serie A boss of reasonable merit, and his teams have played attractive football all the while. But too often there have been big league games and important European encounters which have simply passed his sides by. Even when collecting his only silverware against Palermo last month, it was the Sicilians who rose to the occasion for the most part before Leo was bailed out by Samuel Eto'o's finishing.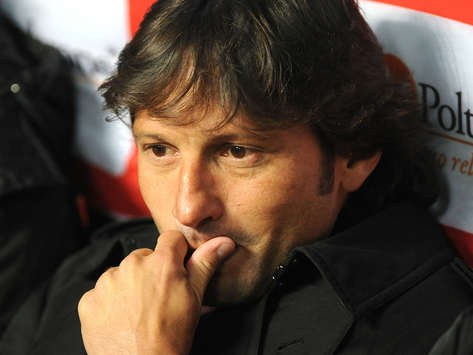 Leonardo | Not at home on the bench
When all is said and done the biggest mark he has left on the city of Milan over the last 24 months is the bitterness he generated amongst Rossoneri fans for his decision to overlook his years of service to the Via Turati club and accept the Inter job last December. It also brought about the now infamous Milan title celebrations at the Stadio Olimpico in Rome, when Gennaro Gattuso joined in with chants calling the Brazilian a "pezzo di merda". But what will his long-term legacy be to Inter?
At the time of his appointment the Nerazzurri were massively underperforming. Rafael Benitez's spell in charge had been anything but a success and Inter were sat in seventh place, 13 points adrift of the leaders and eventual champions from across the city. But while the final table would suggest a massive achievement in pulling his side to within six points, he had arguably just taken an underachieving side freed from the shackles of an unpopular coach back to their rightful level. Take into account that he had started his reign with two games in hand, and his side's ability to close in on Milan should have been a given in any case.
BIG-GAME BOTTLER | Leonardo's
record in crunch matches

| | | | | |
| --- | --- | --- | --- | --- |
| Games | Wins | Draws | Losses | Win % |
| Milan in CL | 2 | 3 | 3 | 25% |
| Milan v Top 6 | 2 | 3 | 5 | 20% |
| | | | | |
| Inter in CL | 1 | 0 | 3 | 25% |
| Inter v Top 6 | 3 | 1 | 2 | 50% |
It was when crunch time arrived that Leonardo's limitations became most obvious, just as they had at Milan a year before. Whenever Inter were on the verge of making the next step up, they lost their feet, most notably in losing April's local derby 3-0 to a much more focused and infinitely better prepared Rossoneri. Against Schalke too, he'd done no homework – or, at least, had prepared his team in completely the wrong way to take on the Germans' guile – and paid the price.
What's more, it is arguable that no player has significantly improved due to the coaching of Leonardo. Inter's defence got no better under his leadership, while Milan's weak points remained weak during his year in charge, with the emphasis instead being placed on attack to mask their full-back failings. It took his successor at Milanello, Massimiliano Allegri, next to no time to identify and fix their issues, and he was rewarded with a Scudetto.
Leonardo's record does not stand up to scrutiny. Milan and Inter are clubs used to winning, and he is not a born winner, at least not in coaching terms. Yes, he won the Coppa Italia, but Benitez lifted two trophies at Pinetina and few people were sorry to see him go. So, as the Brazilian moves on to Paris to ply his trade in a far more suitable capacity, one shouldn't expect him to be offered another big coaching post any time soon. The experiment ends here.