ANALYSIS
By Clark Whitney
Ten years ago, Diego Ribas Da Cunha made his first appearance for Santos at the tender age of 16. The Peixe were in a financial crisis at the time, and the creative midfielder was seen as one of a number of rising starlets - along with defender Alex and fellow attackers Robinho and Elano - who would save their team from complete collapse.
The following year, Diego made his breakthrough and alongside Robinho was the biggest star in Santos' improbable run for the 2002 Campeonato Brasileiro title. Despite being the youngest member of his generation, the barely 17-year-old Diego was regarded as remarkably mature - at least on the pitch - and the following year led Santos to the Copa Libertadores final.
Between 2003 and 2006, everything unraveled for Diego, whose confidence and image in the public eye took big hits after Brazil failed to qualify for the Olympics in 2004. He then joined Porto to replace the outgoing Deco, but never settled into Co Adriaanse's squad and in his second year lost his starting role.
Still just 21 years of age, Diego moved to Werder Bremen in the summer of 2006 and like a phoenix from the ashes, rediscovered the qualities that led to his billing as a future superstar in his adolescence. There, he was used in his natural role, a classic No. 10 behind a pair of strikers. Thomas Schaaf used Diego as the cornerstone of his attack, and he thrived in his three-year stay with the Bundesliga outfit, scoring or assisting nearly a goal per game.
DIEGO | Last five years in domestic leagues




| | | | | | | |
| --- | --- | --- | --- | --- | --- | --- |
| Season | Club | Games | Goals | Assists | Booked | Sent Off |
| 2006-2007 | Bremen | 33 | 13 | 14 | 9 | 0 |
| 2007-2008 | Bremen | 30 | 13 | 11 | 4 | 1 |
| 2008-2009 | Bremen | 21 | 12 | 6 | 4 | 0 |
| 2009-2010 | Juventus | 33 | 5 | 7 | 3 | 0 |
| 2010-2011 | Wolfsburg | 30 | 6 | 8 | 7 | 0 |
| Total | - | 147 | 49 | 46 | 27 | 1 |
There was, however, one mark on Diego's illustrious career at Bremen: his temper. Most notably, he was sent off for a senseless offence against Frankfurt defender Sotirios Kyrgiakos in 2008, and for a petulant act of frustration late in a 2007 loss to Lazio in the Champions League. In a 2008 match against Karlsruhe, he was initially fortunate not to be sent off for grabbing Christian Eichner by the throat, but was later handed a four-match ban. This came just months after Diego participated in the Olympics without his club's consent.
The following spring, Diego was stopped by police for driving under the influence of alcohol, and by that time, Werder were prepared to let him go. The player had missed a number of games, allowing then-budding star Mesut Ozil to showcase his talents. When Juventus offered a reported €24.5 million for Diego's services, Werder gladly parted company with their talisman.
Coming as Juve's third-most expensive signing since the summer of 2001, Diego was expected by the Turin faithful to be the man to take the Old Lady's attack to the next level. After a bright start in Italy, the Brazilian sustained a minor injury, and the team's subsequent drought of form placed even more weight upon his shoulders. Not fully fit upon his return, Diego slumped throughout the year, as did the rest of his team. At season's end, Juve opted to replace coach Alberto Zaccheroni with Luigi Del Neri, effectively signaling the end of Diego's time in Turin.
The incoming coach made no secret of his intent to switch Juve's tactics from 4-3-1-2 to 4-4-2, meaning that the Brazilian had no future at the club. Wolfsburg came knocking and signed the playmaker for a supposed bargain price of €15.5m.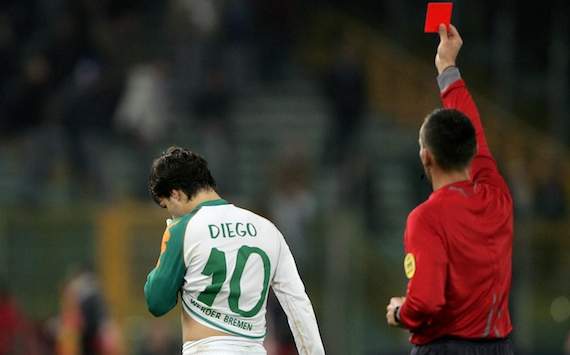 Hot-tempered | Discipline has been Diego's greatest shortcoming since moving to Europe
Having commanded Wolfsburg's highest-ever transfer fee, Diego again was put under pressure to help a struggling team return to previous glory. Just as he did at Juve, the attacking conductor showed bright signs in the first few weeks of the season, but Wolfsburg as a whole were a wreck. Perhaps irked by his team's collapse against Mainz (die Wolfe lost 4-3 after leading 3-0 within the opening half hour), Diego's behaviour took a sharply negative turn just as it had at Bremen. In September, he drew criticism for kicking Dortmund's Sebastian Kehl, a week before he made a rude gesture towards referee Wolfgang Stark.
In February, Diego's petulance reached new highs as he took and missed a penalty against the wishes of coach Steve McClaren, an offence that ended the coach's tenure at Wolfsburg and resulted in a €100,000 fine for the player. The last straw for the playmaker came on the final matchday, when after being named a substitute, he walked out on his team. Wolfsburg were on the brink of relegation mid-way through the game, but managed to recover and finish - albeit barely - in the safety of 15th place. His bridges at Wolfsburg burned, Diego is expected to leave again this summer, should a substantial offer be made for his services.
Nowadays, Diego is seen in Brazil as a talent wasted, but one who can still recover his path.






-

Andre Baibich,

Goal.com Brazil editor
No serious link has been made between Diego and a potential suitor, but among those clubs allegedly interested in his services are Botafogo and his former employers Santos. It is often the case that an ageing Brazilian star will return to his homeland for the twilight of his career, but for Diego, that time may have come by the age of 26.
In Brazil, he is now regarded as a talent that went to waste in Europe, but one who still has time to set his career back on track should he return to his homeland. He has not featured for country in nearly three years, but a comeback is far from impossible, especially given that he is only just entering the physical prime of his career.
Over the last decade, Diego's ups and downs have led to a situation in which he no longer is desired by Europe's elite clubs. The once promising talent is now at a crossroads: he can either accept mediocrity or spend the upcoming seasons fully focused on making the most of his career. In three years Diego will, in all likelihood, be in Brazil. He now has to decide whether to be there as a spectator, or in a Selecao shirt.
Follow Clark Whitney on

.