FEATURE
By Ben Hayward
Last Monday, Xavi stood in front of the international press in the mixed zone at Camp Nou and explained why Eric Abidal would be so keen to play in the Champions League final against Manchester United five days later. "He missed the final in Rome [when Barcelona beat United two years ago] and he also missed the final of the Copa del Rey [last month against Real Madrid]. It's been something of a thorn in his side, so he will want to play." It didn't begin to tell the story.
Abidal had been in the form of his life earlier on this season. The full-back had returned to Barcelona under a cloud following his involvement in France's disastrous World Cup campaign in South Africa last summer. Internal squabbles and in-fighting had ruined the competition for Les Bleus, and Raymond Domenech's side crashed out in the first round following disappointing defeats to Mexico and South Africa. Abidal had asked to be left out of that last match; his head wasn't right.
But back at Barca he once again began to put in tremendous levels of performance. Questioned in his first season under Frank Rijkaard, Abidal had improved dramatically – as had the whole team – under Pep Guardiola. The Barca coach appeared unconvinced, however, as he brought in Maxwell (in 2009) and Adriano (last summer). But Abidal stepped up again and looked like a new signing himself as this season got underway. He had added a new dimension to his game in attack, surging down the left flank in the way Barca fans are used to seeing Dani Alves do on the other side of the pitch. He even scored - and it was an important strike too, as it secured an away-goals victory at Athletic Bilbao in the Copa del Rey. Later, with Carles Puyol missing through injury, he filled in brilliantly in central defence.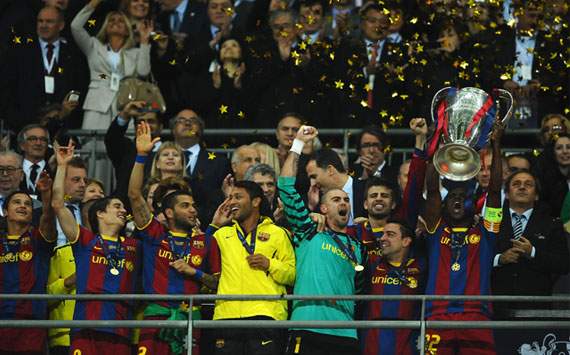 A happy ending | Abidal lifted the Champions League trophy at Wembley
Barca bosses were impressed as well, and having handed fresh long-term deals to Lionel Messi, Xavi, Andres Iniesta and Carles Puyol, a new contract was being prepared for the Frenchman to spend the rest of his career at the club.
From the outside, everything seemed to be going right. But on the inside, everything was going wrong.
A routine medical check at Barca's training ground brought unexpected and unwanted news: a cancerous tumour had been detected inside Abidal's liver. Tragedy had struck and Barca were in shock. Surgery followed straight away.
Barca kept on winning, but the dressing room was broken. "It was awful: you never expect something like that and it leaves a bad sensation in your body," said Andres Iniesta. "But it will make us stronger."
And it did. Barca lost the final of the Copa del Rey to Madrid, but beat their fiercest rivals to the league title and overcame their eternal enemies in the semi-finals of the Champions League. And by that time, incredibly, Abidal had returned.
The Camp Nou faithful greeted the Frenchman with a rapturous reception. In his time spent recuperating, the full-back had been gone but there was no chance of him being forgotten. His name was chanted in the 22nd minute of both halves in every single match (he wears the number 22), while his shirt was the best-selling item in Barcelona's official store the week after the operation.
A CHANGED MAN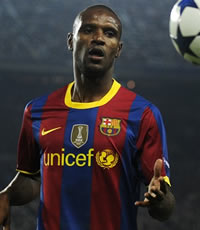 "When something happens to you, it is better to invest in a hospital or do things for children. It is better to give the money to associations and hospitals."


- Eric Abidal

His late substitute appearance against Madrid came barely six weeks after surgery. An emotional press conference followed, in which the Frenchman revealed his illness had made him see everything differently.
"In this life of playing football, a very, very good quality of life, you can buy cars and other things you want," he said. "But when something happens to you as has happened to me, then these cars are useless. It is better to invest in a hospital or do things for children. It's better to give the money to associations and hospitals. They have helped me a lot. Thanks to them, I now think differently."
Thanks to them, Abidal was able to play in the Champions League final. As he prepared to have his tumour removed, his surgeon had told him: "See you on the 28th," in reference to the Wembley date. Abidal hadn't believed him.
But after the operation, Guardiola echoed those words. "When I came out of the clinic, the 'mister' told me I would be here," Abidal said last night.
Late last year, Abidal played in a friendly for France against England at Wembley and the defender revealed recently he had left a written note predicting that Barcelona would return to the famous old stadium for the Champions League final.
Not only had it come true, but he was there last night to lift the trophy after captain Puyol handed over the armband. And, as he did so, it became much more than a victory for Barcelona.
Last Monday, Xavi had also said: "For everything he represents; his values, his competitiveness, his recovery, his involvement, and overcoming [the illness] and wanting to be back – Abidal is an example to all humanity." Amen to that.
Follow Ben Hayward on