COMMENT
By Ben Hayward
When Rafael Moreno

Aranzadi

died in 1922, the footballing world did not sit up and take notice. A virtual unknown internationally, the Athletic Bilbao striker was, however, a prolific goalscorer in Spain, and his dea

th

at the age of 30 nevertheless represented a shock to football followers in

Castile

. The forward is thought to have died tragically after consuming rotten oysters, but he left Spanish football wi

th

a pearl of a legacy: the

Pichichi

trophy.
Moreno was known as

Pichichi

and was one of the highest goalscorers of the time; he netted the first-ever goal at Athletic's San

Mames

ground and struck an impressive 68 times in just 72 games for the Basque outfit.
And so the name

Pichichi

became synonymous wi

th

goals. Some 29 years later, comparisons were drawn wi

th

another legendary Athletic striker –

Telmo

Zarra

. After bagging an extraordinary 38 goals in 30 games to become the all-time top goalscorer over a single season in Spain's top flight, sports paper
Marca
decided a trophy was needed to honour such a feat.
That title was inaugurated in 1952 – and the

Pichichi

was born, exactly 30 years after the man himself had died. Zarra's famous mark – albeit not his strike-rate – was then equalled by the brilliant Hugo Sanchez in 1990. The Mexican, who was known as the 'Pentapichichi' (as he won the trophy on five occasions) hit 38 goals in 35 games.
But now of course, there's a new kid on the block:
Cristiano

Ronaldo
also has 38 league goals this term wi

th

one game still left to play, and yet, if you picked up a paper in Spain, you'd think he had already broken the record. He

hasn't

. Well, at least not officially.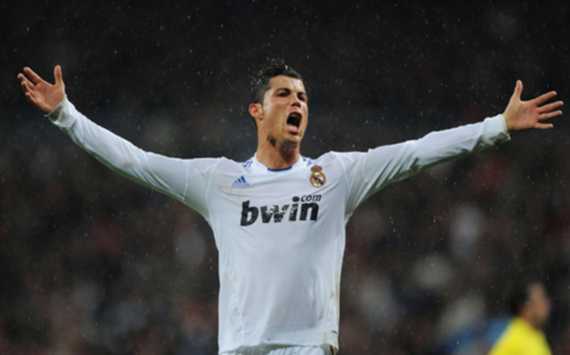 Plenty to celebrate | But Ronaldo isn't the league's highest ever scorer - yet
The thing is, one of the goals given to

Ronaldo

by
Marca
wasn't

awarded by the match referee as
Real Madrid
beat Real

Sociedad

2-1 back in September. But
Marca
, you might say, award the

Pichichi

. And you'd be right. So does that mean they can award goals too? Well, yes and no. It is their award and it will be

Ronaldo's

award, whether he scores 38, 39, 40 or more.
During
Marca
's live match coverage of Madrid's 3-1 win over Villarreal on Sunday night, reporter

Delfin

Melero

was told by an online fan that

Ronaldo

didn't

in fact have 38 goals (this happened before the forward's stunning second strike), but 37 according to official Fifa statistics. The reply, however, was clear: "Not for us – and we are the ones that hand out the

Pichichi

."
The goal in question arrived in the 75

th

minute of Madrid's away match at

Anoeta

on September 19. It was a fiercely-struck free-kick that caught Pepe on the back and looped dramatically into the top corner of the net, completely changing trajectory and deceiving goalkeeper Claudio Bravo on its way in. Despite the deflection, many were happy to award the goal to

Ronaldo

. Many except the most important person of all – referee Antonio Manuel

Mateu

Lahoz

.
LA LIGA'S TOP MARKSMEN

1.

Telmo

Zarra

(Athletic Bilbao)
1950-51
38

-
Hugo Sanchez (Real Madrid)
1989-90
38

-
Cristiano

Ronaldo

(Real Madrid)
2010-11
38
2.

Baltazar

(

Atletico

Madrid)
1988-89
35
3.
Hugo Sanchez (Real Madrid)
1986-87
34
-

Ronaldo

(Barcelona)
1996-97
34
-
Lionel

Messi

(Barcelona)
2009-10
34
The official's match report awarded the goal, which turned out to be the winner, to Pepe. And that should have been that. But ever since,
Marca
have claimed the strike to be

Ronaldo's

– partly to ensure the Madrid man was keeping up wi

th

Barcelona's Lionel

Messi

in the league's scoring charts.

Now he's ahead of the Argentine, though, in fact he is far, far ahead – and it just looks ridiculous. Nevertheless, Spanish news agency
EFE
has followed suit and so has television station
LaSexta
, while such

peccant

propaganda has, in turn, confused the international media.
Interestingly enough, the goal scored by Real

Sociedad

in that match was a fierce free-kick struck by Antoine Griezmann which hit striker Raul

Tamudo

on the thigh and went in, wrong-footing Madrid keeper

Iker

Casillas

at the far post. That goal, naturally, was awarded to

Tamudo

, and there is no clamour for

winger Griezmann

to be given the strike. Then again,

Griezmann

is not the darling of the Madrid media, nor is he in line to win the

Pichichi

. And he certainly won't be breaking any goalscoring records this season – even wi

th

help from the press.
For his part, Pepe said yesterday the goal should belong to

Ronaldo

. But it's hardly for him to decide either. And the worst thing of all for the Portuguese forward is that, in a season which has seen him rack up a half-century of goals including an impressive cup final winner against

Barca

and many spectacular strikes along the way, his most famous goal of all has ended up being one he

didn't

even score – not officially, anyway.
Meanwhile, the original Pichichi must be turning defenders in his grave – and the notoriously self-centred Hugo is hardly likely to be doing celebratory somersaults either as the record shared by the two legendary strikers is beaten on the whim of Madrid's partisan press.
Marca
, and other sections of the Spanish media, however, remain insistent – and they are starting to sound like a broken record.

Ronaldo's

impressive tally also sounds like a broken record. But it

isn't

, not yet.
So let's hope, for the good of everyone, that the Madrid forward really does break it wi

th

at least one more goal against relegated Almeria on Saturday. Then we can all agree on at least one thing – that the Portuguese

Pichichi

really is the highest outright scorer ever in a Spanish league season; we can then get on wi

th

the rest of our lives, celebrate

Ronaldo's

fantastic achievement and forget about the lies, the damned lies and the statistics.
Follow Ben Hayward on