With relatively small financial windfalls and additional fixtures to worry about, there's little wonder why clubs look toward Europe's secondary competition with trepidation
ANALYSIS

By Jonathan Birchall
Ahead of his side's defeat to
Manchester City
on Tuesday,
Tottenham
midfielder
Jermaine Jenas
delivered a telling comment in a column for the
London Evening Standard
. It read: "We finished fourth last year and there's no doubt that not being involved in European competition helped us achieve it.
"If I were a manager, I'd probably hope to have a season like last year, when we could just concentrate on domestic football and qualifying for the Champions League."
It offered an intriguing insight into a player's view on a question that has proven time and again to be one of the most debated in the English game; is qualifying for the Europa League really worth it?
The very question is striking and with his side set to face Liverpool on Sunday with fifth place on the line, it raises fresh doubts about whether the competition gets the respect that many feel it deserves.
You would think that silverware on the continent is the stuff of football clubs' dreams but as football concerns itself with chequebooks, not championships ever further, there is certainly an argument to be made that the competition has become little more than a disruptive sidenote to the football world's more lucrative ventures.
With fixture lists looking more congested by the season, or so Premier League managers would have you believe, the debate as to whether an extra number of fixtures for seemingly little reward, be it financial or laden with gravitas, would appear to hold water.
In the six years prior to the competition having a group stage, 50 per cent of the Premier League teams that reached the third round finished in a worse position than what they had done in their previous season.
In the six years since the addition of a group format, this had risen to 73 per cent amongst Premier League sides. With nearly three quarters of clubs failing to match their previous season, there is little wonder why such trepidation exists.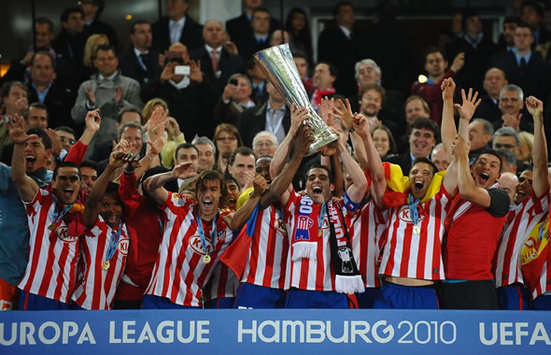 Worth it? | Atletico Madrid picked up their first European trophy since 1962 last year
In addition, Simon Chadwick, who is Professor of Sport Business Strategy and Marketing at Coventry University, has highlighted the comparatively small reward for success in the Europa League, when looked at alongside both the Premier League and the Champions League.
He said: "I think there's a big disparity, especially for English clubs, between what they can earn from the Premier League and the Champions League and what they earn from the Europa League. Whoever wins the Champions League in two weeks' time is going to win around €60 million (£52m). But when you start looking at the Europa League, you get €2m (£1.7m) for winning that.
"For teams that could potentially qualify for the Champions League, clearly doing well in the Premier League is going to be much more of a priority than winning the Europa League. The teams at the bottom end of the league, fighting that relegation battle is more important. For the clubs in the middle, with Fulham being the prime example after last season, it's much more of a no brainer for Fulham, so long as they can tread water and hold their own in the Premier League, they're going to be OK financially.
MIND THE GAP | The prize pots

* All figures for season 2009-10

TOTAL PRIZE FUND

Premier League
Champions League
Europa League

£655.1m
£652.7m
£118m

WINNER

Premier League
Champions League
Europa League

£45.7m
£42.6m
£6.4m

MINIMUM

Premier League
Champions League
Europa League

£20.4m
£6.2m
£0.79m

"But if at the same time they can they can make some progress in the Europa League, it's going to be good for them and they'll do well financially, so I think for a team like Fulham the Europa League is a good competition, it's a good revenue generator.
"If you're say Manchester City or Liverpool, you're not actually looking to qualify for the Europa League, you're looking to qualify for the Champions League as that is a much, much bigger financial windfall.
"For both Liverpool and Tottenham, what's particularly significant is their business models are probably premised for qualification for European competition. So what they're spending, what they're investing, the debts that the club incur are premised on an assumption that they will qualify for Europe and enjoy the benefits of being in Europe. It's not a nightmare scenario for either club, but I think it would be unhelpful for them financially not to qualify for the Europa League."
The carefree outlook towards the competition isn't purely an English phenomena, with the usual debate over domestic triumph trumping that of success in Europe's secondary competition having circled Juventus in recent weeks, with the club having all but missed out on the Champions League once again.
Juventus fans are almost unanimous in agreeing that if the club doesn't qualify for next season's Champions League – which is inevitable now as they are five points off fourth place with two games remaining – then they would rather be out of Europe altogether. The reason being that the club could then focus all its efforts on rebuilding without the added distraction of the Europa League, and making a push for the top Serie A places or even the title.
Publicly, Juventus' management will say that they would like to qualify for the Europa League, but privately it is clear that this is a competition that is only a hindrance. The prestige and financial rewards simply don't make it worth risking more important objectives such as the domestic championship.
However, Professor Chadwick does believe that Uefa have improved the money-making potential within the competition by changing its identity from the Uefa Cup to the Europa League last season.
He said: "I think Uefa realise the situation that the tournament is in, because now we've seen Uefa adopting a similar kind of branding and a similar kind of commercial model for the Europa League as exists for the Champions League.
"So you now see this small portfolio of sponsors such as Seat and I think that's a clear acknowledgement that, commercially, the Europa League needs to up its game and it needs to become much more revenue generating and a much more lucrative opportunity for clubs playing in the competition."
Former Chelsea and Everton star Pat Nevin is now part of
FIVE's
punditry team for the Europa League and believes that the fans of Premier League clubs would rather see their side in finals regardless of the competition and has questioned what he calls an "arrogant attitude" towards the tournament.
He said: "The argument that Harry Redknapp puts forward that I accept is that if you are trying to get to the Champions League it's hard [whilst playing Europa League football] but it's purely about money. It's not about 'we want to give our fans this, we want to give our fans that', it's purely about money.
"Fans love a lot of things about football but one of those things is glory. A lot of the teams that are striving to qualify for the Champions League just aren't going to win it. If you look 10 years down the line, do you want your fans to say 'oh I remember the year when we came fourth in the league and had £25 million extra in the bank?' I just think so what?
"For me, if you can look 10 years down the line and say 'we won the Europa League that year' – that's something to remember."
The kudos of playing in Europe and the prospect of silverware will always exist for players - even the ones who don't fancy that trip to eastern Europe on a Thursday.
But with such a disparity between what is on offer for the entrants of Uefa's two competitions and evidence suggesting that teams often thrive domestically without the 'distraction', the governing body will surely have to look at whether the Europa League has been devalued to an extent that it will no longer be a prize worth winning.