When 24-year-old Kenyan international MacDonald Mariga finally moved from Serie A middleweights Parma to top side Inter on February 1, 2010, the last day of the transfer window, there was excitement in Kenya, and indeed in East Africa because the midfielder became the first footballer from the region to join a top European club.
The delight was spurred even more by the fact that, before making the move to the Nerazzurri, Mariga had attracted serious interest from big-spending English Premier League club Manchester City, but the expected deal was derailed by tough United Kingdom work permit regulations. As anxiety grew about the imminent move to the EPL, Inter coach Jose Mourinho popped up unexpectedly and snatched him in the final hours of the transfer window.
And in the next four months while working under the guidance of the 'Special One', Mariga did not disappoint as he gave his all to earn nine appearances in the star-studded team that won a treble at the end of the 2009-10 season, as well as the Club World Cup late last December.
More memorable during that season for most Kenyans was the moment Mariga was introduced as a late substitute against Chelsea in a Uefa Champions League clash. That season he made 13 appearances, although most as a substitute, scoring one goal.
After the departure of Mourinho at the beginning of the 2010-11 season, Mariga has made little progress during the coaching stints of first Rafael Benitez and now Leonardo. Of the 50-plus matches the Nerazzurri have played this season, Mariga has only managed to play in 12 and has often come on as a substitute.
He has started and completed only two matches and come on as a sub in 10. He sat on the bench 18 times and has been left out of the squad in the rest of the matches. He has actually spent only 398 minutes on the pitch in the entire season, compared to the 333 minutes he played under Mourinho in only a four-month period. This season the midfielder has scored one goal in all competitions.
These statistics from a young player who was heralded as one of the emerging midfield stars of Africa are worrying. The once openly held belief by Kenyans that Mariga would one day bestrode the European football arena like a colossus now looks like a distance dream. These are sentiments shared by many Kenyans who are now calling for him to move to any club which can afford him playing time.
MacDonald Mariga's Inter career

| | | |
| --- | --- | --- |
| Season | 2009-10 | 2010-11 |
| Appearances | 13 | 12 |
| Minutes played | 333 | 398 |
| Goals | 1 | 1 |
| Inter's total games | 27 | 54 |
The Standard Group sports editor Robin Toskin
feels that Mariga should at least seek a loan move either in Italy or any other club in a top European league so that he may secure game time if he is to move forward in his football career and consolidate his spot in the Kenyan national team.
"On the evidence of Mariga's performance in the Africa Nations Cup qualifiers, he urgently needs game time. Despite scoring the winning goal against Angola in March, his game has slumped and needs a huge lift.
"Playing under different coaches means that his role is yet to be fully defined. Under Mourinho, he played the destroyer, just in front of the defenders. In the national team, he is variously used as a holding midfielder or on the right of midfield. At Parma, Mariga also played under three coaches and at Inter, he has been through Jose Mourinho, Rafa Benitez and now Leonardo. This has greatly affected his game," Toskin said.
The journalist also feels that with Inter's failure to win the Scudetto this season there is the likelihood that Massimo Moratti will dip into the transfer market to recapture the title next season, and Mariga should be braced to contend with the competition in the richly gifted midfield.
"Inter are interested in the Brazilian Ganso, and should they sign permanently Japanese defender Yuto Nagamoto loaned from Cesena, Houssine Kharja [from Genoa] and youngsters Andrea Romano [17], Lorenzo Crisetig [18], Sebastian Carlsen [20] and Joel Obi [19], Mariga could find himself surplus to requirements."
Mariga's Harambee Stars place is on the line
The editor of the popular Friday magazine The Pulse and former BBC Africa sports analyst, Charles Otieno, feels Mariga should look for more challenges elsewhere and stop warming the bench at Inter.
"It is sad that the departure of Mourinho has not helped him break into the Inter team. This is because the 'Special One' is known to prefer using a system of play where he uses the strengths of players as opposed to big names," Otieno said.
"It is always sad to see Mariga tweeting while his team is playing, as he is such a good player. It is important for him to make a choice of whether to continue earning megabucks and training with reserves or move to a mid-table team to make an impact. Personally, I think Mariga should move to a medium-ranked team in England and make his name before moving to a bigger club. His lack of games may in future compromise his place in the national team."
A university student and football enthusiast, Verrah 'Fergie' Ondabu, thinks Mariga should look for a loan move to a team like Aston Villa or Newcastle, who have shown interest, and perhaps gain confidence before any return to stamp his authority in the Nerazzurri midfield.
"Every professional soccer player dreams of playing for a great team under the guidance of a good manager. And MacDonald Mariga is no different. When he received a call from Jose Mourinho to play for Inter, it was indeed a dream come true. But when a player of his calibre does not play regularly he becomes less efficient in terms of speed and as a result less fit compared to his team-mates," said Verrah, who supports Manchester United.
She added: "In my opinion, Mariga should look for a loan move to a Premier League team like Aston Villa, who are interested in him and have a chance to expose his talent in the English Premier League, the most marketed league in the world. If he works hard, in future he can even play for top EPL sides like Arsenal, Chelsea and of course Manchester United."
Politician and football pundit Francis Gaitho says that Mariga should leave before Inter offload him because they clearly have no plans for him.
"When Mourinho acquired Mariga, it looked like Roberto Mancini of Manchester City was also interested. But Mourinho is no longer interested, otherwise he would have moved with him to Real Madrid."
Gaitho feels that although Mariga does not play much, his place in the national team is intact because Kenya has few players with his kind of exposure.
"He would be stupid not to take up an Aston Villa or any other offer, because his future at Inter seems sealed. Competition is too stiff. It's bad enough that when the team is playing big matches, he's confined to posting updates on Twitter. To stay in Europe longer, a move back to Parma should be explored."


"He would be stupid not to take up an Aston Villa or any other offer, because his future at Inter seems sealed."




- Francis Gaitho
Jeffrey Ibrahim Kimani, an Arsenal supporter, feels Mariga should stick to Serie A and fight for his place, at least for now.
"If by January 2012 he is not getting enough game time he can find another lower Serie A team. He could also find options in a Dutch or German team in the Champions League if all else fails. I don't think he can make the cut in La Liga because it's too technical. Likewise in the EPL, it will be a bit hard due to work permit complications," Kimani pointed out.
Journalist and football lover Kenfrey Kiberenge thinks that Mariga's current trouble stems from Mourinho's departure.
"He [Mourinho] rightfully had belief in Mariga, which was not the case with Benitez, nor Leonardo. He needs to find a club where he'll get enough first team games to reaffirm to everyone that he is a midfield genius that no coach will ignore. Not even Pep [Guardiola] or Fergie [Sir Alex Ferguson].
Oscar Onam, an international development expert who studied in the UK, believes that Mariga should look for an opening in the EPL, which is more marketable and competitive than any of the other European leagues.
"I think Mariga should move to another team, possibly another league, where he would have regular football. [The] EPL would be great because currently it's the world's most vibrant league and he might get a starting call-up in a team like Aston Villa, who have shown interest in him. His combative nature in the midfield is perfect for the EPL. He is not getting any younger and I believe he has reached the optimum age to become a revelation," Onam said.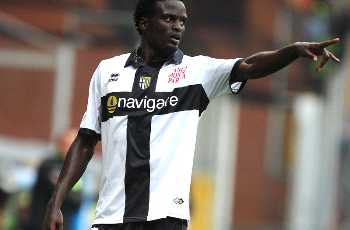 A return to Parma could secure more game time
Joe Kiarie, a journalist and football pundit, says he unflinchingly feels Mariga should part ways with Inter.
"As much as the club has massively built his profile by conquering Europe last season, the future looks bleak," Kiarie said. "Under Mourinho, Mariga was regularly and satisfactorily used as an impact substitute. But since Mourinho's departure, he seems to have fallen out of favour with both Benitez and Leonardo and has been frustratingly reduced to a bit-part player. He has had the quietest season since he moved to Italy, and this is not healthy for his career."
Kiarie feels the Kenyan should look for a club where he can get ample playing time.
"His aborted last-minute move to Manchester City last summer definitely alerted EPL clubs and it is highly likely there will be offers for him from England during the close season. He should take full advantage of any such offers as his style of play automatically suits that of most mid-table EPL teams. As for the national team, he needs not worry because no matter what club he plays for he seems to have comfortably cemented his place not just as a player but also as a leader of the national team for some years to come."
It seems Kenyans are divided in terms of what their star player should do, but most agree that a move away from the San Siro is a worthwhile decision, and one that needs to be made to save his career at a crucial point in terms of his future prospects and his place in the Kenyan national team.