What awaits Sahin in the Spanish capital? Goal.com assesses the role that the Turkish international could fulfill at the Santiago Bernabeu
ANALYSIS

By Paul Macdonald
Real Madrid have wasted no time in formulating their squad for next season. Nuri Sahin announced this morning that he will, as expected, complete his move from German champions Borussia Dortmund to the Spanish capital at the end of the campaign.
Despite the uncertainty of Jose Mourinho's role and his notoriously vitriolic relationship with general director Jorge Valdano, the foundations are being laid in order to prove opposition to Barcelona both domestically and in Europe. Their rivals from Catalunya are just a single point from securing their third consecutive title, and the situation is becoming desperate; a fourth season without La Liga verges on the unthinkable.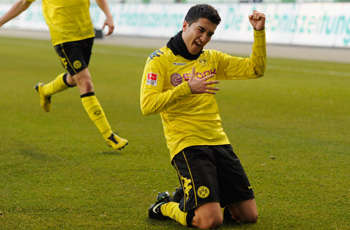 Sahin is more Barca than Madrid, built in the mould of Xavi and Cesc. Having served as the fulcrum of Jurgen Klopp's midfield at Dortmund, he comes prepared for Mourinho's high pressing game.
- Clark Whitney, Goal.com's German football editor

It was inevitable that Dortmund's swashbuckling Bundesliga winners would collect the interest of major clubs. The manner of their victory has thrust their key performers into the thoughts of scouts, coaches and presidents alike, and Sahin leads the list of BVB's most coveted stars.
The Turkish international has arguably been the most influential member of a team packed with potential, and, at €10 million, represents a bargain in the current market. Given the relative success of imports Sami Khedira and Mesut Ozil across the season, it makes sense that Madrid have once more looked to the Bundesliga for their talent.
After splurging close to €200m on the likes of Kaka and Cristiano Ronaldo, Florentino Perez simply won't sanction such an extravagant transfer at this juncture, and Sahin's transfer is in keeping with their efforts to maintain a young, exuberant squad. At 22, Sahin will spend the most prolific period of his career at Santiago Bernabeu.
To the unititiated, Sahin is a proficient ball player, who is comfortable in possession and can call upon innate awareness in order to create openings from the centre of the pitch. His talents represent an additional alternative rather than a direct replacement for either Sami Khedira or Xabi Alonso. But the question on the minds of most Madridistas, is where his qualities will be utilised, and at whose expense?
Below we assess four options available to Madrid in order to incorporate their new signing into their starting line-up. Will his inclusion facilitate a formation change, or does he have the capacity to replace either Xabi Alonso or Sami Khedira in the side?
REAL MADRID WITH NURI SAHIN - the possible line-ups
SUBSTITUTE

STARTER IN 4-3-3

Casillas

Ramos - Carvalho - Pepe - Marcelo

Khedira - Alonso

Di Maria - Ozil/Kaka - Ronaldo

Higuain

Casillas

Ramos - Carvalho - Pepe - Marcelo

Khedira - Alonso - Sahin

Di Maria - Higuain - Ronaldo



Sahin's impact initially may be restricted due to the established nature of Madrid's midfield. There is a feeling that Sami Khedira is something of an unsung hero at Santiago Bernabeu, and he complements Xabi Alonso's passing range to good effect. As a result, Sahin may have to bide his time and be patient in order to force his way into the starting line-up, with competition for places likely to even more intense in 2011-12.

Mourinho has utilised a 4-2-3-1 formation for much of the campaign, but recently, particularly in the matches against Barcelona, he has switched to 4-3-3 to directly match up with the champions. This could suggest a permanent change for next season, and in this case, Sahin may slot in alongside Khedira and Alonso to create a multi-functional central three. A downside would be the loss of a playmaker (Kaka or Oezil would be sacrificed).


SUPPLEMENTING KHEDIRA


SUPPLEMENTING ALONSO

Casillas

Ramos - Carvalho - Pepe - Marcelo

Sahin - Alonso

Di Maria - Ozil/Kaka - Ronaldo

Higuain
Casillas

Ramos - Carvalho - Pepe - Marcelo

Khedira - Sahin

Di Maria - Ozil/Kaka - Ronaldo

Higuain
Does Mourinho wish to include Sahin in a more refined version of his midfield? The Turkish international is certainly more adept on the ball than Khedira, and is also more than capable of performing the defensive duties that the German undertakes. His plan could be to pair him up with Alonso, to create an accomplished pairing that will give Madrid a solid foundation, but one that can spring attacks quickly and with accuracy.

Alonso, who will be 30 this season, is the senior member of Madrid's squad, and is an anomaly among the dynamic, youthful side that Mourinho has formulated. It may be unlikely given the Portuguese will look to retain an element of experience, but Sahin could be regarded as a long-term option, and may eventually be viewed as a first-team regular ahead of the Spanish World Cup winner.