The Portuguese forward has been left out of tomorrow's league fixture against Zaragoza following his comments after Wednesday's Clasico defeat, as signs of a rift start to surface
COMMENT
By Ben Hayward
Cristiano Ronaldo is a remarkable individual. Once the world's best player and still the world's most expensive purchase, the Portugal forward headed Real Madrid to their first silverware in almost three years last week as his side defeated fierce rivals Barcelona to lift the Copa del Rey. That looked like the beginning of something special for Ronaldo at Madrid, but now he's upset the 'Special One' – and it could be the beginning of the end.
The 26-year-old cut an isolated figure in Wednesday night's Champions League semi-final defeat against the Catalan giants. Left with an unenviable task up front on his own, he flapped his arms and looked back in despair for support from his team-mates. But he was all alone.
Ronaldo is rumoured to have few friends in the dressing-room, due to his attitude on the pitch; he takes the penalties and the plaudits, but never the blame, and it is said to make him an unpopular figure at the club.
His goals – he now has 42 this term – have made him an essential component of the team, however, and Jose Mourinho has been a staunch supporter – at least until now.
But on Wednesday night, something changed. Ronaldo's sulking was reminiscent of his final days at Manchester United, when he pushed for his 'dream move' to Madrid, and after the game, he admitted his frustration at his side's negative tactics.
"I don't like it," he said. "But I have to adapt to what is asked of me."
That did not go down well with Mourinho, who has decided to drop his countryman for the first time this season. While Xabi Alonso and Lass Diarra are rested, Ronaldo's absence was not fully explained at today's press conference ahead of the league match at home to Zaragoza on Saturday.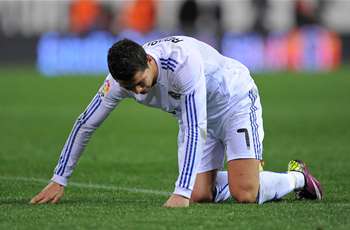 "Mourinho is clearly upset at his player's dig after the game on Wednesday, and the relationship between the two Portuguese looks to have become fractious when Madrid need them most."
"Lass and Xabi Alonso are physically exhausted because they spent too much time playing 11 on 10 - that is why they weren't called up," Mourinho said, before revealing: "Cristiano will not play because we have enough options in attack with [Gonzalo] Higuain, [Karim] Benzema and [Emmanuel] Adebayor."
It wasn't convincing, especially as Ronaldo has featured in every Madrid match this season, bar the second-leg game against Levante in the early rounds of the Copa del Rey, when he was recovering from flu and Madrid had an 8-0 first-leg advantage anyway, while the recent league matches against Racing Santander, Hercules and Sporting Gijon were missed through injury.
This time is different. Mourinho is cleary upset at his player's dig after the game on Wednesday and the relationship between the two Portuguese looks to have become fractious when Madrid need them most.
Mourinho once accused Ronaldo of "not showing maturity and respect," having had a "difficult childhood" and "no education". Ronaldo, then a Manchester United player, responded by claiming the coach "does not how to admit his own failures."
Mourinho did later apologise and harmony returned before the two met up at Madrid, and now, for the good of the club ahead of a huge return game at Barcelona on Tuesday, differences must be settled once more.
Follow Goal.com on

. Get the latest football news direct... Check out Goal.com's

page; be part of the best football fan community in the world!