"Mourinho is the best coach in the world, but as a man he still needs to learn manners and respect."
These were the words just a few months ago of none other than Mario Balotelli. Now when the Manchester City enfant terrible, whose string of misdemeanours reads longer than today's Royal Wedding guest list, offers you advice in regal protocol and etiquette then you know you have an attitude problem.
This writer happens to be one of The 'Special One's biggest fans. By the time he retires, there is no doubt in my mind that he will go down as the greatest club coach of all time. Having already won everything in Portugal, England, Italy and on the European stage, Mourinho's next mission is to do the same in Spain (the Copa del Rey has been secured), then Germany, and then internationally. He has bagged six league titles and two Champions Leagues (just one less than record-winning manager Bob Paisley) among many other trophies, and at the age of just 48 could easily double that number of domestic championships.
The modern game is desperately short of star quality - technically, tactically, personally, professionally, both on and off the pitch - and Mourinho's charisma, controversies and cunning genius enchants us all.
But as Barcelona stated in announcing their intention to report the Portuguese trainer to Uefa, "on Wednesday night Mr Mourinho went over the line".
His post-match rant, which can be read in full here, slammed referee Wolfgang Stark for the sending-off of himself and Pepe, plus the yellow card that will see Sergio Ramos suspended from the Camp Nou return leg next week. Jose then went on to suggest that the events in his side's 2-0 defeat in the Spanish capital were just further evidence of a pro-Barcelona conspiracy within Uefa, even questioning whether the Blaugrana's ties with Unicef was the cause.
But it was his quotes directed at Barcelona opposite number Pep Guardiola that were truly out of order, and downright disrespectful - not to mention hypocritical.
"I hope for Pep that he will win the Champions League without any incident at one point," Mourinho roared.
"I've won two Champions League titles with teams other than Barcelona. I won the tournament with Porto, a team from a country that doesn't usually win, and I won the Champions League with Inter, who hadn't won the trophy for 50 years [sic] and weren't even among the favourites. We won those trophies with hard work, pride, effort and sweat.
"Guardiola is a great coach, but I'd be embarrassed if I'd won the tournament like that after the scandal at Stamford Bridge [two years ago]. If he wins the competition this year, it will be marred by the events at Santiago Bernabeu."
SELECTIVE MEMORY | Five incidents Mourinho 'forgot' to mention

| | | | | |
| --- | --- | --- | --- | --- |
| Man Utd-Porto 2004 CL last-16 | Porto-Deportivo 2004 CL SF | Inter-Chelsea 2010 CL last-16 | Inter-Barca 2010 CL SF | Barca-Madrid 2011 Copa final |
| | | | | |
| Paul Scholes goal scandalously disallowed | Andrade red for playful kick on friend Deco | Samuel last-man trip on Salomon Kalou | Milito offside turns out to be tie-winner | Pepe should have seen red in final win |
Mourinho may be blessed with the memory of an elephant, but he certainly chooses to use it very selectively.
Mourinho didn't win his Champions League trophies just with "hard word, pride, effort and sweat" - he also received some favourable refereeing decisions (and fortune) along the way. In the 2003-04 edition, his Porto side were on the verge of elimination during their second round tie with Manchester United. Ahead 1-0 in the second-leg at Old Trafford, the dominant English champions had a Paul Scholes goal scandalously disallowed for a non-existent offside decision. This meant that a last-minute strike from Costinha, following a shocking goalkeeper error by Tim Howard, put Porto through 3-2 on aggregate. Mourinho didn't complain, instead he raced down the touchline for his famous celebration.
In the 1-0 semi-final victory over Deportivo, Jose also benefited from outrageous refereeing. In the first-leg in Portugal, which finished 0-0, one of Depor's star players Jorge Andrade was sent off for playfully kicking at former team-mate Deco. The pair unsuccessfully remonstrated with referee Markus Merk that they were just fooling around, Andrade repeating the words: "He's my friend, he's my friend". The red card had a huge bearing on the tie. Without their rock in defence, Deportivo lost the return 1-0 at home, and Mourinho's Porto proceeded to the final where they beat Monaco 3-0.
Fast forward six years to Mourinho's second Champions League triumph, and once again Inter's success was not as black and white as he'd like us to think. Granted, the Nerazzurri were deserving champions, but they had their rub of the green on the path to glory too. In the second round first leg with Chelsea at San Siro, the Londoners would have probably returned to Stamford Bridge with a 2-2 draw had referee Mejuto Gonzalez awarded Chelsea a penalty for a clear last-man trip on Salomon Kalou by Walter Samuel, which could have also potentially resulted in a red card for the Argentine.
MOANING MOURINHO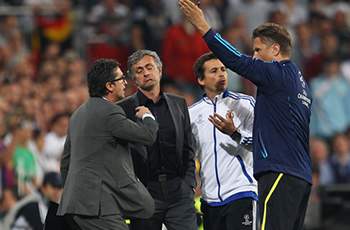 "Mourinho may be blessed with the memory of an elephant, but he certainly chooses to use it very selectively."


In the classic semi-final win against Guardiola's Barcelona, Mourinho has every right to complain about Thiago Motta's unjust red card in the second-leg that forced Inter into a heroic rearguard action in Catalonia. But he overlooks Diego Milito's offside third goal in Milan, which was ultimately the difference between the two sides on paper.
As for Guardiola's supposedly "embarrassing" Champions League successes, the 2009 semi-final second-leg at Stamford Bridge between Chelsea and Barca is in danger of turning into a mythical old wives' tale with Barcelona as the evil baddie. The truth is that of the five penalty claims that were turned down by referee Tom Henning Ovrebo, only one was a penalty – the clear handball by Gerard Pique. Dani Alves' obstruction on Florent Malouda may have been inside the area, but obstruction is only a penalty offence when really serious, and this was not. The same can be said for Eric Abidal's slight pull of Didier Drogba's shirt before half-time, which preceded a one-second delay before the Ivorian catapulted himself onto the floor like he'd caught the plague.
In the episode involving Drogba and Yaya Toure on 56 minutes, both were wrestling each other, and even if Kolo's younger brother did draw back the Chelsea hitman, it was well outside the area. Finally, regarding Michael Ballack's last-gasp appeal against Samuel Eto'o, the Cameroonian may have had his arm higher than usual, but it was clearly ball-to-hand (the very top of his arm and back), while he also had his back turned. FIFA's 'Laws of the Game' at the time were crystal clear on this.
It is amusing that Mourinho conveniently overlooked the fact that Abidal was wrongly red-carded on 65 minutes for a 'professional foul' when Anelka had tripped over his own feet. This forced Barcelona to chase the last 25 minutes of the game with just 10 men. As a result the space opened up for Chelsea on the counter-attack, and it was only after this dismissal that the stonewall Pique penalty incident occurred. It is also peculiar how Mourinho discarded the performance of referee Wolfgang Stark (Yes, the same WOLFGANG STARK from Real Madid vs. Barcelona) in the first-leg at Camp Nou. During that game, Stark waved away an excellent Thierry Henry penalty shout, failed to send off Ballack, and also harshly booked Carles Puyol, forcing Barcelona to start a left-back at centre-back, and a centre midfielder at left-back in the second-leg.
The semi-final comparison to be drawn between Chelsea 2009 and Real Madrid 2011 is that both teams played anti-football against Barcelona. While Mourinho got his tactics spot on in the first two Clasicos of April, and Real Madrid picked their moments to attack Barca, in Clasico III the Special One was far too negative and brought the problems on himself. Pepe's red card was undoubtedly harsh, but once again Mourinho ignores the fact that his naturalised countryman should have been sent off during the Copa del Rey final a week earlier. The big decisions in Valencia went the way of the Blancos.
Mourinho must realise that, despite his genius, he cannot win every single trophy every year. That is an impossibility and he needs to accept his rare defeats with grace. To attempt to downgrade the achievements of a Barcelona side who are probably the most exciting club XI we have ever seen - and on their way to challenging the likes of Ajax 71-73, Bayern 74-76 and Milan 89-94 for the title of greatest ever club team - is truly dishonourable. To be unable to support his wild theories with facts is hypocritical and slanderous.