It was mind over manners. Pep Guardiola finally dropped the diplomacy yesterday and used the pre-match press conference ahead of tonight's Champions League semi-final first-leg against Real Madrid to hit back at Jose Mourinho. But why now – of all times?
MORE:
Guardiola has been asked to respond to Mourinho's provocations in every single media gathering since the Portuguese arrived at Real Madrid last summer, often on several occasions. Every time he has refused, rising above the bait and choosing instead to focus on his own side. But this time was different.
There was nothing casual about Guardiola's rant in Madrid yesterday. The Barca coach didn't finally snap, nor was he unable to control his emotions any longer. No, this was a cool, calculated and carefully planned strategy – a premeditated message: "We won't be bullied any longer."
So far, Madrid have won the psychological battle in the first two Clasico clashes between the teams. Guardiola's side may have had all the possession in those games, but things have not gone to plan and yesterday's rant was all about winning back some territory.
It had all started in Madrid -as usual - with Mourinho. In the first Clasico meeting, Raul Albiol was
REAL MADRID VS BARCELONA:
ALL YOU NEED ON GOAL.COM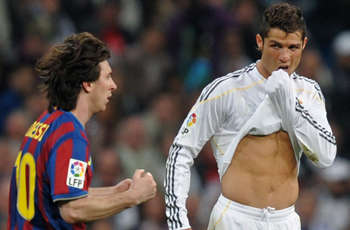 Four Clasicos in 18 days - and you can follow them all with Goal.com:

Apr 16: La Liga
Real Madrid 1-1 Barcelona

Apr 20: Copa Del Rey final
Barcelona 0-1 Real Madrid

Apr 27: Champions League semi, 1st leg
7.45 BST - Bernabeu

May 3: Champions League semi 2nd leg
7.45 BST - Nou Camp


sent off for a foul on David Villa and were forced to play the last half an hour with 10 men. After the game, Mourinho moaned that his teams were always forced to play with a man down against Barcelona.
The Portuguese complained of injustice and repeated himself over and over again, claiming victimisation and even saying he would be training with 10 men for the final of the Copa del Rey, to be played four days later in Valencia.
The strategy was aimed at referee Alberto Undiano Mallenco. Mourinho challenged the Pamplona-born official and his ploy arguably worked because Alvaro Arbeloa was fortunate to stay on the pitch following a cynical stamp on Villa. Indeed, the full-back wasn't even booked for that particular misdemeanour.
Sami Khedira and Pepe also escaped punishment as the official appeared determined to keep the numbers even. Angel Di Maria was dismissed in the final seconds of the match, but by then the game had been decided. Cristiano Ronaldo had scored; Madrid had won, and so had Mourinho.
In the space of five days, everything had changed. Before the current series of Clasico clashes, Guardiola had won all five meetings with Madrid. Those included a 6-2 win at Santiago Bernabeu and a 5-0 drubbing of Mourinho's men at Camp Nou in November. There was no need for mind games: Barca did their talking on the pitch.
But the Catalans have failed to win the last two meetings with their biggest rivals and have let themselves be bullied by Mourinho's off-field antics. Something needed to be done to redress the balance and with a Champions League double-header still to come, now was the right time.
Barca seem certain to win the league title, but losing to fierce adversaries Madrid in both the Copa del Rey final and the Champions League semi-finals will – bizarrely – mean the season is more of a failure than a success for the Catalans.
"Hey, Jose – I'm here," was the message from Guardiola yesterday. The Catalan coach usually does his talking on the pitch. But he has learnt that, in order to beat the Portuguese in big games like these, he will do his talking off the pitch as well. Whether or not it has worked, however, remains to be seen.
Feedback
Goal.com readers have been leaving their comments and opinions on what Guardiola's outburst tells us. Does it show that the pressure is getting to Pep? Or was it a clever tactical ploy? Here are some of the best responses we have had so far via comments, Twitter, and Facebook:

"If i were pep i would shut up my big beak and mind my business.engaging mou in a media fight is surely the first step to losing a field fight to him..pep is busy concentrating in his words while mou is concentrating on winning the game."
Michael Wambua Da'Silva
sees no silver-lining for Guardiola and Barcelona tonight.
Ruksana Alley
believes it is about time Jose got a taste of his own medicine: "Finally a coach told Mou how it goes, Mou talks so much rubbish all the time!!, but I think Peps timed it well ahead of the clash - mind games!!"
"it's a clear case of beauty n the beast .mourinho's filthy talk is always reflected on the pitch by his teams performances;chelsea,inter and now madrid.a clear case of harassing the ball instead of romancing with it." So
Ranjuz David
, does this mean we are in for a Stoke City vs Wilmbledon-style match tonight?
Mr Snip
hilariously suggests that Guardiola is angry because Mourinho has more hair than him: "Peps last strand of hair is almost gone, while The Special One has a full head. After Madrid do the business tonight, Pep will look like Pierluigi Collina!"