The psychological balance has shifted. Before the first Clasico nine days ago, many believed Barcelona could win all four meetings with Madrid. After all, the Catalans had triumphed in the previous five clashes and humbled their eternal enemies with a 5-0 victory in their most recent head-to-head in late November.
But having failed to win either of the first two Clasicos of this current series, losing the Copa del Rey at the hands of their fierce rivals last week, the moment is very much with Madrid. So in order to shift the equilibrium back in Barca's favour, coach Pep Guardiola needs to make changes for the Champions League semi-final first-leg at the Santiago Bernabeu on Wednesday night.
Guardiola has suffered his two greatest disappointments so far against Jose Mourinho, having lost out in the Champions League semi-finals to the Portuguese - then coach of Inter – and in the final of the Copa del Rey.
That makes Mourinho the closest thing possible to a nemesis for the Barcelona boss. In the two recent Clasico meetings, Guardiola's side may have played most of the football, but Mourinho has come out on top tactically, stifling the Catalans with an impenetrable midfield shield and stealing the initiative with a rapid counter-attacking system. Barca have continued to dominate possession, but they have lost their momentum and they need it back.
So what can Guardiola do to shift the power back in Barca's favour?
His first move should be to move Messi back to the right. Guardiola has been using the Argentine as a 'false' striker to great effect this season and he has responded by scoring an incredible 50 goals. But Messi can be just as effective on the right, his previous position. He was devastating there in Guardiola's first season, scoring 38 times and creating numerous others for Samuel Eto'o and Thierry Henry, as the goals were shared out among Barca's front three.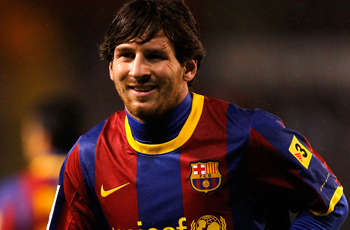 "Messi can be just as effective on the right, his previous position. He was devastating there in Guardiola's first season, scoring 38 times and creating numerous others for Samuel Eto'o and Thierry Henry."
Part of the reason for switching Messi to the centre in the first place was to accommodate Pedro, who broke into the side and impressed with a string of fine performances. But the Tenerife-born forward is off form now and has failed to score since the end of February, although he did see a strike disallowed for offside against Madrid in the cup final.
With Pedro relegated to the bench – from where he can make an impact with his pace as a substitute – and Messi restored to the right, David Villa can revert back to the centre-forward role he prefers. Shifted out to the left, Villa embodies the ethics of teamwork and sacrifice, playing an important role for his side – but he is far less effective.
On Saturday night against Osasuna, Guardiola left Messi on the bench as Villa began in the central role and it took the Spain striker just 23 minutes to end his 11-game goal drought as he slid in at the far post to open the scoring. Some confidence has been restored with that strike and a more permanent move to his favoured position is only likely to enhance the Asturian's influence.
That frees up the left forward position for Andres Iniesta. The Spain midfielder has seen his influence limited by Pepe, Sami Khedira and Xabi Alonso in the first two Clasico clashes, but has already shown how dangerous he can be in an advanced role – closer to both Messi and Villa. His inclusion in this role would help Barca break down Madrid in the last third and give Mourinho's defenders something different to think about.
REAL MADRID VS BARCELONA:
ALL YOU NEED ON GOAL.COM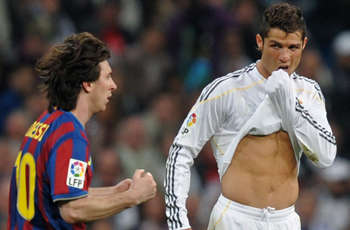 Four Clasicos in 18 days - and you can follow them all with Goal.com:

Apr 16: La Liga
Real Madrid 1-1 Barcelona

Apr 20: Copa Del Rey final
Barcelona 0-1 Real Madrid

Apr 27: Champions League semi, 1st leg
7.45 BST - Bernabeu

May 3: Champions League semi 2nd leg
7.45 BST - Nou Camp


The problem then arrives in midfield. Guardiola could opt for a defensive shield of his own, with in-form Javier Mascherano and Sergio Busquets both starting alongside Xavi. That may depend on the fitness of captain Carles Puyol and fellow centre-back Gabriel Milito, both of whom are struggling to be fit for Wednesday's match. Should neither make it, Mascherano is likely to be asked to fill in again at the back, meaning Seydou Keita could play a dynamic, attacking role in midfield.
The Malian's inclusion brings with it another issue: Guardiola is often frustrated at the African's defensive and tactical indiscipline. And against a side coached by Mourinho, Barca will not want to take too many risks in that department.
Another option is to unshackle full-back Dani Alves, nullified up until now by fellow countryman Marcelo on the right flank. Alves could roam inside, as he has done with Brazil, to provide a different dimension in the middle of the park.
That could work if Puyol is fit, because the Barca captain started his career as a right-back, but with Barca struggling to field a fit defence anyway - Adriano and Eric Abidal are both sidelined – Alves is unlikely to be moved.
One change is guaranteed: the return of Victor Valdes in goal to replace Jose Manuel Pinto, who played all the way through the Copa del Rey competition.
The presence of Valdes and the possible participation of Puyol will bring added defensive security to Barca, while a reshuffle up front is likely to extract the best out of Messi, Villa and Iniesta – and it could be just the boost the Catalans need to strike their first blow in this four-match series.
Feedback
Goal.com readers have been leaving their comments and opinions on what changes Pep Guardiola should make. Here are some of the best responses we have had so far via comments, Twitter, and Facebook:
"Guardiola should try and hold the ball to frustrate Madrid and players like Pedro and villa should be shooting more often because the Madrid defends look clumsy. He should not play Seydou Keita as he does nothing in a game." -
Kwadjo Elvis
wants Barca to take more shots at goal than they do at the moment.
"Messi and Pedro should be the two wingers and Villa must be deployed upfront. Mascherano should be the holding midfielder and Xavi and Iniesta ought to be placed in front of him."
Noor Nabi
explains the formation Guardiola should go with.
"Maybe the key is Afellay. He has the talent but the problem is that he has not yet adapted his game to Barcelona's way of play. He still sends the ball high as if he plays in England."
Wasseem Mohammed
seems to think that playing Afellay against Madrid would have done the trick if only he were up to the mark.
"Barca should play Puyol and Pique at the same time. Maintain the midfield and the strikers - Pedro on the left, Messi on the right and Villa in the middle. Mascherano, Keita, Jeffren and Afellay should be played from the bench."
Junias Maino
has his own ideas on the formation.
"Swapping players' positions without changing tactics is as good as doing nothing. Barca have no other weapon except keeping possession and if it doesn't yield results on one particular day, then they are doomed."
S'bonga Mhlanga
says that Barcelona's one-dimensional style will cost them dear against Madrid.
"Messi should be benched throughout the match!"
Adetola Michael Lampard
seems to be a Real Madrid fan, or maybe he is not impressed with Messi's recent form.