Carles Puyol is a man for the big occasion. The Barcelona captain has played in a World Cup final, a European Championship final and two Champions League finals – and won them all. He is a natural leader on the pitch; a warrior with a never-say-die attitude, making up for what he lacks in technical ability with hard work, drive and sheer determination. So naturally, he has been missed.
Puyol has spent over three months on the sidelines since picking up a knee problem in early January. And in the last few weeks, the question on the lips of all Barca fans has been this: Will he be back for the final of the Copa del Rey?
Barca devised a special fitness programme to help their captain recover in time for the date at the Mestalla on Wednesday. Newspapers reported his progress was good, but less than a week before the final, he was being described as a big injury doubt for the showpiece event. Time was running out.
But suddenly, five days before the final, Puyol trained with his team-mates for the first time since suffering his injury. "Puyol is back for the Copa del Rey," the headlines screamed. His mere presence seemed to give Barca confidence.
And then something strange happened: Guardiola called up Puyol for the league match against Madrid a day later at the Santiago Bernabeu. Speculation seemed to vary as to whether the captain would be an unused substitute or perhaps be given a run-out in the last 15 minutes to regain some match fitness ahead of the cup clash.
LIFE WITHOUT PUYOL | Barcelona's defeats in 2010-11

Sep 11 2010

Jan 19 2011

Feb 16 2011

Apr 20 2011

Hercules (h) Liga
Lost 0-2

Real Betis (a) CDR
Lost 1-3

Arsenal (a) Champs Lg
Lost 1-2

Real Madrid CDR final
Lost 0-1 (AET)

Puyol out with a calf problem

Sidelined with tendonitis in his left knee

Still out with the same knee problem

Deemed unfit to start after hamstring strain in first Clasico

But then something even stranger happened: Puyol started in Madrid. Immediately, the skipper showed Barca what they had been missing as the 33-year-old stood tall and blocked the passage of fleet-footed winger Angel di Maria in the Barca penalty area.
Then, the unthinkable happened: Puyol got injured. Except it wasn't unthinkable, it was actually quite plausible after three months on the sidelines - especially at the age of 33. Guardiola is usually so prudent when it comes to his players' fitness, resting his stars even after long journeys for international friendlies because he knows they are more prone to picking up injuries.
As a player, Guardiola himself suffered constantly with injuries. He will know better than most that tense derby matches cause not only more stress to the body, but also push the player in question to give that little bit extra. Again, the chance of another injury increases. And he knew Madrid had been deliberately keeping the Bernabeu pitch dry and hard to halt Barca's slick passing game; hardly a tonic for Puyol's ageing limbs.
With all of that in mind, Guardiola's decision to start Puyol seems baffling in the least. A Barca win in Madrid would have taken the Catalans 11 points clear in the table with six games remaining, granted, but Pep's side had only dropped nine points from their first 31 games and were eight ahead of Madrid anyway, making a draw acceptable and defeat far from distastrous.
There seemed so little to gain and so much to lose.
Puyol's importance cannot be underestimated; Barca's three previous defeats this season had all come without their skipper in the team and central defensive partner Gerard Pique often seemed to lack concentration when paired with others.
Full-back Eric Abidal had been an able stand-in, but the Frenchman is now recuperating after an operation to remove a tumour from his liver. And Gabi Milito is simply not good enough anymore. That leaves just Javier Mascherano and Sergio Busquets – both defensive midfielders.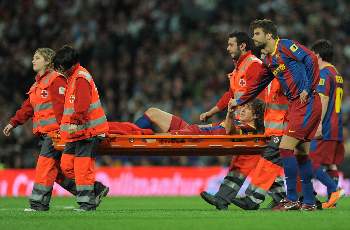 "Often he'll be shouting 'Geri, Geri, Geri' and I'll turn around and say 'What?' and he says 'nothing, I just wanted to make sure you are concentrating.'"
- Gerard Pique
Pique and Milito were made to look like amateurs by Sporting Gijon striker David Barral – hardly a world-class forward – earlier this season. There were other games, too, like the 5-1 win at home to Shakhtar Donetsk in the last 16 of the Champions League recently. Barca's attacking play won the day in the end, but there were big holes at the back that better sides might have exploited.
Puyol, when in the side, has a knack of lifting his team-mates and Pique admits his captain's presence brings a much-needed focus to his game.
He said in 2009: "Often he'll be shouting 'Geri, Geri, Geri' and I'll turn around and say 'What?' and he says 'nothing, I just wanted to make sure you are concentrating.'"
Against Madrid last night, Mascherano stood in at the back and made one very important intervention early on, but the balance of the team was shifted, security was sacrificed and possession was squandered. Barca lacked leadership. It is, of course, impossible to say exactly what difference Puyol would have made, but one thing is for sure – he makes a big difference.
We will, of course, never know, but Guardiola's decision to risk his captain on Saturday may have cost his side the Copa.
Puyol is now expected to be ready for the Champions League semi-final first leg – and third Clasico – at Madrid next week. Catalan fingers will be crossed. Just don't expect to see him against Osasuna this weekend.