COMMENT
By Nick Price
England and Australia, John McEnroe and Bjorn Borg, Mario and Bowser,
Arsenal
and
Tottenham
– all great rivalries and all more alike than they'd be prepared to admit.
The two north London bedfellows go head-to-head on Wednesday night and share a chunk of the city. They've even shared players too, with Sol Campbell and William Gallas starring for both clubs in recent years (the Englishman is so popular among Tottenham fans that to this day they always make sure to sing songs to him whenever he appears against his former club – how nice).
But besides geography, how else are Arsenal and Tottenham similar?
Dodgy goalkeepers
Ever since David Seaman packed up his moustache and ponytail and left north London, the region has been bereft of a top drawer goalkeeper. Richard Wright, Jens Lehmann, Manuel Almunia, and Jens Lehmann again – you don't need a punchline when a list of Arsenal's stoppers since the Englishman's departure is that horrendous.
Wojciech Szczesny has popped up for the Gunners in recent months to suggest that he might be, at long last, a replacement for Seaman, but his League Cup final blunder was swiftly followed by a freak injury against Barcelona, suggesting that the great big pole in Arsenal's goal has been afflicted by the curse.
Tottenham have fared little better. Since 2003, Neil Sullivan, Paul Robinson and Huerelho Gomes have all given Spurs fans heart attacks with their antics.
Robinson was supposed to be the Three Lions' goalkeeper for the rest of his career but quickly showed that he was less use against shots from range than a dead dog. His replacement, Gomes, started life at White Hart Lane as a joke, and he's come full circle after building up a reputation for himself as a steady stopper.
You can bet that both sets of fans will be wincing whenever the ball goes near their box on Wednesday night.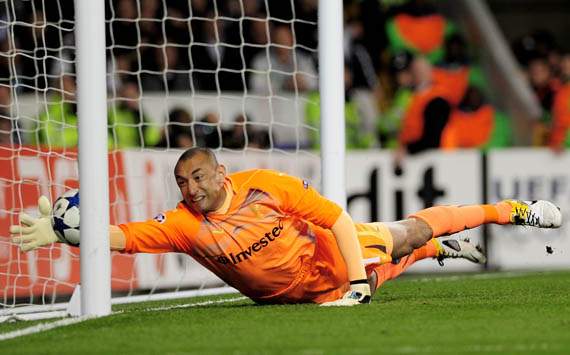 Flap attack | But Arsenal have had 'keepers as sloppy as Gomes for years too
Constantly injured defenders
Do they not have milk in north London? Thomas Vermaelen has missed near enough all of this season with a persistent injury, with his absence – a bit like Eduardo's before him – making his abilities grow in the eyes of many a Gooner. Sure, he was excellent last season, but that does not make him Tony Adams, let alone the sort of Franz Beckenbauer figure some seem to think he is.
Likewise down the Lane, Ledley King probably knows the club doctor better than any of his team-mates yet is, in the eyes of many Spurs fans, England's best defender.
Embarrassing managers
Arsene Wenger and Harry Redknapp are indisputably very good managers, but they're also cringeworthy chaps.
Take the Frenchman, who seems more concerned about boosting the profit line than winning trophies these days. He can spot any infraction against his side from a mile away, but when one of his own puts in a heinous tackle or commits a foul in the box he claims not to see it. That's not to mention his incessant whining about opposition tactics or referees; there's almost always a scapegoat for Wenger, and the blame culture seems to trickle down to the players too, who get all teary-eyed and incandescent whenever they're beaten and have as much testicular fortitude as a baby hamster.
Redknapp is little better, however. When he's not cosying up to his pals in the media to get an easy ride, he's absolving himself of responsibility for the trail of clubs he has left in financial ruin, and ridiculously talking up (or, if you're Darren Bent, belittling) his players' abilities.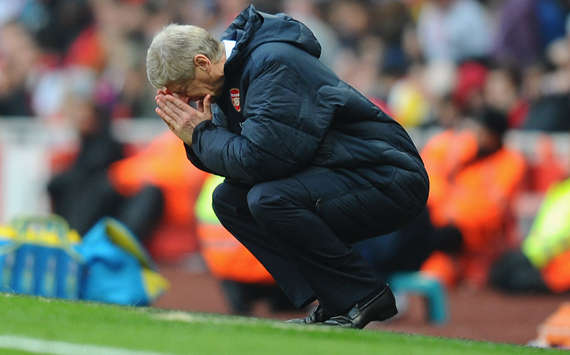 He wears a sleeping bag | But that's not as shameful as some of his excuses
Frustrated fans
Pity the poor souls who live in north London and have to put up with the constant groaning noises from both the big clubs in their vicinity.
When the Arsenal fans are not moaning about missing out on another trophy they're weeping about the nasty teams that defend or have the temerity to tackle their players, or they're hammering away at their keyboards to slam their manager on the forums for not spending a fortune on a holding midfielder with a heart, a centre-back not made out of glass, and a goalscorer who isn't a petulant, arrogant little sod.
Tottenham fans are little better with their obsession with what's going on at the Emirates sometimes seeming more important than what's kicking off down the Lane. Yet even in the past year, possibly the best season the club has had since the inception of the Premier League, Spurs fans have been boring anyone who will listen to death about the inability of any of their forwards to find the net and the need to replace Gomes the clown.
Fancy football but no end product
There once was a time when Arsenal were famed for grinding out results on their way to titles, now they're famous for passing their way around teams… and coming out with nothing to show for it.
That disease seems to have been passed onto Tottenham too, who have blown chance after chance to cement their place in the top four with blunt displays against such powerhouses as Blackpool, Bolton, West Ham, Wigan and Wolves.
Here's a radical thought: shoot every once in a while and you might just turn all the fancy dan poor man's tiki-taka stuff into goals. You know, goals, the things that win games?
Follow Nick Price on

Follow Goal.com on

. Get the latest football news direct... Check out Goal.com's

page; be part of the best football fan community in the world!