It hasn't even been a year since Atsuto Uchida joined Bundesliga outfit Schalke and yet, out of all Japanese plying their trade in one of Europe's top leagues, he has become the one player whose starting spot at the club seems totally secure.
The success story of the Shizuoka-born defender has come as a surprise given that his rather non-physical approach to the game could not have been expected to sit well with Schalke, a Ruhr region club which flies the flag of its working class-roots.
Add his J-Pop idol looks and you will have found the majority of the Schalke supporters scratching their heads with regards to former manager Felix Magath's signing.
Fast forward to April 2011 and Uchida's right-back starting spot at Schalke is virtually guaranteed. Whether he was celebrating winning the Asian Cup a few days earlier or on international duty in midweek, "Ucchi" or "Uschi" as the Germans call him (which happens to be the short form of women's name "Ursula"), starts each and every Bundesliga, DFB Cup, UEFA Champions League match for die Knappen.
His position on the right end of the defensive line naturally hasn't translated into any spectacular attacking contributions but the 23-year-old's intelligent play and comfort going forward belies his young age and relative inexperience – and there are signs that he will yet improve.
Pre-2010/11 season squad shake-up
As to why Uchida and the club turned out to be a good match, there are several factors. When the former Kashima Antlers player joined, the whole defensive department of Schalke (like other parts of the team) reshuffled.
Not only did regular right-back Rafinha leave for Genoa in Serie A before season started, centre-backs of international calibre like Marcelo Bordon and Heiko Westermann moved to other clubs, too. With positional-rival Tim Hoogland out of contention due to a knee injury and an inflammation of the pancreas since the beginning of the season, the situation played into Uchida's hands and continues to do so.
Prototype of the modern attacking right-back
The key factor working in his favor certainly is that, as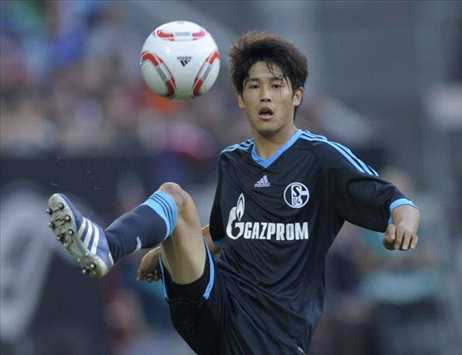 different their interpersonal dealings and training methods might be, Felix Magath as well as his successor Ralf Rangnick are both followers of modern football tactics in that they like to see their full-backs join the attack on the flanks whenever their team is in possession.
This is of course Uchida's trademark, whose tireless forward runs are now of such timing that he is rarely caught out by opponents. Moreover, when he has been pushing up the right side in recent games, more often than not he receives the ball as well as the opportunity to conclude play with a cross.
Accordingly Rangnick - who managed Schalke in the 2004-05 season - praised the full-back in
Kicker
magazine as someone who will become "a very valuable player for Schalke in the next few years".
Partnerships on the pitch
Instrumental to Uchida's performance is that his teammates know his intentions and there is a certain level of trust. The building up of play with Peruvian Jefferson Farfan has improved during the season, so that the Japanese is in most cases part of Schalke attacks from the right side, often even initiating them.
For Uchida, who relies on positioning and pace rather than his dribbling skills, the timing with which he receives the ball determines the quality of his contribution but with every match it seems that the understanding with his teammates improves.
Following the arrival of Rangnick many Hoffenheim players have been linked to Schalke, including Germany international Andreas Beck, who is also a right-back with similar qualities to Uchida. But Schalke supporters in German forums were quick to unanimously declare the signing of another right-back as needless.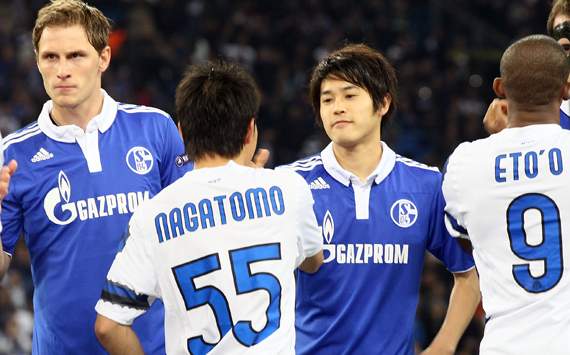 Maybe there was no reason for their concern anyway: "I have known this boy for three and a half weeks but it is every day genuinely fun just to watch him.", Rangnick enthusiastically said about Uchida.
After the recent historic win against Inter, Schalke have four matches in the Bundesliga, a Champions League semi-final and the DFB Pokal final remaining this season.
Due to a poor first-half of the campaign, there's nothing significant to play for domestically. In other competitions the stakes are much higher and the clash against Manchester United is likely to be a career highlight for many Schalke players.
"The two matches will be exhausting," Uchida said in his typically nonchalant manner on the club's homepage. "It is exciting to be playing at this level."
Perhaps it is his humble style which in the end goes well with the mine worker's club. When his 90 minute shift begins he will always carry out the task assigned to him.