As Wayne Rooney's resurgent form continued at Stamford Bridge, Fernando Torres continues to find life difficult for the Blues, who suffered another heavy blow.
Manchester United emerged this evening from Stamford Bridge strong favourites to progress to the Champions League semi-finals at the expense of Chelsea, whose season took another sour turn just as manager Carlo Ancelotti declared that his side are entering the crucial phase of their campaign.
The reason is simple to pinpoint: where United showed an ability to grab a chance, the Blues were impotent in attack.
Ancelotti's men controlled significant periods of the game, particularly in the second half, but they were rarely able to penetrate a Red Devils rearguard who have yet to concede a goal on their travels in Europe this season. Aside from a Frank Lampard shot miraculously cleared from the line by Patrice Evra in the first half, the greatest moment of excitement for the home crowd came in the 91st minute, when Ramires was denied a clear penalty following a foul from the French left-back.
Though there were several issues with the Blues, most notable was the lack of influence that Fernando Torres had on proceedings.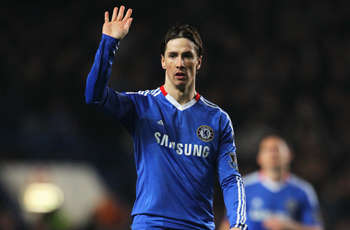 The World Cup winner again cut a ghostly figure playing through the centre of the home side's attack, and even a fine second half header that required a fingertip save from Edwin van der Sar failed to disguise what was another quiet performance from the Spaniard. Indeed, it was his first period overhead kick that ended up travelling away from the United goal that better summed up his evening, and his Chelsea career to date.
Even the basics seemed to be lacking from the 27-year-old's game. His movement was sluggish and often easily predicted by a defence he frequently tortured when playing under the banner of Liverpool, but this is not the striker who once shone at Anfield.
In stoppage time the desperation of Torres to make an impact was made evident as he crumpled to ground under a tame challenge in the box and was booked for his show of melodrama – it was the second time he had been involved in such an incident during the game.
Wayne Rooney could certainly empathise with Chelsea's No.9, having endured the best part of a year of questionable performances. But while Torres is presently treading uncertainly through treacle, the Englishman is steadily progressing back towards his best form, and the Red Devils are reaping the benefits.
Didier Deschamps, the Olympique de Marseille coach, postulated that this United side don't have the "fantasy" that past versions have had, but Ryan Giggs' touch to bring down a searching diagonal pass from Michael Carrick was a dreamy moment that was given the finish it deserved by Rooney, who angled his body well to steer a finish into the far corner of the net.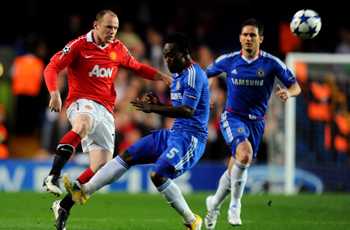 The goal itself may have been routine for the England striker, but it simply typified the all-round improvement in his game that has been so evident in recent weeks.
Though ever-hungry, there is a sparkle back in Rooney's play that had been sadly lacking in previous months. His confidence has returned, and every facet of his game has improved as a result. Whereas Torres was peripheral in Chelsea's game plan, the Liverpudlian was the heartbeat of United's attack, acting not only as a threat to goal, but primarily as a linking player capable of taking up dangerous positions and worrying the home defence. When the visitors were pinned back, Rooney, in typically energetic style, was only too happy to track back to the corners for the benefit of his side.
Only two teams in the history of the Champions League have overturned a home deficit in the second leg of a knockout tie, and that United are in such a commanding position owes much to their bullish No.10's return to form.
Meanwhile, Chelsea are left to stew over another damaging defeat and another gross under performance from the expensive Torres, whose goalless start to life at Stamford Bridge is quickly rendering London's biggest white elephant since the Millennium Dome.