Be positive but not irresponsible
Sixty-six seconds into last season's quarter-final tie at the Allianz Arena and Wayne Rooney had given United the perfect start away to Bayern Munich. Ninety minutes later and Ivica Olic was beating Edwin van der Sar in stoppage time to give the Bavarians a slight advantage ahead of the quarter-final second leg at Old Trafford. We all know how that turned out.
United's win over West Ham on Saturday not only outlined their spirit, a winning mentality that would appear to be dragging them over the Premier League finish line once again, but also their defensive frailties away from home, where they have only won five times this season. If United can repeat the feat of last year's visit to the Allianz and pick up an early away goal, holding on to it by reverting to containment tactics regardless of how it sits with the club's attacking mantra, must surely take precedence.
Let Wayne Rooney get angry
Too often this season, Wayne Rooney has cut a disconsolate figure, failing to trap a pass to feet or choosing not to chase down a lost cause as has been his bread and butter for years now. Has his huge new contract left the former Everton man complacent, no longer passionate for a game in which he looked like he could be one of the world's best? A game, and potentially title saving hat-trick, followed by a foul-mouthed tirade at the TV cameras at Upton Park would suggest that the fire in Rooney's belly is yet to have been extinguished.
West Ham on Saturday cannot be marked down as Rooney's final step on the road to redemption in the eyes of United fans after his request to leave the club late last year. Nor does it signal a return to his very best. A performance of a similar ilk at Stamford Bridge on Wednesday however, with the anger, fire and brimstone with which it came, may well see the Red Devils' most potent weapon cherished once again.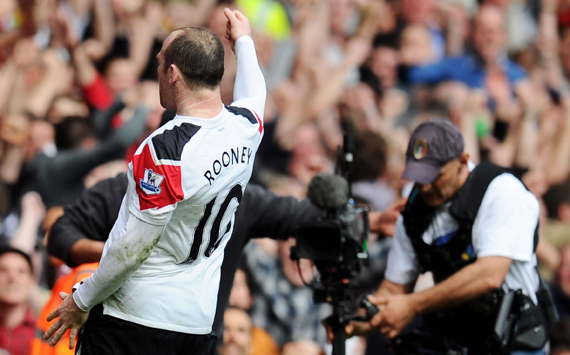 Rampant Rooney | The striker's foul language has overshadowed an excellent hat-trick
Give Valencia a target in the box
Shocked at Molineux, unlucky at Chelsea and embarrassed at Anfield, there was a point only a month ago that the wheels appeared to have fallen off Sir Alex Ferguson's side's collective vehicle in the quest to reach the holy grail of 19 titles. Now, seven points clear and a treble still possible, it hasn't only been the ineptitude of those around them that has contributed to the Red Devils getting back on track.
Not yet fully fit but still a prospect that will frighten left-backs across the continent, Antonio Valencia has been sublime since his return from the ankle injury that kept him sidelined for six months. He will have to breach Ashley Cole to do so, but Chelsea were terrible on defending crosses at the Britannia Stadium and the Ecuadorian's ability deliver from out wide may well prove to be the key to unlock the Blues' uncompromising back line.
Unleash Nani on a troubled defence
From supposed transfer flop to United's creator-in-chief, Nani's emergence as the new wing wizard at Old Trafford has been as invigorating a spectacle as some of his football this season. The Portuguese wide man, not one to wilt on the big occasion, will have been delighted to have seen Jon Walters tearing down the left to open the scoring for Stoke against Carlo Ancelotti's side on Saturday.
Branislav Ivanovic, impressive as he has been at right-back, struggled to contain the former Sporting man when the two matched up in March and having contributed to 22 goals, scoring nine and setting up 13 so far this term, Carlo Ancelotti may well think about doubling up on markers to keep Nani in check at Stamford Bridge. It may take more than two to stop him.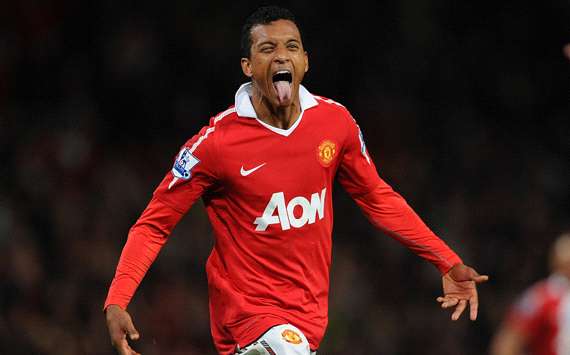 Transformed | Nani's doubters have dwindled following an incredible showing this season
End the Torres curse once and for all
It was two years ago this month when Fernando Torres, then at his rampant best for Liverpool, systematically ruined Nemanja Vidic's chances of winning the Player of the Year award with a frightening display as Rafael Benitez's side put four past United on their own turf. Now, without a goal since January and a £50 million move to Chelsea later, the Spaniard couldn't look further from the lightning quick assassin that he once was.
Vidic on the other hand, despite a performance to forget at Upton Park has been in imperious form for the league leaders this term. A return of Rio Ferdinand to a return to fitness would indeed help the Serbian's cause in stopping El Nino; a hoodoo, much like United's nine-year wait for a win at Stamford Bridge, that has plagued for far too long.