Carlo Ancelotti's side can use Liverpool's victory over the league leaders as a blueprint for success, with Sir Alex Ferguson's side showing signs of vulnerability in recent weeks
1. Play three in the middle
Sir Alex Ferguson has shown a tendency towards playing Wayne Rooney in between a solo striker and a two-man midfield, allowing the England international to operate in an area that can drag either his marker out of position or pull an opposition midfielder away from the middle, thus creating space for Paul Scholes to squirm his way through and pick out a pass under less pressure.
Rooney was devastating in such a role in the previous round against Marseille, linking well with Javier Hernandez and providing a threat of his own from a deeper position. As much as the volatile striker has been relatively (by his own high standards) poor in front of goal this season, he has made up for it by laying on 11 Premier League assists for his team-mates from just 22 games. And, as he showed in the league game at Stamford Bridge, he can belt out a shot from range as fiercely as he can bellow out a few naughty words to millions of TV viewers.
To negate Rooney's roaming ways, Carlo Ancelotti ought to employ a three-man midfield. In Ramires and Michael Essien, the Italian has access to fine defensive-minded battering rams in the middle, and their very inclusion in a holding role between the centre-backs and the centre-midfielders could serve to frustrate the volatile forward, whose temper can often get the best of him. In addition, the extra man in the centre would prevent Chelsea from being overran and could check the runs of Patrice Evra.
In the league encounter between the sides last month, Chelsea's 4-4-2 may have just about earned a win, but it wasn't convincing in the slightest, with none of Fernando Torres, Florent Malouda or Nicolas Anelka excelling, and 4-3-3 would not only help disrupt Rooney's night but get the best out of the Blues' main men.
2. Play Fernando Torres and tell him to run at Nemanja Vidic
The £50 million man has looked scarcely like a player worth £5m since his January switch from Merseyside, with his trademark turn of pace, soft-as-silk first touch, and drone missile-like precision going unseen at Stamford Bridge. But Chelsea fans should have plenty of hope that Wednesday night will be the occasion for the Spaniard to bust out of his rut and slip on the scoring boots that he seemingly left behind at Anfield. The World Cup winner has a formidable record against Manchester United and regularly torments the usually ice cold Nemanja Vidic, who has been sent off or booked on four occasions when playing against the striker and saw red last month against the Blues.
Should he start, which seems more than likely as he was rested for the trip to Stoke, Torres will relish the opportunity to leave Vidic, who was farcically dreadful against West Ham at the weekend, red-faced yet again. The Serb appears agitated whenever the 27-year-old runs at him with the ball, and even if he is deployed in a wide left position as part of a three-pronged attack, the jet-heeled striker will be able to pull inside and dart towards the United captain.
In addition, Torres's presence on the pitch can distract attention away from Didier Drogba or Nicolas Anelka, both of whom take to the big occasion like attention-starved actors all too eager to show their range of abilities. With two strikers on the pitch – even with one playing in a wide role – Ancelotti could create a marking nightmare for United's centre-backs, with Chris Smalling being guilty on occasion of tracking his man and getting dragged out of position.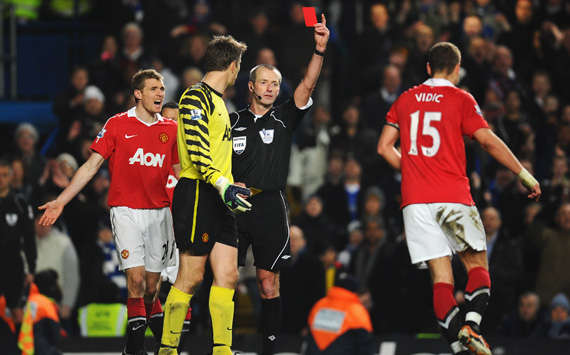 Red faced | The Serb has been booked or sent off four times against Torres
3. Play a high defensive line and press, press, press
At Anfield last month, Liverpool showed narrow sides how to stymie United with a tactic of smothering that meant Scholes and Michael Carrick could scarcely get a kick before they were 2-0 down. Lucas Leiva revealed that Kenny Dalglish had prepared his team in the week before by stressing the importance of pressing. "We understood how important it would be for us to give them some of their own medicine," the Brazilian told
The Guardian
. "[Dalglish] went on and on about suffocating them in midfield."
If Chelsea wish to prevent Scholes and company from orchestrating the game, Ancelotti would do well to follow the wily Scot's blueprint, and in Frank Lampard, Essien and Ramires he has better players to call upon than Dalglish.
Pushing the defence high up would not only restrict the space within which Rooney can punch through, but would complement a pressing plan designed to force quick turnovers in possession, preventing United's midfield from building moves and enabling the home side to use the ball in the final third, stretching and dragging their opponents out of shape and allowing pockets of space for Torres to slip through.
Of course there are downsides to a high defensive line. A single moment of quality from an attacking player – and United have several in form – and a well-timed run can see a pacy forward zip through on goal, but Chelsea have a backline of experienced defenders well versed in the art of the offside trap and the extra security of having one of the best goalkeepers in the world. It's a risk worth taking; if Liverpool can make it work with a weaker squad, then Chelsea, as organised a side as any, can do it even more efficiently.
And they should throw caution to the wind, this is their home tie after all – it'd be inviting danger and a second-leg pasting if they didn't go out to get a commanding win in the first game. To pass up the chance to chalk up a psychological advantage in the first half of the tie would be silly.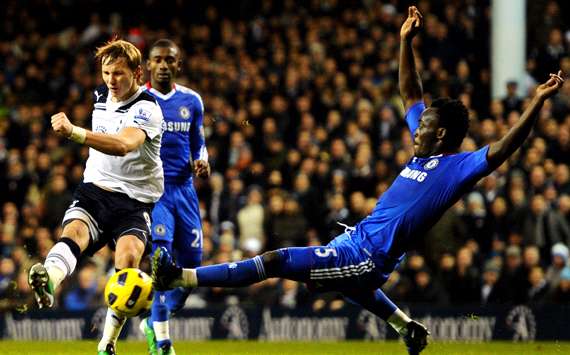 Under pressure | Essien and company can squeeze the life out of United
4. Play at a high tempo from the off
Again Ancelotti can look to Liverpool's win over Ferguson's side (and even West Ham's high-octane first half against the Premier League leaders) as a design to copy. In combination with a pressing game, Chelsea can force their opponents into making sloppy mistakes and exploit the rawness of Smalling and the rashness of Vidic with fast-paced passing and movement.
West Ham and Liverpool both forced first-half defensive errors by moving the ball quickly and pushing men forward, making them difficult to pick up, before mellowing in the second half. Chelsea can do likewise with better players and have the luxury of having an individual like Lampard who can dictate the tempo and tone it down a few notches should the team show signs of fatigue.
And, of course, if the home side deliver one or two knockout blows early on, they can take their foot off the gas and look to work their way into the box in a more nuanced fashion or duck and weave on the counter as United push forward for an away goal.
5. Run at United's left flank
In the league encounter at the Bridge last month, Ferguson employed a four-man midfield with Darren Fletcher playing on the right to prevent Ashley Cole from bombing forward, and it is likely that he will employ a similar tactic on Wednesday night, perhaps utilising the tireless running of Park Ji-Sung or Antonio Valencia's touchline-hugging instincts to distract the England man.
While Cole may be neutered down the left, Jose Bosingwa or Branislav Ivanovic could seek to exploit the weaknesses of a more attack-minded player down their respective flank and push forward to keep Evra thinking defensively. The Frenchman stupidly conceded a penalty at Upton Park on Saturday and while he is undoubtedly one of the best in the world in his position, his talents lie primarily on the front foot. By instructing his side to attack down the right, Ancelotti could contain the threat of the tricky full-back.
Again it's a risky one, but if a team is unprepared to throw caution to the wind and exert its authority at this stage of the competition, it doesn't deserve to go further.
Follow Nick Price on