The Welshman has been suffering with a hamstring problem in recent weeks but Harry Redknapp hopes that he will be fit to face Jose Mourinho's men on Tuesday
"The Real Madrid scout has gone home scared stiff," said Harry Redknapp following Tottenham's feeble 0-0 draw away to Wigan Athletic on Saturday. Rate him or hate him, you can't deny that the Spurs boss has a sense of humour.
Inflexible, short on pace and lacking mobility, it was Redknapp's side that were the only thing stiff at the DW Stadium.
The team sheet still read with an impressive opulence, Luka Modric and Rafael van der Vaart are not players to be scoffed at but with Aaron Lennon on the bench and Gareth Bale not even in the squad, the question of pace came up quicker than a Tottenham counter attack.
Modric, a player whose quality is such that he could probably win a game anywhere on the pitch was stuck out on the left and despite his best efforts, simply doesn't have the pace that is likely to strike fear into the mind of Sergio Ramos, a full back who let's not forget, is no slouch himself.
Bale's contribution to Spurs this season has been truly magnificent. With 12 goals and 3 assists, any team would suffer his absence but his missing presence against Roberto Martinez's team rang loudly as Tottenham lumped another ball onto the head of Antolin Alcaraz and Gary Caldwell in the Latics defence.
The goals and the assists will help the Welshman's cause for being voted player of the season, but it is the outlet on the flank that the 21-year-old provides that is proving to be his most irreplaceable asset.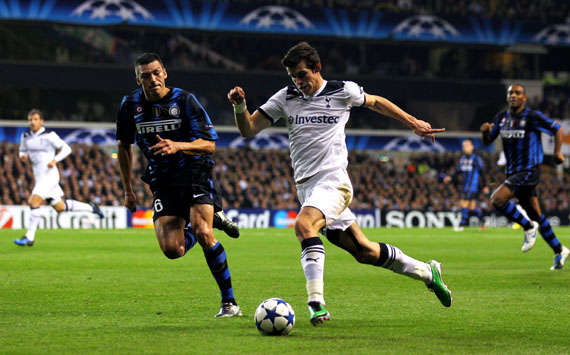 Wing wizard | Tottenham looked stunted without the speed of Bale in the 0-0 draw at Wigan
The defining images of Tottenham's season have, somewhat ironically, been blink and you'll miss them moments: Bale bringing the San Siro (and the rest of Europe) to its feet as he zoomed down the left wing in his side's defeat to Inter; Lennon breaking down the right to deliver the vital ball for Peter Crouch to secure a vital 1-0 win against Milan.
With both players struggling for fitness, Lennon soon fizzled out after a bright five minutes after eplacing Van der Vaart, there must surely be a fear amongst those at White Hart Lane that those memories will remain just that, as opposed to key hurdles overcome on the way to Wembley.
But Real Madrid aren't in much better shape either...
The flipside of this of course is that Real Madrid provide a test that, despite the illustrious names that call the San Siro their home, Inter and Milan cannot match. With the strength of Jose Mourinho's midfield, is width really the best option for Spurs to pursue or would a compact wall in the centre circle, as was used against Wigan, slow the tide against a wave of white?
A clue to the answer came only hours after the White Hart Lane outfit disappointed on the road. Real Madrid, having won 14 consecutive games at home under a manager that had gone 9 years without losing on his own patch, fell to a shock 1-0 defeat at the hands of Sporting Gijon. Their goalscorer? Miguel Angel de las Cuevas, a left winger.
Mourinho decided to go for broke when Real were unable to break down Gijon with 30 minutes remaining, sending in Gonzalo Higuain who had just returned from back surgery, and also changing his system to a 3-4-3 by pushing Sergio Ramos into midfield. Without any full-backs, Sporting capitalised as it was down the right-flank where their goal was initiated.

The injuries to Cristiano Ronaldo, Marcelo, and in-form Karim Benzema and the suspension of Xabi Alonso didn't help Madrid against an ultra-defensive Sporting side, while those who were on the pitch such as Mesut Oezil, Angel Di Maria and Emmanuel Adebayor woefully underperformed. Mourinho's excuse was that his players have simply run out of steam towards the tail-end of the season, while also bemoaning their bad luck for missed chances.
But how do you solve a problem like Mourinho? You'd think that for Tottenham, though in a different way to others, would be to give him and his side a wide berth.