Tuesday's 2-1 loss to Australia may not have been Germany's proudest moment, but for every loss there is a lesson, and coach Joachim Loew confirmed this much after the game. "I think the players, even the experienced ones, thought the game was won [after the first half]. Young payers can learn from such a match," he told reporters.
Having made eight changes to the side that beat Kazakhstan 4-0 on Saturday, Loew took a considerable gamble, and won. Not in sporting terms, of course: a meaningless friendly was never going to yield such dividends, regardless of the result. Instead, his squad experimentation revealed a formidable partnership: that of Thomas Mueller and Andre Schuerrle.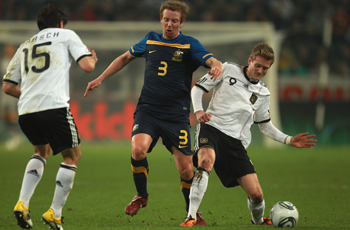 In the first half, Schuerrle and Mueller combined again and again; it was almost as though they had a telepathic understanding. Not just their passing, but their runs complemented one another perfectly. The way Mueller played a decoy to pull out a defender and the way Schuerrle attacked the open void ahead of Mario Gomez's opener was suggestive of a pair of players that had long worked together. And to think, Schuerrle and Mueller have only had a handful of training sessions together.
For months, it has been speculated as to who will be Loew's vice-Oezil, a deputy for the talismanic Real Madrid playmaker. Mario Goetze and Lewis Holtby have been slated as candidates, but the emergence of Schuerrle has allowed Loew to continue to use his favoured type of winger on both flanks, with Mueller in the familiar central role he occupies at Bayern Munich.
Out on the left, Lukas 'Prinz Poldi' Podolski can only shift nervously on his throne. The Koeln man capped off a poor international break with a very disappointing display against Australia, in which he could only be described as "goal-shy." The 25-year-old found himself in dangerous positions on several occasions, but made the wrong decisions in front of goal. These decisions ultimately cost Germany the game. Moreover, Podolski's connection with his teammates was just not up to par. Mueller could just as easily have drifted left to work with Podolski, but instead he trended to the right to link with Schuerrle.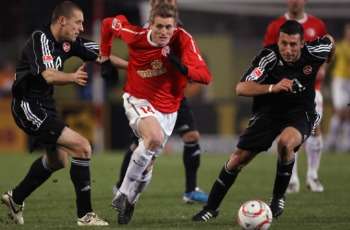 In the past, Loew has been reluctant to replace Podolski - regardless of form - in part because the player's attributes were not replicable by any other players in his squad. Above all, Loew prefers fast, powerful wide players who have the technique and creativity to play in midfield, the work rate to defend deep, and the finishing ability of a striker. Players like Marko Marin and even Sidney Sam, good as they may be, could never replace Podolski simply due to their different attributes. But Schuerrle, Germany's best player on Tuesday, can.
The one factor Germany missed on Tuesday was a world class ball player to set the Schuerrle/Mueller machine in motion. But that will be no problem for Germany in the future; Oezil will start and Mueller will return to the right-sided position in which he thrived at the 2010 World Cup. The real question now is: who will be on the left? Podolski, or Schuerrle? A challenger for the Prinz's throne has finally emerged: the stage is now set for a real battle ahead of Euro 2012.
Follow Clark Whitney on