One of Spain's key strengths has suddenly become one of their biggest weak links in recent games.
La Furia Roja's fearsome strikeforce has always perfectly accommodated their midfield tiki-taka football, dispatching chances with equal beauty and panache as their free-flowing build-up.
But Friday night's laborious come-from-behind 2-1 win at home over Czech Republic in the Euro 2012 qualifier further consolidated the reality that Spain's frontline is becoming more and more obtunded as opponents get better and better at stifling the world and European champions.
Coach Vicente del Bosque hasn't changed his side much since pre-2010 World Cup when they were scoring goals for fun. The personnel and their playing style has remained consistent, but they suddenly find themselves with a struggle that they never thought they would have to encounter.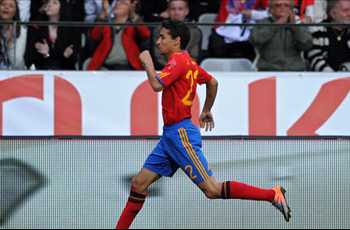 Why Jesus Navas?
The Sevilla winger has now become a regular in the Spain squad, but he is far from a guaranteed starter. It was only because of Pedro's omission from the squad due to injury that Vicente del Bosque opted to start with Navas on the right flank against the Czech Republic.
The 25-year-old does have a quality that no one else in La Seleccion possesses, and that's his explosive pace and his whiplash crosses. It's a handy weapon to have when you need a player who can draw out any number of defenders with his speed and trickery. But that was where Navas' contribution ended, albeit through no fault of his own.
On countless occasions, the Sevilla star would bombard down the right flank, only to stop in his tracks and pull back his run because he had no one to cross to inside the box. The lack of a target striker left Navas' biggest weapon nullified by Spain themselves and he was restricted to playing tic-tac-toe passes with the overlapping Alvaro Arbeloa and a supporting Xabi Alonso or Andres Iniesta.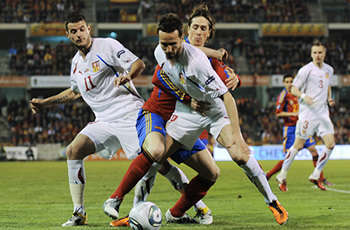 Why Fernando Torres?
El Nino's second half introduction was very much a surprise switch by del Bosque. The withdrawal of Xabi Alonso was necessary, as the Real Madrid man was only over-crowding the midfield against a Czech side that offered little resistance in that department.
But Torres has been in such woeful form for Chelsea that his entrance beggared belief. And true enough, he had little to offer in the 45 minutes he was on.
He was slow, his touch was poor, he had no chemistry with his team-mates and despite placing himself in two excellent goalscoring positions, he failed to apply the finish. Did del Bosque really think that a lacklustre El Nino would come on and become the hero for an equally lacklustre Spanish attack?
His presence on the field did, however, prove one thing. It showed that by playing with two strikers, even if it was an ineffectual Torres, it allowed Spain to find more gaps as the marking inside the Czech box was dispersed and distributed between the two frontmen, rather than a 6-v-1 tag-team on Villa.
Why Not Fernando Llorente?
Goal.com's Paul Macdonald had pointed out before the game that with Villa in less than convincing form and Torres looking utterly lost at Chelsea, Llorente had to be the striker to lead La Furia Roja's attack.
The big man from Athletic Bilbao isn't just a Spanish equivalent of an Emile Heskey or Luca Toni. He can drift out wide, he has excellent close control of the ball and he can take on defenders, while also providing the aerial and physical threat... not to mention that at present, he's much sharper than Torres.
A Villa-Llorente collaboration up front would have given Spain much more versatility and depth. The pair have the flexibility to switch roles; one to remain as a target man and the other to cut in from the left. Yet, it's a combination that del Bosque has never bothered to try out, despite playing around with a few variations.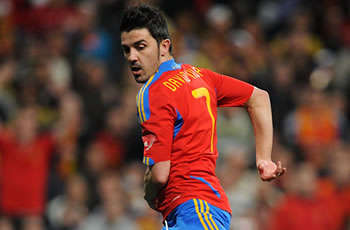 La Roja did escape a shock defeat at the end. The introduction of Santi Cazorla immediately injected an extra dimension to Spain's attack while taking some of the burden away from Andres Iniesta. The Barcelona attacking midfielder was his team's best player on the pitch, as he went on to create the equaliser, before earning the penalty for David Villa to bag the winner.
And Villa didn't play badly either en route to becoming Spain's new all-time leading goalscorer. It's taken him a while to overtake Raul, but he got there in the end.
'El Guaje' had a plethora of chances against the Czechs and he frequently got himself into good positions in front of goal. But whenever he did, he was be swarmed by half a dozen white Czech shirts. When he tried to free himself from the congestion by dropping deep, Spain were then left with no one inside the box for Navas to provide service to.
It may have got to a point where Spain's midfield quintet of Sergio Busquets, Xabi Alonso, Xavi, Andres Iniesta and one of Pedro/David Silva/Jesus Navas/Santi Cazorla has become so vital to the team collectively that del Bosque can't afford to drop any of them, thus forcing him to play with a lone striker.
If such is the case, then perhaps it's time for the world champions to adapt their style of play to find a balance between midfield clockwork and attacking precision.