Despite being owned by two of the richest men in the world, who have both been more than happy to dip into their pockets,
Chelsea
and
Manchester City
have both fallen some way short of expectations this season.
Last season's champions got out of the blocks fast but a stutter in November turned into a slump by December and a rot by January, leaving them in need of a minor miracle to compete at the business end of the table come May.
City, meanwhile, might have targeted Champions League qualification as their primary aim this season, but United's awkward hold of top spot should be seen by the blue half of Manchester as an invitation to take the title, and a top-four finish will be met with relief, rather than joy.
To try and get them out of their respective funks, Roman Abramovich and Sheikh Mansour laid out nearly £80 million combined on Fernando Torres and Edin Dzeko this winter, yet neither has adapted to his new club well. The Spaniard has singularly failed to live up to expectations and plays more like the jaded sulker that Roy Hodgson had to contend with than the red hot striker who tore up the Premier League and Europe just over 12 months ago.
Dzeko has at least found the net for his new club but has thus far struggled to justify his £27m price tag, nor the year or more of pursuit from Europe's elite. He has shown brief glimpses of forging a partnership with his team-mates, but his lack of Premier League goals from seven attempts is troubling.
Both owners were forced into big January signings as much due to their respective sides' patchy form as they were by their managers realising that their squads aren't perhaps all they're cracked up to be, and Torres and Dzeko are likely to be playing in rather different sides this time next year.
Carlo Ancelotti has a team full of experienced pros who had looked like stalwarts last year but are increasingly beginning to look like they're hitting an ignominious end to their careers. Fresh blood in the form of Torres and the exciting but rash David Luiz was necessary, and surely there will be more signings of their ilk in what is shaping up to be a summer of upheaval.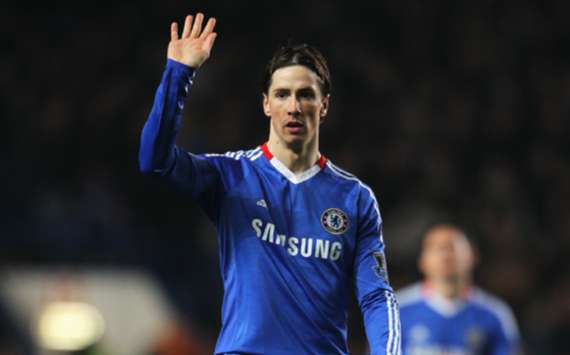 Bye bye failing Liverpool... | ...hello failing Chelsea
At Eastlands, Roberto Mancini has just a smattering of talent bolstered by nearly men, possible stars of the future and also-rans. He lacks a world-class defender to lead from the back and reports of a move for Dani Alves make sense given a dearth of attacking thrust from either full-back slot. In the middle James Milner has disappointed, while Nigel de Jong and Gareth Barry are hardly a duo that seems set to last given the latter's dip towards an alarming mediocrity.
David Silva and Carlos Tevez are perhaps the only two players City possess who would be coveted by the likes of Real Madrid or Barcelona should they demand a move, which appears almost certain for the Argentine given his infantile strops – a mental fragility that a bigger club or a more assured manager would probably not pander to.
And both City and Chelsea have allowed decent squad fillers to leave. Ancelotti sold off Ricardo Carvalho and allowed Michael Ballack, Juliano Belletti and Deco to go without replacing them, and he could not accommodate Daniel Sturridge – who has starred for Bolton since his loan move – in his squad. Meanwhile, Mancini mismanaged Emmanuel Adebayor and forced out Craig Bellamy despite the Welshman being one of the club's most reliable players last season.
CHELSEA & CITY IN 2010-11


Longest win streak

Longest winless streak

Avg winning margin

Avg goals per game

CHELSEA
5


6


0.96 goals


1.82


MAN CITY
4


2


0.69 goals


1.55


Herein lies another of both managers' failings this term – an inability to control their players' behaviour, which must surely undermine cohesion and performances. For Mancini, Mario Balotelli has only shown flickers of his talent on the pitch and finds himself an object of – occasionally self-inflicted – ridicule, while Tevez's aforementioned personal turbulence has seen him threaten at various times to quit City, English football and the game itself.
But it's not just foreign imports who have disgraced themselves this season. Earlier in the campaign a core of British players – including Shay Given, Joe Hart and Barry – were caught up in a drinking scandal, hinting that perhaps their master's voice isn't particularly respected at Eastlands.
Things for Ancelotti have been worse. Last season saw captain John Terry caught selling personal tours of the club's training ground. That episode of personal greed was ridiculously overshadowed this term when Ashley Cole saw fit to shoot a student on work experience at Cobham.
The Italian boss tried to downplay the incident by saying "who has not made a mistake in his life? Maybe God", before lauding the left-back for his professionalism – a defence that suggests the former AC Milan coach accepts he cannot end the frat boy antics of his players, who appear accountable to no-one.
Further instability has been caused by the managers' respective chopping and changing. The tail end of this season looks set to see the continuation of the Torres experiment at Stamford Bridge. The Spaniard has started out wide, played up on his own and played alongside either Didier Drogba or Nicolas Anelka since signing from Liverpool. There has been no continuity and squeezing the best out of the striker may well be an unnecessary distraction for Ancelotti for the rest of the campaign.
Mancini has likewise suffered by overcomplicating things. An abundance of signings over the past 18 months has left him with practically two first XIs in his squad and the temptation to rotate has been too great for the former Inter coach to resist.
Up front he has toyed with Tevez on his own or flanked by Balotelli and Silva, while in midfield he has played about too much, often making changes purely to keep players fresh, with Milner, Barry, De Jong and Yaya Toure all swapped and changed with Pablo Zabaleta and Patrick Vieira figuring at various stages in the holding roles.
Neither Italian manager seems to have a set starting XI and performances have fluctuated as a result. Both Chelsea and City should, in theory, be capable of playing all sorts of football, but this season a combination of misfiring signings, dubious discipline and constant ins and outs on the team sheets have conspired to nullify the threat the two richest clubs in football have posed.
Both sides lack a clear or exciting playing identity with the Mancunians seemingly happy to just grind and bore their way to Europe's top table while the Londoners' inconsistency has rendered a blistering attack toothless all too often.
One thing is certain amid all the drama and upheaval: Ancelotti and Mancini have disappointed this season, and given their bosses' flavour for change they could well be in the firing line this summer if they can only scrape their way to their targets this term.
Follow Nick Price on