As the Greek Super League heads for its home stretch, the credibility of Greek football as a whole has been put under the microscope following allegations made by a powerful attorney.
Alexis Kougias, a well-known lawyer and president of third-division side Panachaiki, has made claims that Olympiacos Volou president Achilleas Beos is part of a match-fixing ring that has ties to a handful of top-ranking referees and officials.
But more intriguingly, Kougias claims Vangelis Marinakis, president of league leaders Olympiacos, is also part of a plot that involves the fixing of two matches – one domestically and another in the Europa League.
Last week, Kougias not only made such chilling allegations but also provided audio recordings that feature Beos speaking about the match-fixing plots. Olympiacos Volou immediately denied taking part in any illegal scheme.
Kougias' claims revolve around the Super League match between Panathinaikos and Aris Thessaloniki, where Beos reportedly arranged for Giorgos Daloukas to officiate the match – a match in which the referee awarded a suspicious penalty to Panathinaikos, sparking outrage from Marinakis, who, ironically, is also the president of the Greek Super League for this season.
The other match in suspicion is the second leg between Olympiacos and Maccabi Tel-Aviv, with Kougias claiming that Beos, working for Marinakis, tried to influence Italian referee Luca Banti ahead of the match in Israel. The allegations made waves across the Adriatic with consultant to the Italian Football Referees Association (AIA), Pierluigi Collina, acknowledging the situation but declining to comment on Mr. Banti's role in the scandal.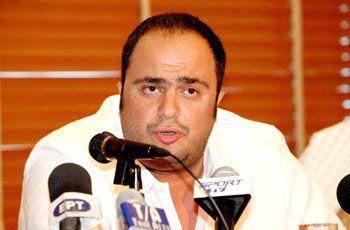 Allegations | Olympiacos supremo Vangelis Marinakis has been linked to match-fixing
Back in Greece, Beos went on to suggest that former Panathinaikos president, Nikos Pateras, who stepped down from his post after just one year in charge, is the guilty party, not him. The media has since played host to a back-and-forth war of words between Beos and Pateras, with the former threatening to sue the latter on account of libel.
Greek authorities have announced they are committed to clearing the air, with state prosecutor Konstantinos Simitzoglou already summoning referee Daloukas to his offices. Simitzoglou has also listened to testimonies from other officials, including Greek Football Federation (EPO) president Sofoklis Pilavios on Wednesday.
Despite government officials pledging to seek out and punish the perpetrators, many are skeptical corruption will rule out any form of justice if the parties involved are found guilty.
On the other side of the debate are those who haven't yet bought into the claims against Marinakis and Beos, with many suggesting the audio recordings provided by Kougias have been doctored. Although Kougias claims he has DVDs of the instances, many people are still convinced the personal vendettas between Pateras and Marinakis, as well as Kougias and Beos, are the basis of these claims.