He may well not be the player of four years ago but Francesco Totti proved yesterday that, when the chips are down, he is still Roma's go-to man. His second-half brace settled the Derby della Capitale, and also reinforced his position as the Giallorossi's real game-breaker. Now he has to prove it away from the emotionally-charged atmosphere of a Rome derby in order to help them chase down a Champions League place.
Yes, his goals both came from dead balls, but the first in particular just seemed to be primed for him. It was his moment, and he stood up to the task. In so many other similar moments demanding a big character to lay down his mark, there is no Francesco Totti on the field.
| | | | | | | |
| --- | --- | --- | --- | --- | --- | --- |
| ROMA 2010-11 | Played | Won | Drawn | Lost | Points | Points per game |
| With Totti | 23 | 10 | 6 | 7 | 36 | 1.57 |
| Without Totti | 6 | 4 | 1 | 1 | 13 | 2.17 |
The problem Roma have had at times this season is that he hasn't been his normal Francesco Totti. With his age rising and his bruised and battered body creaking, he has had to try to adapt to his new circumstances. He no longer has the extra burst of pace to ally that magnificently quick brain, and with his team also ageing around him, the support offered is often a source of frustration. But 'Er Pupone' could learn from Alessandro Del Piero; the Juventus man had to adjust to a style of play conducive to his new, more restrained physical attributes while also making sure it suited Juve's needs. Totti now has to do the same for the Giallorossi.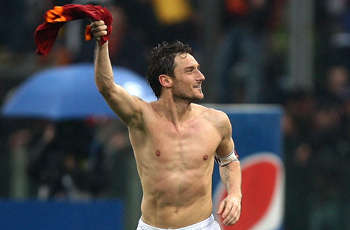 An ego can take you a long way in football, but a bruised one can cause you many a problem, and Totti has at times hit the headlines because of his short fuse and his hurt pride. A local derby is the perfect backdrop for pride to be boosted, especially on the back of a whimpering Champions League exit, and Lupi fans will hope that Totti's double will have exactly that effect on their talismanic number 10.
For while he continues to head for great milestones – he now has 199 Serie A goals to his name – he has become less and less of a leader this term. Only two of his seven goals this season have come from open play, and what's more, the Giallorossi's results have generally been much better in games in which he hasn't featured, despite the likes of Marco Borriello and Mirko Vucinic presenting issues when leading the line.
TOTTI'S GOALS
| | |
| --- | --- |
| Serie A | 199 |
| Europe | 37 |
| Coppa Italia | 17 |
| Supercoppa Italiana | 1 |
| TOTAL | 254 |
Vincenzo Montella is now reaching a crossroads. Soon he will have to choose between Roma's best interests and those of Francesco Totti, since the two seem to be becoming more and more diametrically opposed. Yesterday's display might well have postponed the need for L'Aeroplanino to make that call, but the time for tough choices can't be too far off.
Having proven that he still has the big game mentality, when he walks out next week and the opposition is Fiorentina instead of Lazio, will he be able to produce the same kind of display? And could he really produce 90 minutes like that week after week? He could well be the key difference between Champions League qualification and failure for his beloved club, so now is the time for Totti to adapt to suit Roma's style, not the other way around. Otherwise that big game mentality will be wasted in the small-time Europa League come 2011-12.