Neither Bafe Gomis nor Karim Benzema was an instant favourite after moving clubs 18 months ago, but the France internationals are slowly earning the respect of their new fans...
When Bafetimbi Gomis slotted home the shot that earned Olympique Lyonnais a 1-1 first leg draw against Real Madrid in the Champions League round of 16, it was a cathartic moment for a striker who has spent much of the last three seasons in a maligned state.
Saddled with the tag of 'Baby Drogba' because of his physique, Gomis is only just starting to live up to the €13 million fee les Gones paid for him after Karim Benzema was shipped out to los Blancos in the summer of 2009.
Like Benzema, it has taken the 25-year-old striker 18 months at his new club to start to gain acceptance of a fee that the product has struggled to justify.
Prior to Euro 2008, the young Gomis burst onto the scene with Saint-Etienne. Justifiably though controversially selected for Raymond Domenech's France squad after some powerful domestic displays, the international spotlight proved rather too hot for the young striker, who was portrayed to be a joke figure after a lamentable tournament, despite becoming the first Bleu since Zinedine Zidane to score a brace on his debut.
His club form for les Verts suffered as a result, and after a largely indifferent season the move to Lyon came as something of an eyebrow raiser, particularly when his sizeable fee was considered.
In his first campaign at Stade Gerland, the sublime was mixed with the ridiculous, as Gomis popped up with some vital goals but also played some woeful football just as Benzema was experiencing similar problems in Madrid.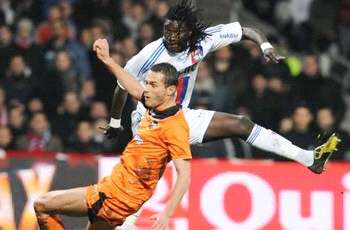 With whistles often ringing in his ears at the start of this season, the Var-born striker has developed a knack of scoring vital goals for OL, even pushing club record signing Lisandro Lopez out to a berth on the left flank as his hold-up play developed and became an ever more central part of a Lyon team otherwise struggling to find its feet.
A double salvo against Caen in a 3-2 defeat in August hinted that he was coming back towards his best, though it would be November before he started to genuinely excel. A stoppage-time equaliser against Paris Saint-Germain was the goal that started to win the fans over, and his goal against fierce Derby du Rhone rivals Sainte brought genuine acceptance.
"Bafe has been our most improved attacker," straight-talking presidential advisor Bernard Lacombe commented to the media earlier this week. "He has carried us when the team's not been at their best."
Benzema vs. Gomis Since Summer 2009
2009-10
2010-11
Apps
Goals
Apps
Goals
Karim Benzema
33
9
38
19
Bafe Gomis
51
15
35
11
Though he arrived at the Rhone club in the wake of Benzema's departure, the two are very different attackers. The most striking aspects of Gomis' game are primarily physical, as he is comfortable with his back to goal. Benzema, on the other hand, is a difficult attacker to pigeonhole, but he tends to be more comfortable when the target's in his sight, boasting a significantly better scoring rate.
Gomis was certainly not signed by Lyon as a replacement for the local hero – club record signing Lisandro Lopez fulfilled that role – but he was added to the panel as a viable alternative to the Argentine.
General manager Claude Puel has since been convinced that the pair can be complimentary, and with Wednesday's encounter at the Bernabeu quickly approaching, Gomis will again be anxious to show that he can produce when the club most need him.