As Udinese swept aside European champions Inter with apparent ease on Sunday, it was hard to keep a smile off one's face. The Zebrette are not only playing some of the best football on offer in Serie A right now, but they are also doing so with the kind of youthful exuberance that puts the peninsula's big boys to shame. But it's not been a sudden rise from the Friuli club – far from it in fact, as the foundations of their current successes on and off the pitch can be traced back over two decades.
With the transfer window less than a week from closing, Chilean forward Alexis Sanchez remains one of the most sought-after stars in the world, with Manchester United, Inter and Barcelona all taking a prolonged look at the 22-year-old. But wherever he ends up plying his trade next, he will be joining a long list of notable names who have been acquired cheaply and sold at great profit under the watchful eye of president Giampaolo Pozzo. And all the while, the club have produced some of their greatest ever results on the field too.
Pozzo took over in 1986 at a time of real transition. After the end of Brazilian legend Zico's two-year spell in Friuli, times were suddenly tough, with the club having been docked nine points over bribery allegations, leading to relegation the following season. It was the end of a club record eight-year stay in Serie A, prompting Zico's compatriot Edinho, who to many had been the better signing of the two, to move back home. With an extravagant era very much over, their yo-yo existence was set to continue unabated.
BIG MONEY MAKERS
From

Santiago Wanderers


1999

Fee:
c. €300,000


David Pizarro


Profit: €11.7m plus add-ons

To

Inter

2005

Fee:

€12m plus 50% rights to Goran Pandev

From
Castel di Sangro
2000

Fee:
c. €100,000

Vincenzo Iaquinta


Profit: €11.2m
To
Juventus
2007

Fee: €11.3m
From
B93 Copenhagen
2001

Fee:
free transfer

Per Kroldrup


Profit: €6.8m
To
Everton
2005

Fee:
€6.8m
From
Liberty Professionals
2002

Fee:
c. €200,000

Sulley Ali Muntari


Profit: €11.8m
To
Portsmouth
2007

Fee:
€12m
From
Liberty Professionals
2003

Fee:
c. €200,000

Asamoah Gyan


Profit: €7.8m
To
Stade Rennais
2008

Fee:
€8m
By 1995, they had won promotion back to the top flight for a third time in six years, but Pozzo had had enough of the instability. When they stayed up the following summer he brought in Pescara sporting director Pierpaolo Marino, and between them they came up with what is now referred to as 'The Udinese Model'. The pair agreed that the best long-term solution for the club was a system which would concentrate largely on youngsters who could use Udinese as a stepping stone to a larger club. This would be reflected both within the club's youth set-up and in the scouting and recruitment strategies used both at home and abroad.
Despite Marino's departure in 2004, the model has remained, and continues to work its magic under the watchful eye of current sporting director Fabrizio Larini and chief scout Christian Argurio, who continue to tap into the club's vast network of contacts to assure that the system can be maintained over the coming years. All the while, they have gradually more resources to play with when searching for players of the future thanks to the huge profits made in the last decade on the likes of David Pizarro, Vincenzo Iaquinta, Sulley Muntari and Asamoah Gyan.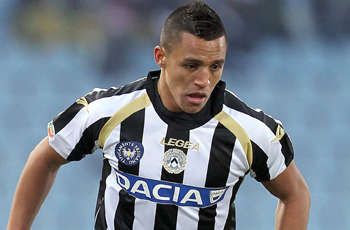 The success of the system has not only been in evidence on the balance sheet, but has also brought an upturn in results, with the Friulani currently enjoying an unprecedented 16th straight season in Serie A, during which time they have also finished third in the league in 1998 and qualified for the Champions League in 2005. And right now their reputation for being the perfect first port for foreign youngsters wanting to make it in Europe has also attracted the kind of flamboyant players conducive to the magnificent style of football in evidence as they brushed past Inter on Sunday. Often, the club have taken players in bulk from the southern hemisphere, confident in their ability to fashion a valuable gem from at least one of the raw materials.
Whilst Udinese are now the club that other provincial outfits tend to regard as a template, they are now in a position which suggests that greater on-pitch successes may not be too far away. It could be claimed that with a little more stubbornness in the selling market in the months and years to come, the Bianconeri could become serious Champions League contenders on a regular basis, but is the 'Udinese Model' broken enough to need fixing? If anything, they are carrying out the work which the likes of Inter, Milan and Juventus, along with Europe's other big hitters, would do well to take on themselves in order to save splashing out at a later point as is the current trend.
FUTURE CASH COWS?
Alexis Sanchez




From River Plate 2008
Fee: c. €1m

Estimated value: €25-30m

Kwadwo Asamoah
From Bellinzona 2008
Fee: c. €400,000

Estimated value: €15m

Cristian Zapata
From Deportivo Cali 2005
Fee: c. €200,000

Estimated value: €6m

Gokhan Inler
From FC Zurich 2007
Fee:c. €600,000

Estimated value: €10-12m

Pablo Armero
From Palmeiras 2010
Fee: €1m

Estimated value: €4m

In 1998, the likes of capocannoniere Oliver Bierhoff, Thomas Helveg, Paolo Poggi and Alessandro Calori may well have been large cogs in the wheel as Udinese recorded their best ever finish, but the first team was also littered with regulars aged 24 or younger such as Tomas Locatelli, Marcio Amoroso, Martin Jorgensen, Giuliano Giannichedda and Jonathan Bachini. Right now, the Zebrette have a similar mix of players that could potentially see them match the feat of 13 years ago, while also attracting crowds in numbers not seen since Zico and Edinho were in town, but the likes of Sanchez and Asamoah can surely not be kept from the big guns for much longer.
Whether Pozzo and Larini might eventually decide to start saying no to the big money offers in order to chase trophies and Champions League recognition is unclear, in the meantime they are becoming a real neutrals' favourite across Italy. But for now they are rightly sticking to the tried and tested model. So long as the supply line remains open, the future remains bright for Udinese, both on the pitch and, more pertinently, off it.

Follow Kris Voakes on Twitter
Follow Goal.com International on Twitter