10) Francesco Coco
Before he packed it all in to concentrate on his career as a cigarette smoker, party animal, clothing manufacturer and wannabe movie star, Francesco Coco was tipped to become the next Paolo Maldini and had stints at both Milan and Inter.
It's Inter who he blames partly for his demise as the next great Italian left-back. Coco has stated that the Nerazzurri made a mistake by letting him undergo back surgery in November 2003. He is still waiting for that call from Steven Spielberg.
9) Edgar Davids
For a player who graced the modern game so successfully, Edgar Davids didn't have a very happy time in Milan.
In 1996, the bulldog-like Ajax everywhere man moved to Milan and then spent most of the season sitting on the bench wondering where it all went wrong.
Then, after hitting the heights as Marcello Lippi's "one-man engine room" at Juventus, the dreadlocked Dutchman spent another season sitting on the San Siro bench with Inter, before collecting his pension at Tottenham Hotspur's White Hart Lane.
8) Aldo Serena
Few players have ever moved around with quite the same enthusiasm as Aldo Serena. During his largely illustrious career, the striker moved to Inter no less than four times and Milan twice.
At Inter he hit his peak in 1989 when his 22 goals were instrumental in the Nerazzurri's lifting of the Scudetto and saw him finish the season as capocannonieri. Still, his dalliances with their fierce rivals meant that he was jeered by the club's Ultras during recent Scudetto celebrations.
7) Fulvio Collovati
Even though Fulvio Collovati came through the Milan youth system and made 158 appearances for the Rossoneri, the club tested his loyalty to breaking point.
When, in 1980, Milan were infamously relegated to Serie B following a betting scandal, Collovati was one of the few players to stay at the club. But after climbing their way back to the top flight, Milan were subsequently relegated again, this time on purely footballing grounds, and the soon-to-be World Cup winner signed for Inter instead.
6) Roberto Baggio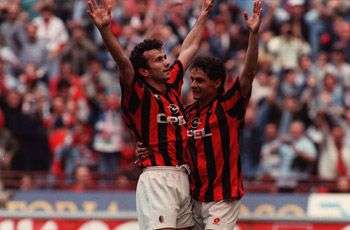 Everyone knows that Roberto Baggio became the best player in the world when he was at Juventus, yet he did have two reasonably successful seasons with Milan and two highly fractious ones under the tutelage of Marcello Lippi at Inter.
After five stunning years with La Vecchia Signora, it took all the persuasive powers of Silvio Berlusconi to bring Baggio to the San Siro and the move paid off, as the Divine Ponytail's helped the club to lift the title in 1996, his second Scudetto in successive seasons.
5) Clarence Seedorf
Maybe only a player as universally liked and admired as the trophy-collecting Dutch midfielder could move directly from Inter to Milan and get away with it.
After four massively successful seasons with Real Madrid, Seedorf was already an international superstar by the time he was sold to Inter for £14 million at the turn of the century.
Two barren years with the Nerazzurri have been followed by seven seasons with the Rossoneri, during which he has won two UEFA Champions Leagues, one Scudetto, one FIFA World Club Cup and two UEFA Super Cups.
4) Ronaldo
The buck-toothed Brazilian is the only player in history who has scored for both clubs in the Milan derby. Ronaldo found the target for Inter in the 1998-99 season and then for Milan during his injury-plagued stint at the club following his transfer from Real Madrid in 2007.
Despite rupturing the tendon in his right knee not once but twice, Ronaldo remains an Inter legend with 49 goals in 68 games and a hatful of truly remarkable performances.
3) Zlatan Ibrahimovic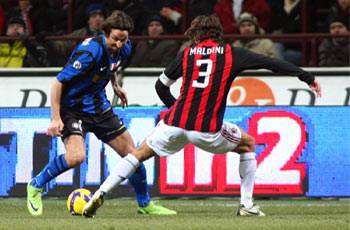 There are few players who have had the influence of 'Ibracadabra' on Massimo Moratti's Inter. After his controversial arrival from Juventus in 2006, Ibra's Inter won three straight Scudetti and his goals (66 in 116 games) and creativity carried them to domestic dominance. Following a mixed single year at Barcelona, Ibra returned to San Siro this summer - only with the red-and-black of Milan. The 29-year-old instantly proclaimed that he would lead the club to the Scudetto, and things have started well. Ibra has scored eight goals in 14, and Milan are top of Serie A.
2) Andrea Pirlo
The 'Metronomo' has been established as the principal playmaker in front of the Milan back four for so long that it's almost impossible to comprehend that he once belonged to Inter
In truth, Pirlo and Inter never really got on, with successive coaches leaving the little genius on the bench or loaning him out, before he signed a deal with Milan in 2001 and became a lynchpin for club and country and one of the most unique and under-rated footballers on the planet.
1) Giuseppe Meazza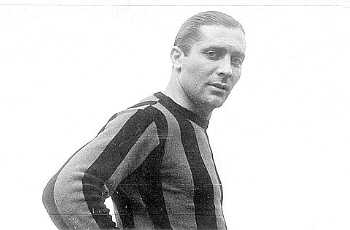 When he was playing football in bare feet on the back streets on Milan, the young Meazza supported the city team in the red and black stripes.
Yet, the kid who would go onto become the first superstar of the Italian game was rejected by his beloved Rossoneri for being too skinny and went on to score a staggering 247 goals in 348 appearances for Inter instead. After thirteen glorious years, Meazza transferred to the club he had so adored as a boy and, of course, lent his name to the stadium both clubs now share.