The two best players of the past two seasons, the two most in-form strikers at present are going at it tooth and nail again.
On the week when the 2010 FIFA Ballon d'Or 23-man shortlist was announced, 2008 winner Cristiano Ronaldo and his 2009 successor Lionel Messi continue to remind the world that they are very much still the best in the business even though unlike the last two years, Real Madrid's Portuguese wizard and Barcelona's Argentine ace will not be seen as hot favourites to win the coveted prize this time around.
The magical duo have had personal battles since 2007 when Ronaldo started to establish himself as the best player in the world and Messi proclaimed himself as CR7's number one rival. Both players have been performing with unerring consistency and remarkable improvements over the past three years and they have been trading blows when it comes to showboating skills and record-breaking goals.
It's been a case of "anything you can do, I can do better" with Messi and Ronaldo. Both players scored twice for their respective teams at the weekend. Messi was in inspired mood as he helped his side to a 5-0 demolition of Sevilla. It was the third match in a row that 'El Mesias' has scored two goals in a game after netting a brace each against FC Copenhagen and Real Zaragoza.
Ronaldo, meanwhile, inspired his side to complete a 3-1 comeback against Hercules, the newly promoted outfit who previously took the scalps of Barca and Sevilla. Scoring twice, CR7 took his tally to nine goals in just the four matches since the October international break.
Ronaldo does look like a man on a mission. He is desperate to win his first major title in the famous white shirt, and he is even more desperate to regain the Ballon d'Or. Despite starring for Madrid last season with 33 goals in 35 club appearances, his failure to guide Los Blancos to a trophy and his flop at the 2010 World Cup with Portugal meant that he has had to take a backseat to the other star players who had silverware to back-up their performances. The unsuccessful year could see him drop out as the top three best players in the world for the first time in four years. And after making a difficult start to the new campaign, it was looking as though deserting Manchester United for Madrid wasn't such a good idea after all.
But things have turned around very quickly. He has now bagged 12 goals in nine league outings – more than any other player in Europe's major domestic leagues – and his tally in all competitions stands at 13 goals in 13 games.
Cristiano Ronaldo's Goal Tally As Of November 1, 2010

| | | |
| --- | --- | --- |
| Competition | Games | Goals |
| LA LIGA | 9 | 12 |
| COPA DEL REY | 1 | 0 |
| CHAMPIONS LEAGUE | 3 | 1 |
| TOTAL | 13 | 13 |
If you think that's impressive, Messi has gone one better. The current World Player of the Year has netted 14 times in just 12 competitive matches, although he trails his close rival by a clear five goals in La Liga's Pichichi race.
Messi has benefitted greatly from a change in playing position at Barcelona. He has evolved from his early years where he would rely on his left-foot and terrorise defenders by cutting in from the right wing. Now, he haunts his opponents from everywhere.
His goal ratio improved when he was pushed to a more central position to become Barca's lead striker. He scored 23 goals in 31 league appearances in the 2008-09 season, but raked in 34 goals in 35 in La Liga last term.
Ronaldo has also benefitted from a change. While he will always be stuck with the 'petulant child' reputation until he, well, grows up, there's no question that under Jose Mourinho, he has improved his attitude and changed the way he approaches a game. It's no coincidence that the transformation has led to his rich vein in goalscoring form.
It's a sharp contrast to the disastrous spell he was in in the first month of the new season when he only managed to find the back of the net twice in seven games – one from a penalty and another from a deflected freekick – and he made the ball-boy behind the goal work harder than the opposition goalkeeper with his horrible stray shoots.
Lionel Messi's Goal Tally As Of November 1, 2010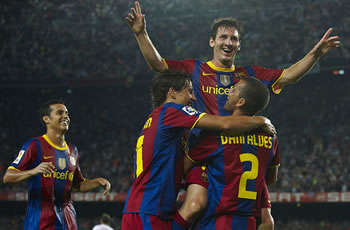 | | | |
| --- | --- | --- |
| Competition | Games | Goals |
| LA LIGA | 7 | 7 |
| SPANISH SUPERCUP | 2 | 3 |
| CHAMPIONS LEAGUE | 3 | 4 |
| TOTAL | 12 | 14 |
And what a difference a year makes. October 2009 was one of the most difficult periods in Ronaldo's professional playing career when he was sidelined for over six weeks with an ankle injury. In 2010, he has scored 13 goals for club and country in the month of October alone.
CR7 has taken on board Mourinho's advice to him: "Help the team and the team will help you." This has been evident in how he has become more generous with his passing. In addition to his goals, the Portuguese has also amassed five assists so far, two less than what he had in the whole of last season. And along with Mesut Oezil, he is La Liga's leading assist-maker this term.
Ronaldo's 42 goals (and eight assists) in 49 games in the 2007/08 season with Manchester United was a landmark figure. But as phenomenal as it was, it was bettered by Messi's jaw-dropping haul of 47 goals (14 assists) in 53 games in the 2009/10 campaign.
If Leo and Cristiano can maintain their current ratio, they could surpass that 47-goal mark from last term. Messi can easily hit 50 goals in all competitions and Ronaldo could smash La Liga's all-time record of 38 goals in a full league season, held currently by legends Telmo Zarra and Hugo Sanchez.
With the form they are in at present, it's not so much a question of whether or not they can set another benchmark, but how high they can set it.

Follow Goal.com on

. Get the latest football news direct... Check out Goal.com's

page; be part of the best football fan community in the world!