Vicente del Bosque's
world champions are looking a shade weary. In the past week the
Spain
boss has had to contend with a number of high-profile call-offs that has led to inexperienced, untested, unfamiliar names drafted in to provide the coach with as many alternatives as possible.
This however is a Spanish team that currently suffer an embarrassment of riches in almost every department. The players they consider as substitutes, most other nations would build their teams around. Therefore, a double header versus Lithuania and Scotland as they bid to defend their European Championship crown, should be far from worrying.
But what do we know about La Furia Roja's Group I opposition? Well, apart from the inescapable fact that they are superior to both in every department, the relative approaches of both sides should be startlingly similar, and of a style that Spain will not be unfamiliar with.
Last month Scotland, in the midst of a barren tournament run that extends back to 1998 in France, toiled against a Liechtenstein team that Del Bosque's side ruthlessly despatched 6-0 just five days previously. A 97th minute winner from defender Stephen McManus was required in order to conquer one of Europe's true minnows, on a desperate night in Hampden.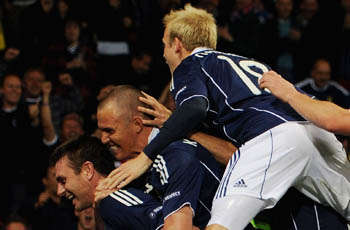 Last minute enlightenment for the Scots
From the brink of disaster comes rekindled hope, however short-sighted or unfounded it may seem. The statistics show Craig Levein's side as group leaders, and heading into an encounter with a fading Czech Republic side that breeds potential for a positive outcome. A point gained in Prague would put Scotland in a position to consider themselves as the sections' second favourites, and offer a reckless abandon for the visit of David Villa et al that could work to their advantage.

The point being, in Scotland's chequered history, their inherent failure has been their inability to be merciless against inferior opposition, which explains the horrendous nature of their display against Liechtenstein. Their strength, certainly at Hampden, is to make life uncomfortable for teams who choose to underestimate them.

France (2006), Italy (2005), Germany (2003), & Ukraine (2007) have all failed to win at the famous national stadium in recent qualifying campaigns, while the Netherlands (2009) and Italy again (2007) both escaped with narrow victories. Despite their recent absence from major competition, Hampden has remained an unrewarding venue for Europe's elite. With Spain suffering from a semi-injury crisis, the Tartan Army may be sensing an unlikely opportunity.

What is certain however is that coach Levein will opt for containment rather that entertainment. No side at the World Cup dared to take the Spanish head-on, so it would be suicide for Scotland to attempt anything other than stifling tactics, similar to what Del Bosque's side have become accustomed to facing.

A 4-5-1 formation will be employed, with new cap Jamie Mackie of English side Queens Park Rangers likely to face the Czechs, and in doing so handing the baton to pacey Kenny Miller to lead the line in the match in Glasgow. Across the middle, Scott Brown's absence through injury will mean a midfield berth for Gary Caldwell, with Lee McCulloch (who is suspended for the Czech encounter) slotting in alongside the Wigan stopper, and finally Manchester United's Darren Fletcher making up a staunch central region.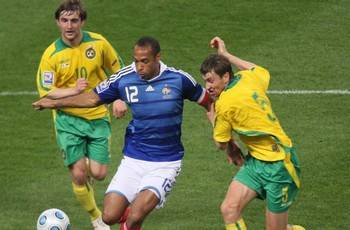 Lithuania narrowly lost to Les Bleu twice en route to WC 2010
Full-backs Allan Hutton and Steven Whittaker will be given the task of pushing on and driving Spain back into their own territory, but will not be over-adventurous; the intent will be to close the space as much as possible, and isolate each opposition player, to avoid the likes of Andres Iniesta forming triangles of movement and passing that is virtually impossible to defend against when in motion.

Spain will recognise the approach from the opening exchanges; the home crowd will be vibrant, vocal, and unequivocal in their backing of the team. It will be a difficult situation for the World Champions to comprehend, but there is nothing in the Scottish side that should hold any fear. Their reputation, collectively, on home soil, will ensure that there will be no straightforward victory, or laying down of arms at the hands of a superior footballing force. If Spain are to win the match, they will know they have been in a contest by the final whistle.

Like Scotland, the Lithuanians are aware of their status and will set-up to defend their way through the arduous early stages whilst remaining intact. As both of the opposition showed when they recently fought out a 0-0 stalemate, defending in numbers is their default setting, and it will be Spain's responsibility, minus Xavi of course, to pass intricately through the gaps.

The ex-Soviets will undertake the same approach when they travel to Salamanca this evening [Friday], but the match will play out differently to the blood-and-thunder expected at Hampden.

Spain visit Salamanca, and the locals will be looking to enjoy a vintage performance from their national side that rarely venture to the area. They will want to provide a memorable masterclass to the public, but will be wary of the Eastern European's surprise 1-0 triumph against the Czechs last month. Coach Raimondas Zutautas proved on that occasion that they were wholly capable of setting up to counter-attack, while hold the ability to defend in numbers.

In recent away fixtures, they have held then-World Cup holders Italy to a 1-1 draw, before succumbing to a late Franck Ribery goal against France during the 2010 campaign to South Africa. Conversely from Scotland, they appear better equipped to handle the superior nations away from home, and therefore Spain should, and will be, weary of their regimented, protective characteristics that stand them in good stead against teams of a higher calibre.

Furthermore, there is no denying their experience in certain departments; Maris Stankevicius is now at Valencia having spent last season with Sevilla, while Deividas Sembaras has excelled during his decade-long spell in Russian football.

The overall feeling, though, remains abundantly clear. Spain are the World Cup winners, and fixtures likes these represent a run-out that barely deserves their representation. While nothing unique opposes them, the matches must be won, and the job of Del Bosque is to ensure that the elite continue to rise to the top.
Follow Goal.com on

. Get the latest football news direct... Check out Goal.com's

page; be part of the best football fan community in the world!