Friday will bring one of those rare events in European football when the home team's fans could well be outnumbered by the visitors. You'd expect it from, say, San Marino against England or Andorra versus France. But this is different. This is
Germany versus Turkey
.
On Friday these two sides face off in Berlin in a European Championship qualifier with a difference. This is, of course, the German capital, but it's also home to hundreds of thousands of Turks and Germans of Turkish descent. What's more, many - perhaps most - of these people support Turkey instead of, or sometimes in addition to, the German national side.
There's no doubting that there will be hundreds of Turkish flags in the stands on Friday night - and many of them will be in what's ostensibly the home end. The local media, in fact, has been largely preoccupied with this fact, leading the German footballing authorities to consider counter-measures. Tens of thousands of white shirts will be distributed to loyal fan club members to create a 'wall of white' for the home team to see.
It's difficult to imagine this happening in too many other places. But in Germany, it makes sense.
Be Our Guest


To understand why, we need to look back at Germany's history. After World War 2 and with the advent of the European Union (then known as the European Coal & Steel Community), West Germany had a rebuilding job on its hands. It had plenty of raw materials and a great deal of industrial power, but not much of a spare workforce - at least a workforce prepared to do largely manual labour for low wages. But at the same time, Germany didn't want to encourage mass immigration. A compromise ensued: that of the Gastarbeiter, or guest worker. Enter thousands of Italians, Greeks, Moroccans, later even English - but above all, enter the Turks.
Hundreds of thousands of Turks arrived, with the German industrialists and authorities expecting for these hard-working economic migrants to earn an honest crust and return home. But it didn't quite work out that way. Live somewhere long enough, and no matter how much you love your home, you might grow roots. Your family may come to visit and decide to stay. You may have friends and a job not easily left behind. Thus many of the Gastarbeiters - or guest workers - in fact became residents (but, as we'll see later, not citizens.)
The workers would have families, children, and raise little footballers. Yet in the vast majority of cases these players would go on not to play for Germany, but for Turkey - a country that in many cases they'll know only from photo albums or the occasional holiday.
Why?
The Home Team


Some of the Turks who played for Germany...

The Old Country


... and some of the (many, many) more who didn't




Mehmet Scholl

Born to a Turkish father and German mother, Scholl was one of the first to win the adulation of German fans


The Alintops

Hamit and Halil, twin brothers from the Ruhr area, have always lived in Germany but both opted for Turkey


Mesut Oezil

The man expected to make Germany's midfield tick for years to come. Not all Turks accepted his decision to choose die Elf


Yildiray Basturk

Grew up in a mining family in the Ruhr - the quintessential German upbringing - yet won 49 caps for Turkey

Serdar Tasci

Came on as a substitute for Mesut Ozil during the World Cup. Likely to be a bit-part player for Germany in the future

Nuri Sahin

A young Borussia Dortmund talent. Scored on his international debut - against Germany, which he said made it all the sweeter.
Tough Road
Perhaps it's not hard to see why Turks have been so poorly represented in the German national team. There is the argument that this simply reflects their overall standing in German society - which can be a very tough place for the outsider. For example, a 2009 study by Germany's Institute for Population and Development found that of all migrant groups the Turks performed worst in schools and had the worst prospects in the job market.
This is usually seen as a product of the linguistic situation. Among second-generation immigrant children in particular, Germany is not spoken in the home, and when a child arrives at school for the first day without having the lingua franca, difficulties arise.
Did You Know?
There are over 3,500,000 people of at least partial Turkish descent living in Germany today. Of these, 1,688,000 have Turkish citizenship.
The experience in the United States and other 'immigrant societies' tells us that as the generations go on, integration increases: youngsters will tend to shun the 'old-fashioned' parental language and go for the local language, which gives them access to education, jobs, entertainment, and of course local romantic partners.
But in Germany this hasn't always happened. The clustering of immigrant groups around a particular nexus can lessen the need to integrate, and this has often been the case. But perhaps the greatest factor is that of the Gastarbeiter system itself: why integrate to a society to which you are just a temporary part, and could be removed at the convenience of your host? Much has been made of the fact that players of African extraction have been part of the national side, but in most cases these players are citizens, or even half-German. The same does not apply to a great number of the Turks in Germany.
In fact, until 1999 Germany's nationality law barely permitted for an outlander to take citizenship. People of German blood - even if they had never been to the country, as was often the case with the Volga Germans in the former Soviet Union - could return and settle with ease, but those who had lived in Germany all their lives, yet were not of German stock, found a tough road to citizenship. The situation has liberalised slightly now, giving long-term immigrants - and, more importantly, their children, who may never have known a country except Germany - a path to stay in the country long-term.
Yet a significant number of Turks will not take German citizenship for the simple reason that, well, they're Turks. Many arrived to work and make their family fortune, and will leave when the job's done. What's more, they'll fly the crescent flag while in Germany - and why shouldn't they? Turks are known across Europe and the world for a vast amount of national pride. Indeed, it's said that, having little by way of World War 2 legacy to contend with, Turks can more confidently assert their identity than many Germans, particularly older ones.
This can, however, result in chauvanism. When Mesut Oezil opted for Germany ahead of Turkey, he was accused by some, in histrionic tones, of betraying his heritage. Oezil took it in his stride, telling
Hurriyet Daily News
after the World Cup: "I am Turkish and I will remain so, but I feel good here [in the German team]."
The Way Forward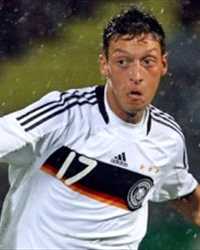 Here we see progress: Oezil, unlike many who came before him, had both a functional and a realistic choice. Sure, Turkish players
could
play for Germany in the past, but few did so - partially due to the fact that the youth teams were said to have a German bias. Now it is readily acknowledged by the DFB that it is both good and prudent to find talent from all sectors of German society, and the results are plain to see. Oezil's appearance in the national team is the logical conclusion of an inclusive model of sport that permits players of any given culture to choose where their future lies and feel equally accepted in both.
Mesut's example shows that, for those who do wish to integrate and even to represent Germany, there is hope. Indeed Oezil, who could just as easily have walked into the Turkish national side, chose Germany, and his presence has raised interest in the Nationalelf among those who previously would only have cheered for Turkey. And the recent successes of the national side have even helped what we might call 'traditionalists' adapt to a more multicultural German side, perhaps helping society as a whole to deal with the tough questions of integration.
As Cenk Bulent Kayabasi, a Turkish youth coach with many years of experience in Germany, put it to
Hurriyet
: "Turks are doing things that would have been considered impossible 20 years ago... But now the young generations are seeing the success of others and want to follow. If I were young today, I would want to be Mesut Oezil."
When what's happened in sport is reflected in society is a whole, Germany - and indeed the rest of the world - will truly be onto a winner.