Once again, Barcelona found their trip east of the Caucasus slightly less than comfortable. Facing the Russian champions Rubin Kazan in the group stages of the Champions League for the third time in two seasons, the Blaugrana were keen to make amends for the previous two hiccups. But there seems to be something about facing the Russians, who took four of six points away from the Catalan giants last season (stunningly beating Barca 2-1 in the Camp Nou before then securing a 0-0 home draw), that seems to stymie Pep Guardiola's men.
As expected, Barca faced a blockade of defenders, as Rubin's 5-4-1 formation looked to absorb wave after wave of the Catalan attack and seek openings on the counter. This sort of defend-by-committee approach is nothing new for Guardiola's troops and they are well accustomed to patiently picking apart teams that resolve to dig their heels in and defend by throwing nine men behind the ball.
Even without Messi in full form (the Argentine star came on in the second half and instantly changed the face of the match), Barca held firm control. With an astronomical 77% possession, the Catalan giants employed their usually attractive brand of passing football to probe the Tatars for weaknesses.
And they found many. With centre-back Gerard Pique pushed so far up the pitch he seemed more like a midfielder, Barca levied an assault on the congested Russian goal. However, in very atypical fashion, they were unable to find their finishing touch. Pedro missed an absolute sitter that thudded off the crossbar - at such close range, it seemed easier for the youngster to bury the ball into the back of the net than hit the woodwork - while David Villa also contributed to the series of wayward shots.
Rubin's goal may have come against the run of play (as most goals against Barcelona tend to), but in truth, Christian Noboa's converted penalty served as a sobering reminder that in the Champions League, efficiency is rewarded over quality and attractive play.
Barca return from Russia having (at least) secured a point. But in yet another year, they have ceded points to Kurban Berdyev's side. It is difficult to see this recent hiccup holding the Catalans back and in all likelihood, the Blaugrana will bounce back to come out as leaders of Group D. As it stands now though, Danish side FC Copenhagen enjoy the privilege of topping the section with a 100% record and serving as another reminder that, at this level of competition, all the possession in the world is meaningless without a goal.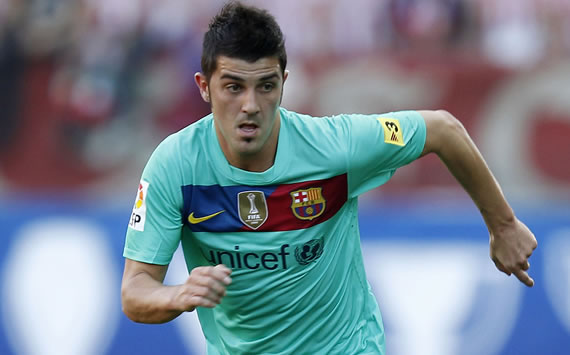 Void Valencia
Back within the comforts of the Iberian Peninsula, Valencia learned a similar lesson to Barcelona as they hosted Premier League giants, Manchester United.
While the control of possession was not nearly as skewed as in Barca's dominance of Rubin, Valencia were still able to assert a 55%-45% margin over their English opponents and managed to levy a great deal of pressure on the visitors. United did prove to be threatening on the counterattack, but for the bulk of the match, an attacking Valencia looked to have good measure of the match, leaving a number of golden opportunities go begging.
These missed chances eventually took their toll. Despite the impressive performances of Juan Mata, Pablo Hernandez, et al., Los Che were, rather unjustly, unable to secure even a single point, as the Red Devils scored through Mexican youngster, Javier 'Chicharito' Hernandez.
Where Barcelona certainly have the experience and the talent to reassert their claim to top spot in their group, the points Valencia surrendered at home could prove to yield dire consequences for Los Che, with particular consideration for the level of competition in Group C. Unai Emery's side currently sits in 3rd place on three points, just trailing Manchester United and Rangers, each with four points.
But in failing to secure even a single point last night, Valencia may well have ruled out their opportunity to finish the group stage as leaders. There is still much football to be played, ofcourse, but failing to capitalise on such opportunities can make the difference between progressing further in the Champions League, and instead contending for the Europa League title.
Follow the Champions League LIVE on Goal.com! Commentary, stats, player ratings, and much more. Visit Goal.com Live Scores!