Should he or shouldn't he?
That's the question all cules will be asking as Barcelona prepare to take on Rubin Kazan for the third time in the group stages of the Champions League: whether or not Lionel Messi should play.
At this point in time, it's looking very likely that Messi will return to action, just ten days after surviving the horror-looking, ankle-crunching challenge from Tomas Ujfalusi and escaping with nothing more than a scratch and a sprain.
Barca coach Pep Guardiola has already revealed that Messi will be unleashed at the Tsentralnyi Stadion if, like last season, his side fail to break down a frustratingly dogged Rubin defence.
Camp Nou legend Johan Cruyff, on the other hand, believes that Messi should not be risked in Kazan for fear of jeopardising his long-term health and fitness.
The Dutch master is certain that the Blaugrana will be able to cope just fine without 'Little Lionel' on the pitch. In a way, he does have a valid point. Barca have not been cornered into a situation where they are so desperate for all three points against the Russians that they need the services of their Argentine talisman.
Messi could come on against Rubin and inspire his side to victory but risk further damaging his ankle, which could rule him out for even longer and for bigger matches, such as El Clasico in late November. Or he could be rested completely and see out his full 15-day recovery programme as per the initial diagnosis, and return to torment defenders with all his body parts in peak condition.
But if Barca do choose to rush Messi back, then there is a reason for that. It's become quite clear that Guardiola's side lack the attacking magic without the Argentine.
There were a number of games last season when Messi was given a chance to rest, only to be forced off the comfort of the bench and thrown into the match at some stage as Barca were struggling for ideas.
The scrappy 1-0 win over Sporting Gijon last week in the immediate game following Leo's injury highlighted perfectly how 'El Mesias' was sorely missed. The team did improve at the weekend against Athletic Bilbao, picking up a 3-1 victory at the imposing San Mames no less, but you get the feeling that the champions were aided by the Basque outfit going a man down when it was still 0-0.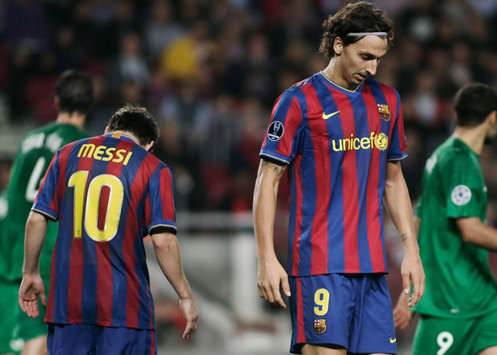 Messi and Ibra hang their heads in disappointment in last season's meeting
Messi himself would love to have another shot at cracking the Rubin puzzle. He played in both group matches last season but failed to make a telling impact. If Barca struggled then with him on the side, it could be an even more arduous task for the Catalans without him.
Rubin are unlikely to change anything from last season and they will re-deploy that stubborn, impenetrable defensive approach of theirs. The only question is whether Barca have learned enough from 12 months ago to avoid a similar outcome.
Rubin defender Cesar Navas warned that the Blaugrana have improved since the last meeting. But the only significant difference between this season and last in the Barcelona side is that the lumbering Zlatan Ibrahimovic is gone and the more energetic David Villa will be leading the frontline.
The problem is that 'El Guaje' isn't in the best of form... or at least not in the scoring form he was expected to be at. In terms of performance, he has not missed a beat playing alongside his new Barca team-mates, but strangely, he is struggling to convert the myriad of chances he's been presented with every game. And it could be that profligacy in front of goal that could force Guardiola to throw in Messi at some stage.
Messi or no Messi, it could prove to be a long, long night in Kazan for either Barca or Rubin, depending on how things shape out.
Follow the Champions League LIVE on Goal.com! Commentary, stats, player ratings, and much more. Visit Goal.com Live Scores!