It was a job well done for les Bleus in Sarajevo, as they shook off their teething problems to pick up three valuable points...
Doubters came out in force to shoot down Laurent Blanc's France side after a weekend loss at home to Belarus, but les Bleus roared emphatically back to answer their critics with a solid 2-0 success in Sarajevo, beating Bosnia to restore themselves as favourites for automatic progression from Group D.
Where a Raymond Domenech side might have slipped into a sulk and timidly drawn or narrowly lost with little fight, Blanc's France showed enterprise and determination to wrestle control of the pool away from the Bosnians, who may not feel Belarus' unlikely triumph in Paris on Friday is as much an impediment to them as it is to the 1998 World Cup winners.
Karim Benzema went some way to answering one of the big questions presently surrounding the France side. A lack of strikers was the accusation, but the former Olympique Lyonnais youth answered the call. Lively in attack, the Real Madrid man might have drifted away from a central role a little too much for many people's tastes, yet there can be little doubt that he posed the Bosnian defence all kinds of problems.
Despite a difficult past 12 months, the 22-year-old revelled in being the central figure, seemingly fuelled by the confidence Blanc has in his abilities. Shots were fired at goal from all angles, and ultimately he grabbed the game-breaking goal. Controlling the ball in a tight spot in the box, a smart turn took him away from Emir Spahic, the hosts' best defender on the night, and a well-struck left-footed shot had enough on it to find the net.
The efforts of 'Benzinho' were deserving of a goal, and Blanc will hope that this strike is the beginning of a fruitful era for the man likely to be the central figure for les Bleus in years to come.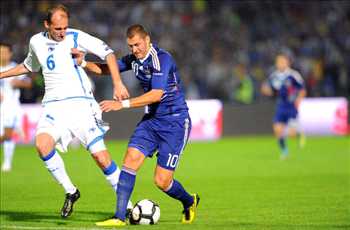 Another pressing issue up for debate prior to the game seems to have been closed to a greater extent. The central defensive hinge has been a real problem for les Bleus since 2006, and though Philippe Mexes and Adil Rami don't have the makings of a world class duo, they would seem to have the potential to more than adequately fill a gap that has caused headaches in France since Lilian Thuram's form evaded him.
Mexes previously looked shambolic and uncertain under Domenech, with the World Cup qualifying opener away in Austria a particular nadir for a defender who has earned his stripes regularly in Serie A. Yet on Tuesday evening he looked a solid presence, unmoved by the threat of a dangerous Bosnian attack.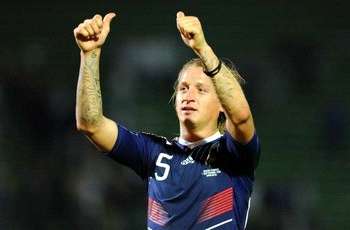 Flanking him was 24-year-old Rami, a former gardener from Corsica. Prone to the occasional lapse in concentration, the Lille centre-back showed why Blanc has handed him such a crucial role in the side, shackling the dangerous threat of Edin Dzeko with some aplomb, helping to restrict the effectiveness of the Dragons from open play.
Of course, France should not be judged on the merits of their Tuesday success too quickly, just as critics were wrong for too quickly jumping on the bandwagon of despair after Friday's defeat. 'Le President' still has some refining to do, and he will for the next few months; a full-time captain must be selected (he has handed three players the armband in three games) and those players suspended by the FFF must be reintegrated back into the squad.
For the moment, however, the coach can reflect on a job well done, preparing in his mind the squad to face Romania and Luxembourg.
Follow Goal.com on

. Get the latest football news direct... Check out Goal.com's

page; be part of the best football fan community in the world!