The transfer window has not yet closed, so we may have a few surprises left for us in the final days/hours. But pragmatically speaking, the time for talking the talk has ended, as Spain's teams walked the walk at the weekend in the first fixture of La Liga's 2010/11 season.
Once again, of course, the spotlight shines on the Real Madrid-Barcelona duality, as Barca's Spanish national team plus Lionel Messi prepare for the challenge of a re-tooled Real Madrid under new coach Jose Mourinho, whose signing for Los Blancos this summer has come to shape the narrative of the rivalry. After Matchday 1, however, not much seems to have changed.
Catalan Carnival
Displaying what was more along the lines of mid-season form, Barca gutted Racing Santander in their visit to Cantabria. Criticised for not having scored in the World Cup, Messi picked up where he left off from his Spanish Supercup hat-trick, scoring in just the third minute of play with a (insert superlative here) chip over the keeper.
What's more, Messi scored the goal with his weaker right foot, just one more weapon the reigning Ballon D'Or winner has begun to develop on his way to becoming, quite literally, unstoppable.
Conceding a goal to Barcelona is disheartening enough for an opposing side, but conceding a goal in the fourth minute is tantamount to hitting the showers early. If the Blaugrana were doubted at all in the wake of failing to sign Cesc Fabregas, losing Yaya Toure, feuding publicly with the now-departed Zlatan Ibrahimovic, or after Mourinho's arrival at the Santiago Bernabeu, they certainly put those notions to bed with a bedtime story to boot.
World Cup hero Andres Iniesta's one-touch volley was a goal of stunning quality and any sputtering gasps of hope that Racing had of making a match of it were unceremoniously snuffed out as Victor Valdes coolly swatted away Meme Tchite's penalty with an outstretched hand.
The match was, in effect, over by halftime and David Villa's goal was just icing on the cake of Ibrahimovic's farewell. The champions have their trophy firmly in grasp and, quite frankly, hold it head and shoulders above the rest of Spain. Ever more daunting, Javier Mascherano has yet to take the pitch.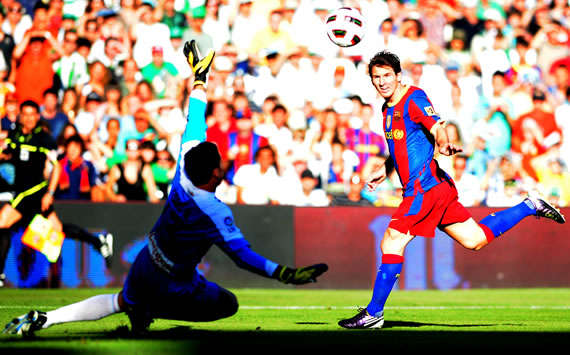 Island Fever
On the largest of the Balearic Islands, another regular scene unfolded as Real Madrid had a typically torrid time at Mallorca, now under the direction of former Madrid and Barca star, Michael Laudrup. As is wont, Los Blancos showed their remarkable quality and it can be said that many of the players played an exceptional match. In fact, it would be difficult to single out any particular Madrid player who had a poor outing (although a fair argument can be made for Angel Di Maria, who probably should have ceded to Pedro Leon).
But Madrid's problem was, as it has been for much of recent memory, that the exceptional individual performances failed to work in concert to produce a recital of attractive football. The result was a frustrating match to watch, as a series of skilful moves failed to come off, passes came slightly too soon or too late, and small unfocused mistakes began to culminate in more frequent and careless losses of possession.
Defensively, Los Blancos worked well, as nearly every player from the forwards back pressured the opposition to recover the ball. But in taking into account the myriad of wasted opportunities and the far too frequent runs into a sea of Mallorca players only to lose possession, it must be said that there was little perceptible difference between Mourinho's Madrid and the Manuel Pellegrini-led team of yesteryear.
The Special One's perfunctory shake of Laudrup's hand at the end of the match said it all: there is still much left upon which to improve. As it stands, Madrid sit in the all-too-familiar position of trailing Barcelona in the table and if last year is any evidence, every point conceded to the Catalan giants comes at a very high premium.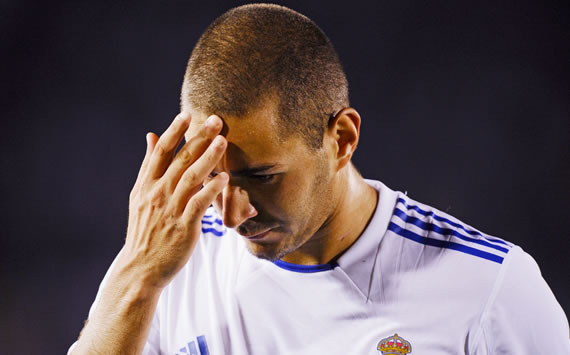 The Best of the Rest
Elsewhere in La Liga, Sevilla atoned for their humiliatingly drab exit from the Champions League by scoring four goals against lowly Levante, putting Los Nervionense at the top of the table, while Valencia's Joaquin did his part to help fans forget the exits of David Villa and David Silva in Los Che's 3-1 victory at Malaga.
Finally, the self-proclaimed 'Best Team In Europe' gets set to play this evening, as Atletico Madrid's surprise 2-0 win in the UEFA Supercup over Champions League winners Inter sees them begin the Liga season against Sporting Gijon at the Vicente Calderon whilst riding a wave of confidence.
But in all, it must be said that the Primera Division opener had little in the way of surprises. Barcelona continue to be on a footballing plane that has yet to be touched by any other, Real Madrid showed flashes of potential but were frustrated by a lack of cohesion, and the rest of La Liga's teams will be left to sort it out over the course of the season to see who will emerge as a true contender among the two giants.
It must be said, however, that it is a pleasure to have Spanish football back in full swing.