The new
Primera Division
season is almost upon us, and it has the potential to be the most closely-contested title race ever, with
Jose Mourinho's
Real Madrid
set to challenge
Barcelona's
supremacy.
Will los Blancos thrive under the stewardship of the Special One, or will Guardiola's attractive Blaugrana remain the benchmark? Here are five reasons why once again, it will be the Catalan giants celebrating come the end of the season...

1) David Villa
For many, Villa's acquisition is the final piece of the Barcelona puzzle, one that should have arrived last season, and compared to the sacrifice and expenditure exhausted in order to capture the wrong man in Zlatan Ibrahimovic, Villa will be nothing short of a revelation.
For one, he is a striker comfortable operating from a left-sided role - a position that Aliaksandr Hleb, and notably Thierry Henry toiled to perform - as highlighted in his glittering performances for Spain at World Cup 2010. He is a proven striker in La Liga over the past seven seasons with both Real Zaragoza and Valencia, and few would bet against him being equally as prolific in a team were opportunities on goal will be plentiful.
Crucially though, he barely feels like a new signing; Xavi and Andres Iniesta have been supplying him with assists for the past four years with the national team, to devastating effect, and that precognitive understanding will require no bedding-in period or cause for adjustment. Last season Lionel Messi became the overly dependent source of goals – Villa will pick up the slack that was never really compensated for upon Samuel Eto'o's departure.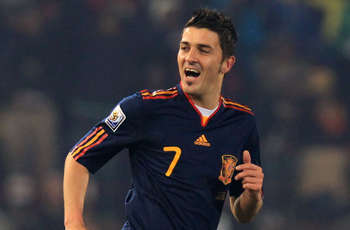 El Guaje simply guarantees goals
2) A frugal defence
With attacking talent of the calibre of Lionel Messi & Pedro combined with the mastery of Xavi, Barcelona's miserliness is often overlooked. But Victor Valdes belatedly received Spanish recognition on the back of his third Zamora trophy during 2009/10, conceding just 24 goals, the lowest of any team in Europe's major leagues, and he is emerging as one of the best goalkeepers around.
In front of him, the international pairing of Gerard Pique and Carlos Puyol are perhaps only rivalled by Inter duo Lucio and Walter Samuel in terms of experience and ability, and they will continue to provide accomplished cover to allow Daniel Alves and Maxwell to maraud forward from full-back.
In front of them, Yaya Toure may be gone, but an arguably superior footballer in Javier Mascherano is en route.
Goal.com's
KS Leong recently opined that the Blaugrana would become almost unstoppable with the addition of the Argentine international, and it is hard to argue with his sentiments. Read his assessment
here
.
Sergio Busquets is also developing into the type of holding midfielder that is much-coveted in the modern game, and with another season's experience coupled with a World Cup winners medal, he could become a stalwart of the side for years to come.

3) La Roja backbone = Settled side
Great teams are built on solid foundations, that once established are rarely tampered with, and become the backbone of the side upon which success depends. Barcelona's spine has a distinctly Spanish flavour, running from Valdes, Pique, and Puyol, through Xavi and Iniesta, concluding with Pedro and Villa in attack. In the very heart of the Blaugrana lies the greatest La Furia Roja side in history, a team of World Cup winners, and their familiarity is a huge asset in the conflict with Real Madrid.
Guardiola's side is unlikely to deviate for top-level matches such as the El Clasico double-header and Champions League nights, because he already knows his best XI, and consequently his players know exactly what to expect from him. Jose Mourinho, on the other hand, has yet to watch his side's reaction to a competitive fixture, and, inevitably, it will take the former Chelsea and Inter coach time to assess his favoured XI and therefore establish a settled side.
Mourinho is the master at motivating players to be the vessel through which his tactical nous can be transmitted, and given he will wish to exert his own indomitable influence on the manner of his team's performances, there is work to be done at los Blancos to get things right. Guardiola will have no such concerns about his own charges.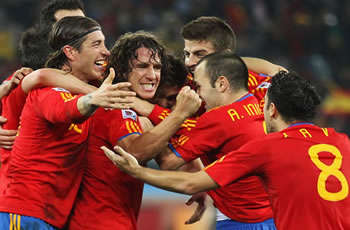 La Roja's triumph included a number of Barca regulars

4) The telepathy of the Triumvirate: Messi/Xavi/Iniesta
Flourishing football teams, like many other positive aspects of life, are grounded in the cultivation of strong, unyielding relationships. From an attacking perspective, Barcelona are able to call upon a trio of individuals linear in their attitude towards how the game should be played, and their understanding is essential and central to how the team operates. Lionel Messi, Andres Iniesta and Xavi position themselves at the heart of the pitch, and all others play around their intricate triangulations.
It takes years of acknowledgement, of consideration of the others' strengths and weaknesses and adapting their style to utilise those strengths, to develop a level of awareness that goes beyond the normal. It helps of course that all three can be afforded legendary status at the Camp Nou and beyond, such is their impact on the modern game, but how many other teams can truly claim to have three players of this calibre, that have played together for such a prolonged period of time, but remain at their peak?
As previously alluded to, Madrid are once again a new team, with new individuals that will need time to gel, and even then, telepathy to the level of the Barcelona trinity is distant. For recent proof, see Xavi's bewildering through pass that eliminated four Sevilla defenders to allow Messi to score in Saturday evening's 4-0 Supercopa demolition. Class truly is a permanent fixture of Pep Guardiola's team.

5) Extinguishing the Mourinho factor

An image Barcelona followers have not forgotten
Barcelona have won two consecutive league titles, and The Special One has answered the rivals' call. Real Madrid have suffered six second-round Champions League exits in a row, and who do they enlist? Mourinho, fresh from ending Inter's 45-year wait to regain club football's finest prize. The Portuguese has a formidable reputation, and represents a very clear and apparent threat to Barcelona's domestic supremacy.
But his presence also becomes a source of inspiration for Pep Guardiola, to cut his teeth against a coach from the A grade. Furthermore, last season's semi-final exit at the hands of Mourinho's insatiable Nerazzurri remains a sore point for the Blaugrana faithful. His exuberant gesticulations of joy on the hallowed Camp Nou pitch still hurt. 'The Translator', as he is disrespectfully dubbed, had wrestled the Champions League from their grasp.
The loathing of Mourinho stretches far beyond last season of course, and far beyond the titanic tussles with Chelsea under his tenure. There is a desire enveloping the club to do everything in its power to ensure that they are not forced to witness another victory dance, with the Translator grasping the Primera Division trophy in his hands. That represents an unthinkable notion, and one that the club will scrape desperately to avoid from becoming a nightmarish reality.

Think Real Madrid will end Barca's supremacy? Click below...
Five Reasons Why Real Madrid Will Win La Liga