A week has passed since the euphoria of Hernanes' arrival at Formello and already there are fresh transfer worries surrounding the Lazio camp as the ongoing Christian Ledesma saga remains unresolved.
A year on from the mistakes concerning Goran Pandev, there is definitely still a fear amongst the Biancocelesti faithful that the same ending could play out with the influential midfielder whose generous contribution was there for all to see last term.
Left in the shadows during Davide Ballardini's short-lived spell on the Lazio bench, Ledesma was immediately reinstated following the appointment of coach Edy Reja. Under the Gorizian tactician the Argentine immediately rolled up his sleeves, putting all contract issues aside, and played a huge role in the Aquile's fight to stave off relegation.
In what has proven to be arguably the most successful transfer campaign during Claudio Lotito's reign as club president, the issue surrounding the future of Lazio's former captain could still unbalance the squad just a week before the Serie A curtain raiser against Sampdoria.
Reports have suggested Lotito and Tare's attempts to satisfy the player with an offer identical to that of last summer have been to no avail as the no.24 holds out for an improved bid. With the likes of Juventus, Inter and Milan all tracking proceedings, it bears no logic that Lazio stand to risk such an influential player for the sake of a few thousand Euro.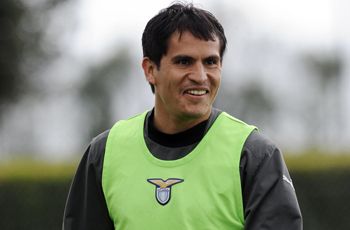 The turmoil of last season's flirt with relegation may still be just three months under the bridge, yet nevertheless the lessons of Lazio's worst campaign for over a decade are taking longer than expected to sink in. After playing a saviour's role on the bench last term, many are expecting coach Reja to now stand up and speak out as he looks to ensure the most competitive squad possible before the start of the term.
Without Ledesma at the heart of the Lazio midfield it remains to be seen whether the arrival of Mark Bresciano, Alvaro Gonzalez and Hernanes will actually bring the side's technical level up a notch. The Argentine has proven frighteningly consistent for the Biancocelesti since his arrival in 2006 and only missed three league games for the Aquile prior to last season's contractual fiasco.
Should president Lotito pull out all the stops to keep hold of the 27 year old, then his fiercest critics will have no ammunition if the Aquile's campaign once again falls below expectations. In doing so the patron would not only cover his back, but would also provide the squad a tranquil basis from which to start the new term - something some fans have failed to see him do since his arrival at the Olimpico.