The big final between Inter and Bayern Munich in May was also the battle between Italy and
Germany for the fourth spot in the Champions League. The victory for Jose Mourinho's men meant Italy kept that spot for 2011/2012, but it's a short-lived achievement valid for just one year. With 2005/06's results thrown into the recycle bin, the Bundesliga will proudly overtake Italy come next May, leaving Serie A with just three representatives in Europe's premier club competition in 2012.
Is this fair?
Carlo Garganese and Clark Whitney had a hot debate on the topic in May
, but Inter and Bayern were not the right teams to settle it. Both are expected to finish in the Top 3 in their respective leagues in the foreseeable future, and the Nerazzurri are, for many, including former national coach Marcello Lippi, not really an Italian team. Sampdoria and Werder Bremen, who meet tonight in the playoffs first leg, are much better suited to solve the issue.
If Samp beat the Germans, they will prove that Serie A is still stronger than the Bundesliga. After all, while Bremen finished in one of the first three places in Germany six times in the last seven years, the modest outfit from Genoa last did it in 1994, when Roberto Mancini, Ruud Gullit, Vladimir Jugovic and David Platt earned their money at Luigi Ferraris. There is no doubt
Sampdoria are a much lesser team in Italy than Werder are in Germany, and therefore it will speak volumes for Italian football if they emerge victorious after the second leg next week, and join Inter, Roma and AC Milan in the group stage.
What's more, contrary to Inter, Samp really are an Italian team through and through. Their superstar, Antonio Cassano, simply cannot be more Italian. All the key players, including goalkeeper Gianluca Curci, stoppers Daniele Gastaldello and Stefano Lucchini, midfield general Angelo Palombo, inconsistent turbo Daniele Mannini, rising star Andrea Poli and prolific goalscorer Giampaolo Pazzini are all Azzurri. The percentage of foreigners in Mimmo Di Carlo's squad is very low, and as things stand now, only Fernando Tissone, Reto Ziegler and Marius Stankevicius are considered semi-regulars. None of them are by any means irreplaceable, and Samp can easily field an all-Italian XI, which can't be said of many other Serie A teams.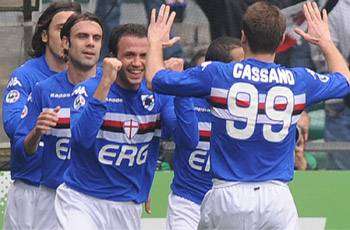 Samp Are Almost All-Italian
On the other hand, Bremen are a typical German club. They are not rich like Bayern, and even poorer than Schalke and neighbours Hamburg. Mesut Oezil's move to Real Madrid yesterday was just more proof nobody really needed. Juventus bought Bremen's top star, Diego, no more than a year ago, albeit without success. In other words, Werder are the best opposition for Samp to prove their point against. They are big enough to be considered favourites in the tie, but small enough for the victory to be taken seriously, and not labelled as a sensation that has no long-term meaning whatsoever.
Oezil's hasty departure on the eve of the crucial game gives Di Carlo a great chance to take advantage, while the brilliant Marko Marin, most likely to be Schaaf's choice for next playmaker, is still not fully accustomed to the role. With tall center-back Naldo injured, Pazzini will obtain much more freedom in the box, while Curci will not have to worry about the Brazilian's blistering long-range free-kicks.
Ironically, though, while a Sampdoria win will prove a point in the battle between the countries, it will actually weaken Italy's chances to reclaim the fourth spot in the Champions League from Germany. Bundesliga teams in general, and Bremen in particular, have performed superbly in the UEFA Cup/Europa League lately, with Schaaf reaching the final in 2009. Sampdoria's chances of success in the Champions League itself are not too high, and important points for the country could be lost.
But all this will matter little when Samp take to the field tonight at the Weserstadion. The Blucerchiati aim to earn a victory for the whole of Italy, and with the Champions League final being held at Wembley next May, a few crazy romantics may even be hoping for a journey all the way to the English capital - just like in 1992 when Ronald Koeman's non-existent extra time free kick for Barcelona broke Sampdoria's hearts in the showpiece.