Goal.com's KS Leong runs down a list to help Sami prepare for his arrival at the Bernabeu...
Real Madrid have wasted little time in the transfer market this summer. Without having to negotiate mega transfer fees and galactic wages, Los Blancos have already brought in three pivotal players – Angel Di Maria, Pedro Leon and Sergio Canales – and they have just completed their fourth recruit in the shape of Sami Khedira.
The young German international may have just signed himself up for one of the most demanding, thankless jobs in the squad. The holding midfield position is almost a role that is cursed: Claude Makelele had an unceremonious exit, Thomas Gravesen only lasted half a season despite making a good early impression, a promising Fernando Gago has been reduced to tears, Mahamadou Diarra had his long, aggravating knee injury, Lassana Diarra has abruptly lost his place eventhough he was easily Madrid's best player in his first six months, and even the legendary Fernando Redondo disappeared from the footballing map quickly after he left the Santiago Bernabeu for Milan and was struck down by never-ending knee injuries.
So, as Khedira prepares to embark on a new adventure, here's just a short list of things the defensive midfielder can expect during his initiation year.
Expect A Few Boos
The Bernabeu faithful are a demanding lot, and so are the 'White House' bosses. And coach Jose Mourinho. The simple fact is that Khedira will not be able to please everyone every time.
Mourinho may instruct him to sit back and protect the backline at all times, but the home fans, all 80,000 of them, will try to encourage him to attack. The club directors may be happy with his progress, but the fans may not. One slip-up or one mistake, and young Sami may have to endure months and months of boos from his own supporters. But as Marcelo, Ronaldo and Zinedine Zidane will attest, the booing only makes you stronger once you overcome the shock to your self-belief.
Run Sami Run
If Mourinho elects to deploy the same defensive tactics and formation at Madrid as he did at Inter, where every player is protected and helped by a team-mate, then Khedira might just have a chance to truly flourish. But if the Merengues choose their typical all-out attacking approach, then the German will be exposed. He will have to fend for himself, and he will have a lot of running to do to cover gaping holes and empty spaces vacated by his colleagues. That, in theory, shouldn't be a problem as Sami is known for his endurance and his ability to just run and run and run. Whether he can put it into practice is another question.
Be Prepared To Warm The Bench
Watching Khedira's performances for Germany at the 2010 World Cup, you would think that his style of play is the perfect fit for Madrid: a ball-winning defensive midfielder who knows how to initiate a quick counter-attack. Those who anticipate him being an instant flop might just be proved wrong.
But no matter how good or how tactically ideal, almost every player at Madrid will go through a phase where they suffer a severe dip in form and confidence – due largely to the booing from the home fans – and they will be consigned to the bench. It has happened to Iker Casillas, Kaka, Raul, Guti, just to name a few. The key to succeed at the Bernabeu is to have the resilience to bounce back, as Rafa van der Vaart and Fernando Gago showed last term.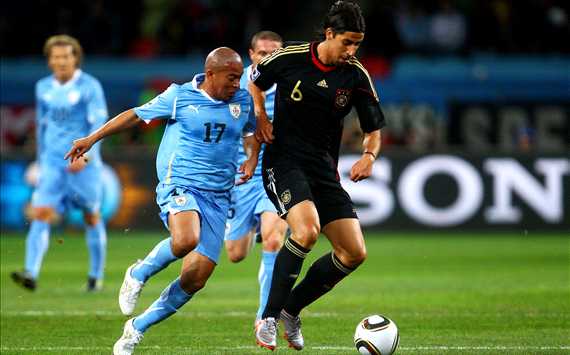 Working With The Special One
It's not all bad news for Khedira now that he has joined Madrid. You just suspect that one of the main reasons he was so keen on becoming a Blanco was because of the opportunity to work under Jose Mourinho. The Special One is known by reporters, journalists, arm-chair and rival fans as an arrogant, self-absorbed, egoistic coach. But inside the dressing of the club he is coaching, he paints a very, very different picture. He is a reputed motivator, one who knows how to get the best out of every player. He protects his stars from the media glare, soaks up all the distractions and ensures that they focus on nothing but football.
Learning From The Best
At 23, Khedira is still very much a young player with a lot of promise to develop. Playing in Spain and with Real Madrid is the perfect way for him to work on the weak points of his game, such as his technique and ball control.
If he can nail down a regular starting berth, he will be featuring frequently alongside Xabi Alonso, one of the best passers of the ball. He will also work a lot with Sergio Ramos, as he may be required to cover for the marauding right-back at times. Attackers like Kaka and Cristiano Ronaldo will teach him how to hone his skills when pushing forward, while Real Madrid as a whole will train him on how to cope with the kind of excessive pressure he will be exposed to when he becomes an established star for the German national team.
Our

provides the best breaking news online and our

football fan community is unmatched worldwide. Never miss a thing again!